Every Wednesday, Lincoln Elementary School third-grader Ja'Kiya and Madison Police officer Jodi Nelson hang out together during lunch time.
The 9-year-old and Nelson have been paired together through the school-based Bigs in Blue mentoring program, part of Big Brothers Big Sisters of Dane County. They play games like Clue and Connect 4, and Ja'Kiya likes to introduce Nelson to her friends when they're at the playground.
"It's fun, and I can talk to Jodi," Ja'Kiya said about their weekly meetings.
The Big Brothers Big Sisters organization pairs "bigs," or adults, with "littles," children between the ages of 6 and 18, to create meaningful relationships and foster friendship and support. With the community-based program, "bigs" and "littles" meet after school, on weekends or during the summer.
Bigs in Blue is part of the organization's School Friends program, which involves volunteers meeting with children in school.
In the past three years, the number of law enforcement officers who participate in the program has tripled to 18, said Sandy Morales, the organization's CEO. Most of the officers are from the MPD with the rest from the UW-Madison, Sun Prairie and Edgerton police departments and the state patrol. 
Sometimes, Nelson's police badge elicits questions from other students, and she hopes her presence will cultivate trust. Nelson is a member of the Community Outreach Resource Education team, which aims to improve relationships between youth and police.
"I think a main thing with our role in the CORE team is to break down those barriers and build some trust and to humanize the badge," Nelson said "Working in this capacity or with youth in general really allows us to do that."
With the community still grappling with the fatal officer-involved shooting of Tony Robinson three years ago and a spate of car thefts by juveniles, Morales said youth mentoring is needed.  
"Our mission is to provide a caring adult mentor in the lives of kids that face adversity and for us, we saw that as an opportunity here just because we know there is definitely a disconnect between youth and police officers," Morales said.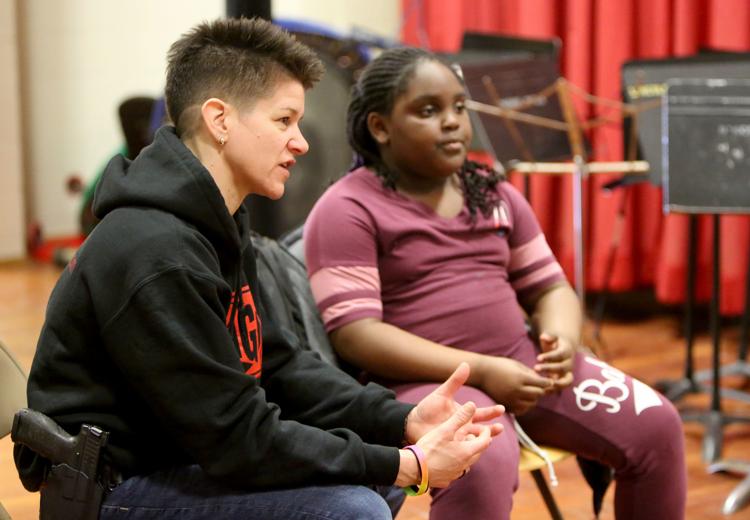 She said many "littles" express an interest in law enforcement as a future career, and the program strives to pair adults who model those interests.
However, some in the community may be hesitant to enter into a close relationship with a police officer.
Program director Johnna Georgia recalled a situation where a parent voiced concern about a close relationship between their child and a police officer. In that instance, the officer talked to the parent, which ultimately eased the outstanding fears.
"When we have a police officer, we are extra intentional about making sure this makes sense for this child," Georgia said.
While the program's purpose is to provide mentoring to youth, it also reinvigorates police officers. Officer Lore Vang, who is also on the CORE team, said the job of an officer can be emotionally draining but that hanging out with a 9-year-old reaffirms the purpose of working as a law enforcement officer.
"With my little, we talk about reptiles and amphibians and little critters," Vang said. "It's really refreshing compared to the other tasks with my job."
Nelson agreed and said she looks forward to her weekly lunch meetings with Ja'Kiya.
"Obviously the program is for a little brother or little sister to have this positive role model, but I think it works for us too because we see that good, we see that smile and enjoy that time too," Nelson said.