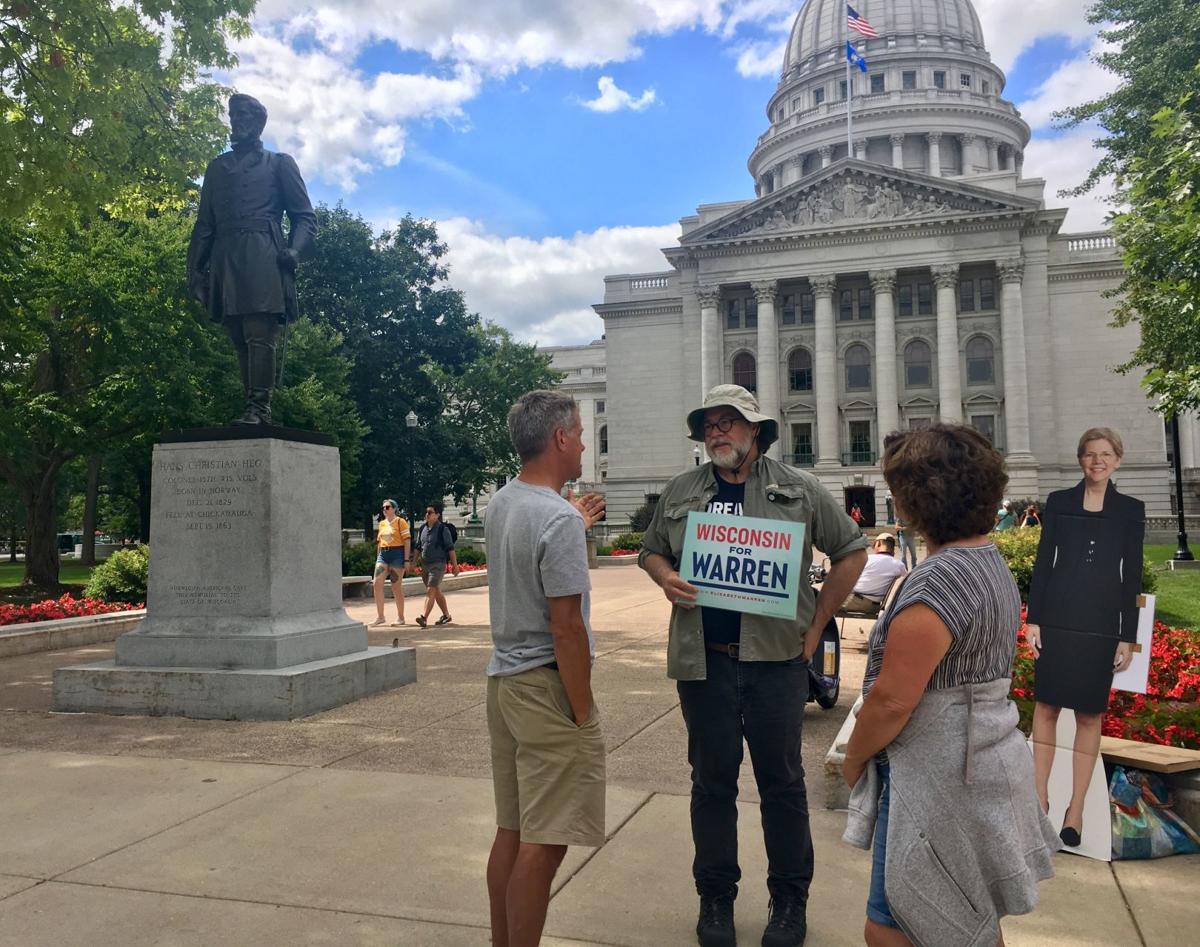 Just over a year ahead of the 2020 presidential election, Wisconsin is already witnessing a flurry of activity as Republicans and Democrats gear up.
In what many political scientists agree will be a key battleground state, both parties have bulked up their staffs and are working to build out their ground games. Democratic presidential candidates are organizing volunteer operations and national groups are launching their own efforts in Wisconsin.   
For Republicans, the push comes as operatives seek to capitalize on the advantage of having incumbent President Donald Trump on the ballot and the ability to avoid a drawn-out primary process. The state GOP, Trump's campaign and the Republican National Committee are able to work "hand in hand" on the ground.   
Meanwhile, Democrats say they're looking to spotlight what they see as the negative ramifications of Trump's policies while highlighting their own values and alternative approaches, as well as continue early organizing efforts between the state party and the Democratic National Committee to aid the eventual nominee. 
Working to keep Wisconsin red 
Republican Party of Wisconsin executive director Mark Jefferson said that means the party and RNC are able to work directly with the Trump campaign ahead of 2020, rather than laying the infrastructure for the eventual, unknown nominee, as they did ahead of the 2016 general.  
"The coordination is coming together so much faster than it did last cycle," he said in a recent interview. "That, in and of itself, is a big leg up and now staff are coming on and we're able to work together pretty effectively."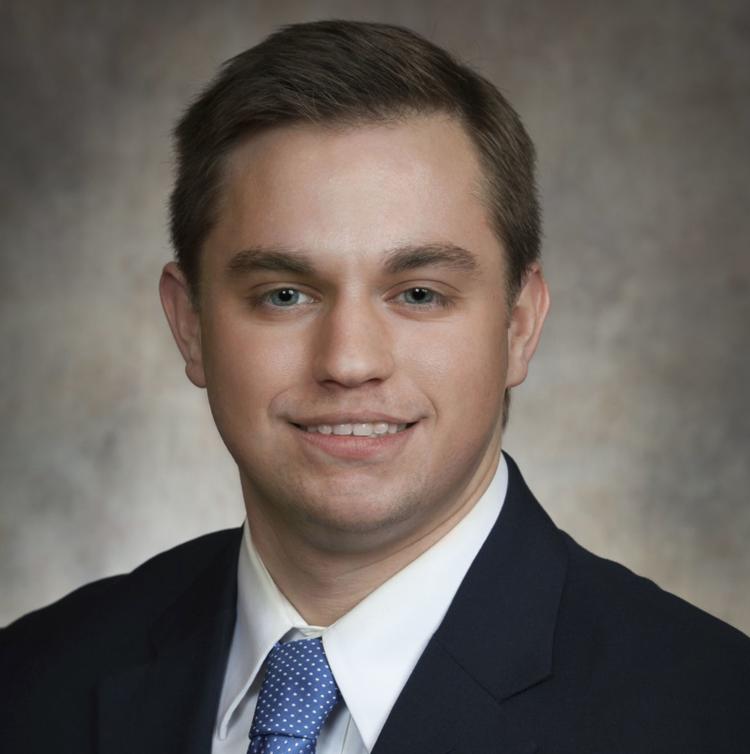 The party, in conjunction with Trump Victory, a joint operation of the RNC and Trump campaign, has brought on a state director, Andrew Iverson, and is working on building out its field team, RNC spokeswoman Mandi Merritt said. 
Merritt said after 2015 and 2016, the RNC "essentially never left" Wisconsin and other pivotal states, "a key component and why we are miles ahead of the Democrats." 
Jefferson — who spent much of 2016 serving as the RNC's director of majority retention, though he also served as regional political director for Michigan and Ohio — also noted "a lot of energy on the ground" among Wisconsin Republicans already.
He pointed to former Gov. Scott Walker's loss last November as having put people "on notice" and motivated them — generating energy he said was present during the state Supreme Court race earlier this spring. Because the energy is still there, that makes it "important to have people on the ground organizing" and harnessing it, he said. 
It's not uncommon for election strategies to tweak cycle to cycle, even for the victors. In the case of the state Republican Party, officials are taking a page out of former President Barack Obama's 2008 and 2012 campaign and emphasizing a localized, "neighborhood approach." 
That effort allows organizers to get into smaller communities and the rural areas of the state, Jefferson said. 
Previously, he said, there was more of a focus on a regional model and sending volunteers to population centers. But now, Jefferson said he's hopeful the party can combine its use of advanced technologies, data and metrics "with old fashioned retail politics," something he said he's not sure the party has "ever really combined" properly. 
That neighborhood approach, he added, would help the party do outreach to suburban women, a group Republicans have been losing ground with. 
"We can get those people at the doors, we can build a relationship with them," Jefferson said. "For all the divisiveness that's out there, when someone talks to a person face-to-face, it can really dial down the animosity between people who have differing points of view." 
State Democratic Party Chair Ben Wikler, though, argued that Trump carries "a particular vulnerability" in the suburbs "because his behavior has been so repellent and extreme."
A recent story from the Associated Press that featured interviews with women living in "critical suburbs," including outside of Milwaukee, showed respondents "all expressed dismay — or worse — at Trump's racially polarizing insults and what was often described as unpresidential treatment of people," even those who credited the president with the economy or backed his immigration policy.  
Jefferson countered that in the suburbs, Republicans are better on the issues than Democrats. Suburban mothers, he said, aren't in support of "some of the socialist tendencies" displayed by the Democratic Party "as it lurches to the left." 
"I think there's a very credible case to be made that what he's doing has connected with more people than it's alienated," he said. 
As Republicans look to shore up support among suburban women, the Trump campaign earlier this summer launched its "Women for Trump" coalition and in August completed its first big outreach effort for suburban women with a series of events across the nation in key battleground states featuring female surrogates. In Wisconsin, the RNC held training sessions geared toward women in Kenosha, Green Bay and Milwaukee that coincided with the other events nationwide. 
Jefferson said in addition to those potential voters, organizers are looking at other "nontraditional" areas of the state for Republicans, such as Milwaukee. He predicted the state would see "a little increase in numbers" there because of Trump's atypical candidacy. 
On the technology side, Merritt, the RNC spokeswoman, also touted the party's voter database, an effort that emulates Obama's in 2008 and 2012.
Merritt noted the Obama campaign at the time had an effective data and community organizing approach. The problem, she said, was that it "lived and died with Obama" and was never transferred to the party organization to benefit other candidates.
"So what we did is we took that approach but we made it better and we made it permanent and we put it into this party structure so that it is a permanent, data-driven organization that lives with the party and is available to Republicans up and down the ballot," she said. 
As for Democrats, the DNC earlier this year announced a new data exchange operation that would allow it, state parties and left-leaning political action committees to share voter data. 
Asked about what kinds of data-related strategies the state party is adopting this cycle, Wikler touted the "tremendously exciting innovations" officials are bringing to organizing. But he didn't provide details, saying others — including Republicans — would find out about those efforts after next November. 
Democratic efforts to defeat Trump
For Democrats in Wisconsin, Wikler said the party is implementing a 2016 RNC strategy this time around and working on "building continuously" in the lead-up to the general. 
Three years ago, he said in a recent interview, the RNC "invested heavily in building out a campaign" before knowing who the nominee was, a move that allowed the Trump campaign to rely on the data, field organizing and digital infrastructure already set up for him. But on the Democratic side, there wasn't any statewide field organizing infrastructure in place before the primary process ended. 
"That (RNC) strategy, that's a proven strategy and it's one that we are eager to draw from," the former senior adviser of MoveOn.org said. "You don't need to know the name at the top of the ticket to know that you're going to need presence on the ground in every part of the state."
Wikler said the party has a 13-person field organizing team on the ground in every region of the state and is working with hundreds of neighborhood teams to organize canvasses. They've also recently hired, with the DNC's help, a youth organizer, a second northern Wisconsin field director and a director of "Trump rapid response," who's tasked with handling Trump-related communications. 
After 2016, Wikler said officials "took a hard look at the most effective organizing models" and opted to follow Obama's campaign approach that centered around community organizing — and neighbors talking to their neighbors — as an election tool. 
A focus this year is on "bridge building," or reaching out to "voters that haven't been on Democrats' turnout lists for a while," he said, adding the party is "on track to having a robust presence in all 72 counties this cycle."  
"We're really acting like it's 2020 already," he said. "The one thing that's absolutely clear is that it's going to be close. We're going to have to fight for every vote in every community and if people learn what Trump has done to Wisconsin, we'll win."
Asked about any lingering distrust between activists and the party given the contentious presidential primary process between then-candidates Hillary Clinton and Bernie Sanders, Wikler responded he's "never experienced a party as united and determined as the one we have right now."
He added Trump's candidacy has brought together "outside progressive groups that haven't always had a great relationship with the party, the party itself and grassroots activists and voters." 
DNC spokeswoman Maddie McComb said the group is working to shore up volunteers and organizers in multiple states, including Wisconsin, in an effort to give the eventual nominee "multiple paths to 270 (electoral votes)."
Calling the state "essential to 2020," McComb pointed to the DNC's efforts over the summer to recruit and train a series of college juniors, expected to graduate in the spring of 2020, in voter outreach and registration efforts in seven states, including Wisconsin. The multi-million dollar push, called Organizing Corps 2020, also occurred in Arizona, Florida, Georgia, Michigan, North Carolina and Pennsylvania. 
The early training investment, she said, means that come next summer, those individuals will be able to continue their organizing efforts in those states, "putting (the Democratic nominee) in the best position to be competitive and win."
"We're taking nothing for granted," she said.
As the primary continues, Wikler noted that having a wide field of candidates is an asset because there are "more messengers making the case."
He pointed to the 2018 Democratic gubernatorial field, which included more than a dozen candidates at one point. The eventual nominee, Tony Evers, went on to oust former GOP Gov. Scott Walker. 
The wide presidential field, Wikler said, helps Democrats in "shaping the national conversation." 
"For once Trump doesn't dominate every single headline. People actually pay attention what Democrats have to say," he said. "I see that as a great asset for us." 
Volunteering for Democratic presidential front-runners
While a Democratic nominee hasn't yet been selected, a network of volunteers has emerged for many of the contenders' campaigns across the state.
Volunteers for both Sanders' and U.S. Sen. Elizabeth Warren's campaigns have had tables at the Dane County Farmers' Market repeatedly the last few weeks to talk with potential voters. They, as well as three others — South Bend, Indiana, Mayor Pete Buttigieg, U.S. Sen. Amy Klobuchar of Minnesota, and former candidate U.S. Sen. Kirsten Gillibrand of New York — also had tables at the state Democratic Party convention in June. 
Sanders and Warren are among the top three candidates in the Democratic presidential pack, with 17 percent and 16.5 percent respectively, according to a compilation of national polling from Real Clear Politics over the last half of August. Those polls also show former Vice President Joe Biden leading the Democratic presidential pack with 29 percent. 
The Biden campaign didn't return emails or calls seeking comment about its volunteer operations in the state.
Warren's volunteer Wisconsin state director wasn't available for comment. But Warren for Madison spokesman Jesse Pycha-Holst said hundreds have signed up to volunteer in Dane County. 
He added volunteers are organizing more than a year out from the election "because there is a groundswell of interest" in Warren's campaign. Already, he said, Dane County has a "growing number of localized neighborhood teams" in order to be more accessible to those interested in getting involved. 
"The importance of this state is not lost on anyone and there is a diligent focus in the people we are talking with to nominate the candidate with the most comprehensive, positive vision for America's future," he wrote in an email.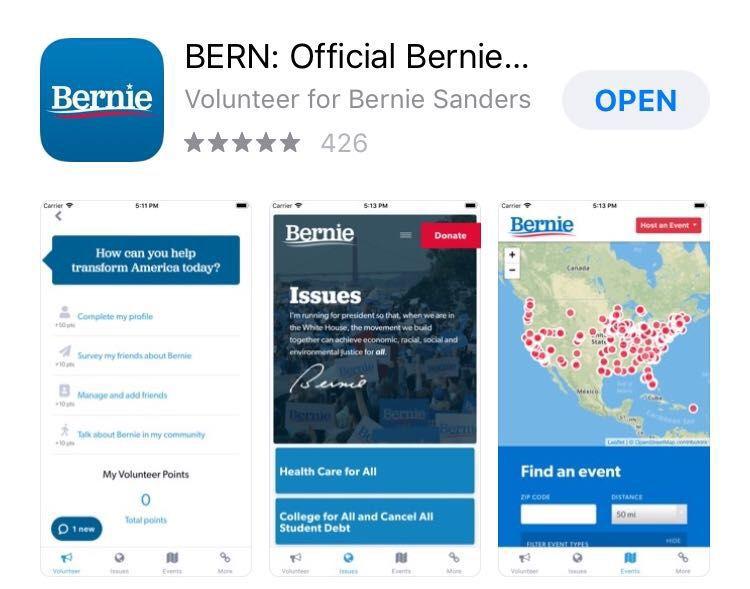 Meanwhile, the Sanders campaign is touting its approach to organizing, which includes more than 34,000 volunteers in Wisconsin.  
The campaign this spring launched the Bern App, which allows volunteers to add new supporters' names and contact information directly to the campaign's voter database. 
The technology, paired with the campaign's so-called "distributed organizing" approach that was also used in 2016, seeks to employ a "horizontally organized structure" that trains supporters to lead their own outreach efforts, spokesman Bill Neidhardt said. That structure, he added, delays the need to appoint state directors or other hierarchical positions.  
"In Wisconsin, we just have a massive base of incredibly motivated volunteers who are incredibly well-versed in Bernie," he said. "They've been through an election with him and helped us win every county (in the state) but one." 
Three years ago, Sanders bested Clinton to win Wisconsin's presidential primary. 
Already, Neidhardt said, the campaign has finished its first phase in organizing its supporters by creating a "massive volunteer base." The next step is forming customized strategies for each state. In Wisconsin, he said, the campaign would rely on state volunteers to further grow the number of supporters by getting in touch with those who helped the campaign win the presidential primary last cycle. 
He noted the campaign would also encourage the volunteers to get involved in Iowa and aide Sanders in winning the caucus.  
"We're not just waiting for Wisconsin," he said. "We're bringing the election to them."
Share your opinion on this topic by sending a letter to the editor to tctvoice@madison.com. Include your full name, hometown and phone number. Your name and town will be published. The phone number is for verification purposes only. Please keep your letter to 250 words or less.
Get Election 2020 & Politics updates in your inbox!
Keep up on the latest in national and local politics as Election 2020 comes into focus.