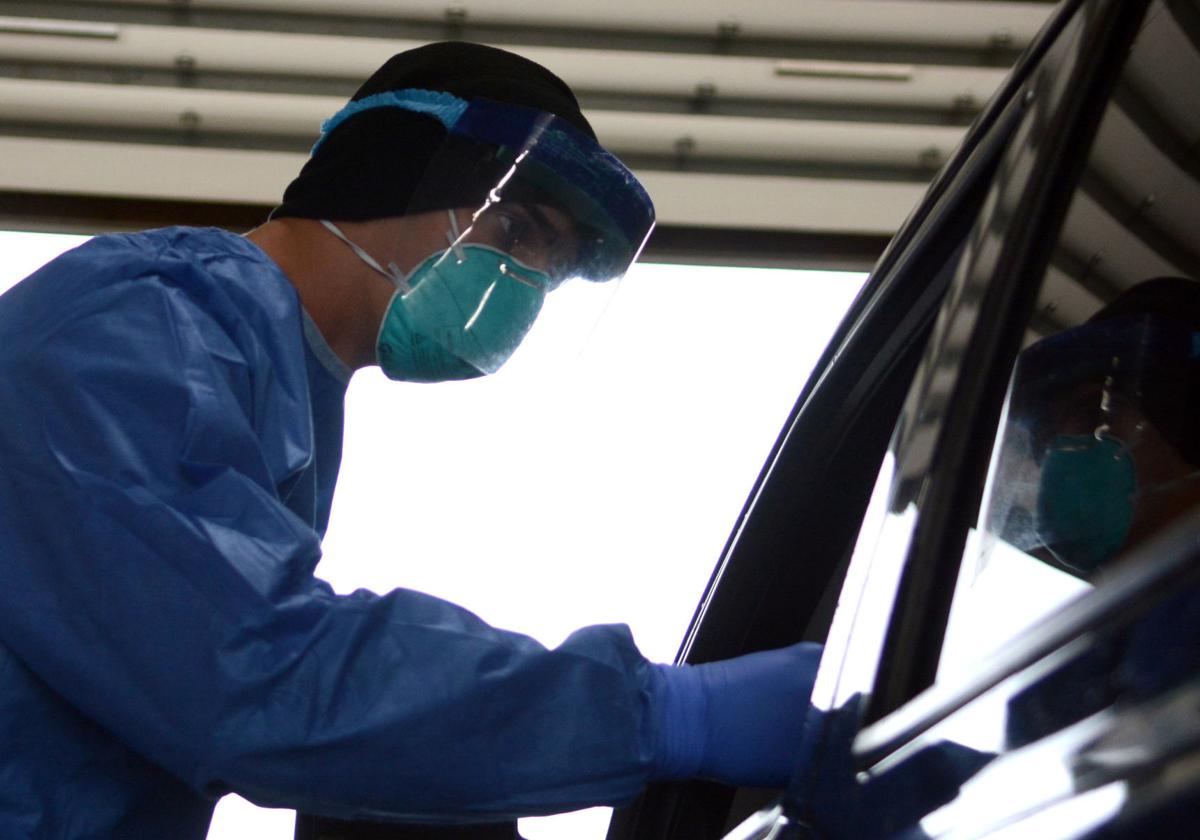 Gov. Tony Evers again urged people to stay home as the COVID-19 crisis spins out of control, but his pleas are apparently falling on deaf ears.
As an unseasonably cold stretch drives people indoors, the state has passed a number of grim milestones: topping 200,000 total cases on Monday, surpassing 5,000 cases in one day on Tuesday when 5,262 were reported, and shattering the record for deaths, with 64 far exceeding the previous record of 48. And the rate of increase is accelerating, with 100,000 cases reported within the last 36 days.
As the virus roars through the state at a rate far greater than the nation as a whole, which itself is seeing an alarming surge, there's no light at the end of the tunnel.
"It's a nightmare scenario, frankly, that this could get quite a bit worse in the next several weeks or months before it gets better," said Ryan Westergaard, the state's top infectious disease expert, on Tuesday during a weekly COVID-19 update by state officials.
Virus activity in 68 of Wisconsin's counties is now rated "very high," with only the western, low-populated counties of Pierce, St. Croix, Burnette and Douglas remaining at the "high" level.
"There are many parts of this state that are five, six, seven, eight times what is the threshold to reach that very-high activity level, and it speaks to the very contagious nature of the virus," said Andrea Palm, Department of Health Services secretary designee.
Dane County reported 75 new cases on Monday, the last day for which data was available, after reporting 244 cases on Sunday, but there was a record 133 people being hospitalized with COVID-19.
Wisconsin's hospital infrastructure is feeling the strain, with a record 1,385 inpatients being treated for the disease, 339 of them in intensive care, according the Wisconsin Hospital Association, though a 530-bed field hospital outside Milwaukee Tuesday had only five patients.
"As we continue to see cases increase, as we continue to break records in the number of hospitalizations, we do anticipate ongoing need for the alternate care facility," Palm said.
The skyrocketing number of cases have left contact tracers, billed as a key element to control the spread, overwhelmed, prompting officials to ask people who have been exposed to the virus to take on the task of informing those with whom they've been in contact.
With Evers' pleas for people to wear masks and shelter at home as much as possible as a way to save lives and prevent the hospital system from being overwhelmed, the stunning numbers Tuesday prompted a question as to whether Wisconsinites "have an empathy problem."
"I think Wisconsinites are extraordinarily empathetic," Evers said. "My concern is that when leaders don't act in an empathetic way, whether at the federal level or the state level, people are going to follow that cue. They're deemed to be leaders for a reason because they influence people's behavior."
Evers has repeatedly called for Assembly Speaker Robin Vos and Senate Majority Leader Scott Fitzgerald to meet with him to come up with a plan and a unified message to combat the virus, but said they have yet to offer a plan.
"We have to have a consistent message," Evers said. "That's a critical thing. I think it can happen, but at the end of the day it is important that leaders step up and say the obvious: We need to stay safer at home if we want to prevent more deaths."
Republican legislative leaders and their allies on the state Supreme Court have blocked nearly all of Evers' attempts to quell the spread of the virus, striking down his stay-at-home order and more recently putting his capacity limits at bars, restaurants and stores on hold. The only statewide measure currently in effect is his mask mandate, which is still under court review.
Only a handful of local jurisdictions have measures in place that exceed state measures, including Dane County and the city of Milwaukee, which Thursday will start imposing capacity limits similar to the statewide measure that is currently on hold.
The acceleration of the surge comes only a week away from the Nov. 3 presidential election, which has seen record numbers of early voting, but which will likely also bring a heavy turnout on Election Day, raising fears of polling places becoming super-spreader sites.
And it comes on a day when President Donald Trump held a rally in West Salem, his sixth since August in Wisconsin, where he is trailing in the polls. His visits, which have drawn thousands of people who largely eschew masks and social distancing guidelines, have been met with pleas from elected officials and doctors to call off the events.
On Tuesday, the Trump administration announced that the U.S. Department of Health and Human Services is sending 1.75 million rapid, point-of-care antigen tests to the state. The tests can produce results in as few as 15 minutes.
But Palm said the state needs additional testing help from the federal government to expand its testing capacity.
"We are very anxious to see Congress and the federal government pass additional funding to allow us to continue testing here in the state of Wisconsin at the level, and exceeding the level, that we are at right now," she said. 
One bright spot: after an initial surge in September, UW-Madison has managed to keep the case count down, with only two cases reported on Monday and a seven-day average of 16.
The university, which has reported 3,386 cases since the start of the fall semester, one of the highest counts in the nation, has become a model for gaining control of the virus, with CDC director Robert Redfield and White House Coronavirus Task Force member Deborah Birx visiting in recent days to laud the university's efforts.
Westergaard attributed the success to testing efforts — which entail testing each on-campus student every week with plans to step up testing to twice a week in the spring — and prompt action when tests came up positive. In September, the university quarantined two of its largest dorms, Witte and Sellery halls, for 14 days after alarming outbreaks. Other students who tested positive were isolated in an on-campus facility.
The university has also imposed strict mask mandates, gaining nearly 100% compliance.
Referring to Birx' visit, Westergaard said, "That visit was helpful in shining a light on a success story on how an outbreak that was really growing very quickly was able to be brought under control."