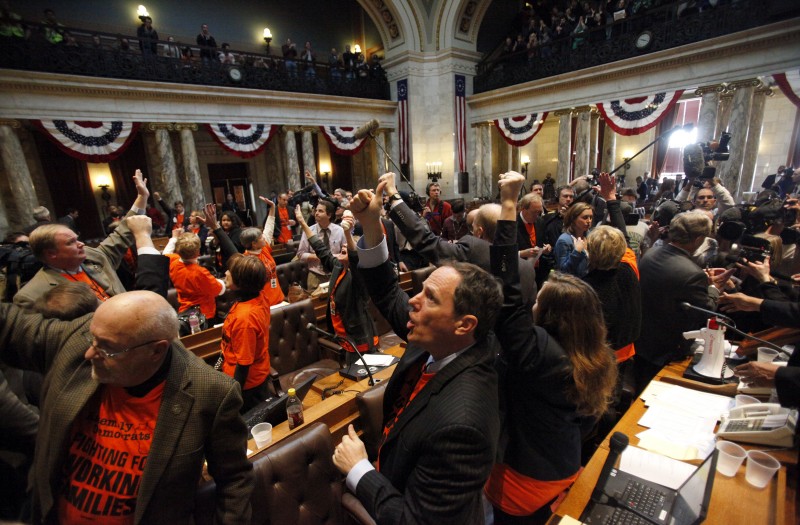 Assembly Minority Leader Peter Barca, D-Kenosha, filed a complaint Thursday morning with the Dane County district attorney charging that the Joint Conference Committee that convened at 6 p.m. Wednesday and passed an amended version of Gov. Scott Walker's budget repair bill is in violation of the open meetings law.
The complaint states that Assembly Speaker Jeff Fitzgerald and his brother, Senate Majority Leader Scott Fitzgerald, and others "knowingly attended the meeting in violation of the Open Meetings law" and are subject to penalties identified in state statute.
The complaint asks that the actions taken at the meeting be declared void.
District Attorney Ismael R. Ozanne confirmed Thursday morning that he had received the complaint and that his office would be reviewing it, noting that either he or Attorney General J.B. Van Hollen has authority to do so.
"This is the first step. That allows us to take a look at the allegations," Ozanne said.
Barca could not be immediately reached for comment.
Acting Dane County Executive Kathleen Falk also filed open meetings complaints Thursday over the Joint Conference Committee meeting with the Dane County District Attorney and state Attorney General's Office. And Madison Mayor Dave Cieslewicz filed open meetings complaints with the Dane County District Attorney and Attorney General. City Attorney Michael May noted in an email that a verified complaint must first be filed with either the district attorney or attorney general. If they fail to act, he added, "the person filing the complaint may then bring an action in court.
Also Thursday, Assembly Democrats, including Barca, sent a letter to Ozanne urging him to "investigate and prosecute to the greatest extent possible this assault on transparent government and on our democracy itself."
They also wrote that the meeting of the Joint Conference Committee was "an attempt to destroy the rights of hundreds of thousands of Wisconsin citizens ... It is clear that our open meetings law was violated."