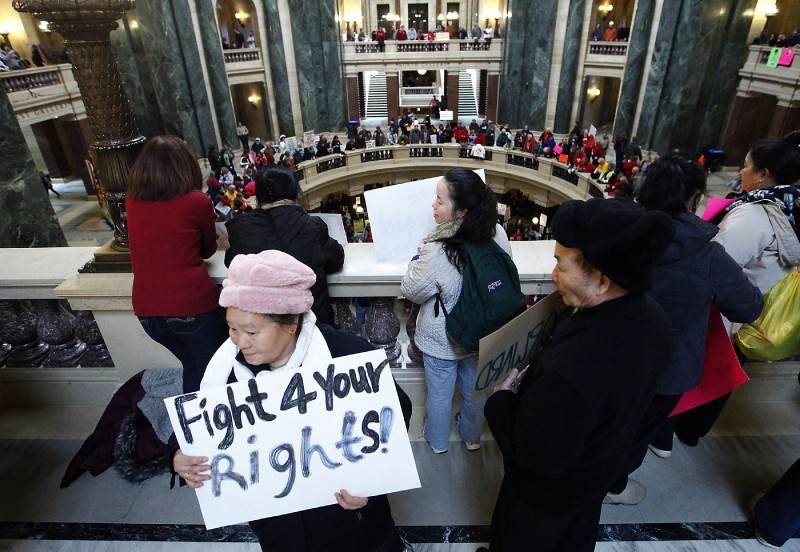 The state Capitol is returning to a semblance of normalcy now that hundreds of protest signs have been removed and rules that went by the wayside during nearly three weeks of protests will once again be enforced.
Existing rules against camping on the Capitol grounds and requiring permits for large marches and rallies will once again be in place, Capitol Police said Monday. Department of Administration spokesman Tim Donovan said permits were issued "very early on" in the three weeks of protests, but permitting was suspended as demonstrations became a daily occurrence.
Protesters also had been staying overnight inside the Capitol until Thursday, when Dane County Circuit Judge John Albert ordered an end to the occupation and a return to regular business hours and public access at the Capitol. Last week, state officials sharply curtailed access in an effort to tamp down the noisy protests, prompting unions to file a lawsuit that resulted in Albert's order.
Hundreds of thousands of protesters have shown up inside and outside the Capitol since mid-February to voice opposition to Gov. Scott Walker's controversial budget-repair bill, which would end most collective bargaining rights for nearly all unionized public employees in Wisconsin.
Over the weekend, crews finished cleaning the Capitol, and the state expects to have estimates later this week to fix damage to landscape and to remove adhesive left from tape used to hang protest signs and banners, said DOA spokeswoman Carla Vigue.
The administration was widely criticized last week for initially estimating it could cost $7.5 million to fix damage at the Capitol caused by protesters. Administration Secretary Mike Huebsch reduced that number on Friday to $347,500. About half of that — $185,000 — was to repair damage to the Capitol grounds.
Workers familiar with the building say even the latest number is highly inflated. John Jorgensen, business manager of the International Union of Painters and Allied Trades Council, noted that protesters used mostly blue painters tape specifically to avoid damaging the building's 43 types of stone.
"I really doubt whether there was any damage — not $7.5 million, not $347,000," Jorgensen said.
Throughout the protests, members of UW-Madison's Teaching Assistants Association have policed the demonstrators to ensure the Capitol remained unharmed. Kevin Gibbons, co-president of the TAA, said his organization has offered to help pay for the cleanup, but the wildly varying estimates have given him pause.
"When they throw out ... an outrageous, hyperbolic estimate of $7.5 million, and then another $347,000 estimate, it really erodes the trust in government," Gibbons said. "Right now, to give a contribution to the DOA would be almost silly because we can't trust anything they're saying."
Hundreds of chanting protesters showed up at the the Capitol again Monday, but noisemakers, including drums and horns, are no longer allowed. The unions have vowed to keep up the pressure on Walker, including another planned rally for this Saturday.
Capital Times reporter Bill Novak contributed to this report.
Be the first to know
Get local news delivered to your inbox!