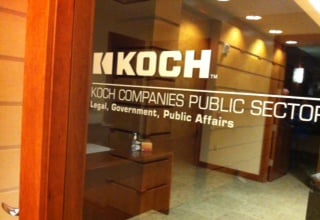 The billionaire brothers whose political action committee gave Gov. Scott Walker $43,000 and helped fund a multi-million dollar attack ad campaign against his opponent during the 2010 gubernatorial election have quietly opened a lobbying office in Madison just off the Capitol Square.
Charles and David Koch, who co-own Koch Industries Inc. and whose combined worth is estimated at $43 billion, have been recently tied with Walker's push to eliminate collective bargaining rights for public workers. The two have long backed conservative causes and groups including Americans for Prosperity, which organized the Tea Party rally Saturday in support of Walker's plan to strip public workers of collective bargaining rights and recently launched the Stand with Scott Walker website.
Tim Phillips, president of Americans for Prosperity, acknowledged in a New York Times story Tuesday that he had encouraged Walker even before the election to mount a showdown with labor groups.
Koch Industries, which owns the Georgia-Pacific Corporation and the Koch Pipeline Company, operates gasoline supply terminals and a toilet paper factory in Wisconsin.
Koch Companies Public Sector LLC occupies a seventh-floor suite at 10 E. Doty St. According to an unidentified tenant there, the lobbying group moved in two weeks before Walker was elected governor on November 2. Jeffrey Schoepke, the company's regional manager, did not return a phone call seeking more information on the firm.
According to the Government Accountability Board's website, the firm has seven lobbyists who "represent various Koch Industries Inc. companies on public affairs matters, including Flint Hills Resources, LP, an energy purchaser and refiner & transporter of petroleum and Georgia-Pacific, LLC a manufacturer of paper, wood products and building materials." The group's lobbying interests are listed as "the environment, energy, taxation, business, policy and other areas affecting Koch Industries, Inc. companies."
The group has had a lobbying presence in the state before, with four contracted lobbyists from Hamilton Consulting billing just over $97,000 for services during the 2009-11 legislative session, according to the GAB. Three of those lobbyists — Amy Boyer, Andrew Engel and Robert Fassbender — are now joined also by Ray Carey, Jason Childress, Kathleen Walby and Jeffrey Schoepke.
The lobbyists for Koch Companies Public Sector registered with the state on January 5, two days after Walker's inauguration.
The expanded lobbying effort by the Koch brothers in Wisconsin raises red flags in particular because of a little discussed provision in Walker's repair bill that would allow Koch Industries and other private companies to purchase state-owned power plants in no-bid contracts.
"It's curious that the Kochs have apparently expanded their lobbying presence just as Walker was sworn into office and immediately before a budget was unveiled that would allow the executive branch unilateral power to sell off public utilities in this state in no-bid contracts," says Lisa Graves, executive director of the Center for Media and Democracy.