Up until Tuesday night, when the results from Madison's mayoral primary election were official, even the most ardent supporters of Satya Rhodes-Conway were unsure if she would advance to the general election.
Rhodes-Conway's campaign did not run ads on TV like some of her opponents, including Mayor Paul Soglin, Raj Shukla and Mo Cheeks. She came in fourth among those candidates in fundraising, others spent more money and her campaign relied on canvassing and face-to-face interactions.
Supporter Rebecca Kemble, who also represents District 18 on the Madison City Council, admitted Tuesday night at Rhodes-Conway's poll-watching party that she was "very nervous" all day.
"I thought it was a crap shoot, anyone's to lose. I wasn't even sure that Soglin was going to make it through. We were at the bottom of the list in terms of fundraising," Kemble said. "I did have a sense that out in the community, Team Satya was doing the most work in terms of canvassing, talking to people, lit drops."  
After the ballots were counted, Rhodes-Conway managed to finish less than one percentage point — 323 votes — behind Soglin and joined him in advancing to the April 2 general election. Soglin ended up with 28.6 percent of the vote to Rhodes-Conway's 27.7 percent. 
Ald. Mo Cheeks finished in third place with just over 23 percent of the vote and environmental advocate Raj Shukla came in fourth with over 18 percent. Comedian Nick Hart received 386 votes, or 1 percent. Toriana Pettaway, the city's racial equity coordinator, received 267 votes as a write-in candidate.  
Soglin's narrow margin of victory, coupled with the significant vote totals for Cheeks and Shukla, provided reason for optimism among Rhodes-Conway's supporters and indicated the city's iconic incumbent has a challenging reelection campaign in front of him.
Soglin, who has served as mayor for 22 non-consecutive years, embodied confidence at a press conference Wednesday afternoon.
He reminded members of the media that more voters turn out for general elections, possibly opening a bigger pool of supporters. Soglin also said much of the dialogue surrounding the primary election was negative toward him as the incumbent and that the "dynamic" is going to change.
"The issues are going to become broader and issues that really get to what I think is my strength: the ability to manage and to deal with really tough challenges with competing values.," Soglin said. "The candidates have made collectively great commitments without giving really honest answers about how you're going to pay for it. There are no more freebies here. There are no more feel-good positions."
Rhodes-Conway, the managing director of the Mayors Innovation Project at UW-Madison's Center on Wisconsin Strategy, was knocking on doors through the day of the primary election. She said multiple Cheeks and Shukla supporters said she was their second-choice.
"When I got into this race, I didn't know what the mayor was doing and I didn't know who else was running," Rhodes-Conway said. "I got in because I believe I can lead this city in the direction it needs to go and that we can make Madison a place where everyone has the opportunity to thrive. I'm looking forward to a good, clean campaign. I respect Mayor Soglin, I hope he respects me and may the best woman win."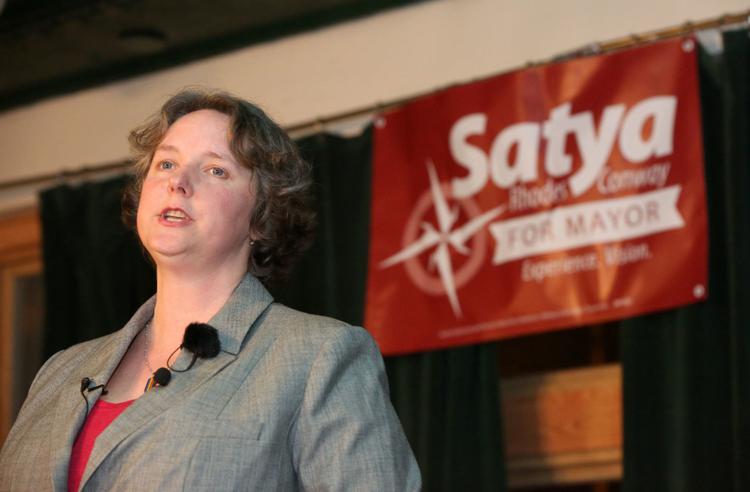 Voter turnout, measured by the Madison City Clerk's office as a percentage of registered voters, was on par with the 2011 spring primary. That election, which occurred as protesters occupied the state Capitol to speak out against former Gov. Scott Walker's signature Act 10 legislation, featured a state Supreme Court primary as well as a competitive Dane County executive race.
In Tuesday's election, the Madison City Clerk's office recorded an overall turnout of 21.6 percent of registered voters — 38,753 people. In 2011, 22 percent of registered voters turned out to the polls.
Four years ago, 12 percent turned out for a primary featuring Soglin and challengers Scott Resnick, Bridget Maniaci, Richard Brown and Christopher Daly. In the general election that year, 32,347 more people voted in the April 2015 general election compared to the February primary of the same year.
Dane County Democratic Party Chair Michael Basford managed Resnick's 2015 campaign. He said voters who participate in the general election after sitting out the primary would have to "break rather substantially" for Soglin to win.
"When an incumbent clears less than 50 percent in a primary, that is cause for concern. Not able to clear 29 percent is cause for very grave concern," Basford said. "At this point, one would be hard pressed not to consider (Rhodes-Conway) to be the frontrunner."
To be successful citywide, Basford said Rhodes-Conway needs to broaden her profile in the community and make the case that Madison wants a change in leadership. However, Soglin's record and experience cannot be downplayed, especially since 11 City Council seats could have new occupants after the election.
"(Soglin's experience) speaks for itself," Basford said. "He has led the city through changes in the past of city government as the council has changed."
Winner

Soglin
Cheeks
Rhodes-Conway
Shukla
None
Soglin performed well in wards outside of the isthmus. In Ward 107, on the far west side, Soglin's earned 181 votes, outpacing all other candidates combined. In Ward 89 on the west side, Soglin received 309 votes compared to Rhodes-Conway's 170 — the second highest vote total.
In Ward 79, located in Cheeks' aldermanic district, Soglin gained 307 votes — 62 votes short of Cheeks' 369.
Rhodes-Conway won by significant margins of 100 votes or more on the near east and near west sides of the city. In Ward 45 on the near east side, Rhodes-Conway secured 319 votes compared to Soglin's 104. She also excelled downtown, gaining 149 votes in Ward 46 compared to Soglin's 26 votes.
Soglin best ward was 38, located on the north side near Cherokee Marsh, where he secured 335 votes. Rhodes-Conway's best was 41, at the Wil-Mar Neighborhood Center, where she gained 433 votes.
Ward 65 on the near west side, home to Edgewood High School, saw a significant increase in voter turnout from 2015 — 1,138, up from 544. The ward also draws voters from part of City Council District 13, which saw a competitive primary.
Rhodes-Conway won the ward with 338 votes. 
Stu Levitan, a local historian, pointed out that the wards Rhodes-Conway was successful in are compact and efficient locations to canvass. Considering the primary results, Levitan said Soglin has his "work cut out for him," noting that Rhodes-Conway can "certainly go toe-to-toe with (Soglin) on policy issues." 
Levitan has long supported Soglin. In this race, he financially supported both candidates and said he felt welcome at both election night watch parties. 
"We have one candidate who has an exceptional record as mayor and one candidate who has an exceptional record as an alderperson and a policy expert who could also be an exceptional mayor," Levitan said. 
Levitan said upcoming candidate forums will be critical to determine policy differences between the candidates and that the state Supreme Court race on the general election ballot could affect turnout in April.
Levitan hypothesized that Soglin's record of civil rights involvement and activism could persuade second- and third-generation African American and Latino households to support the mayor in the general election. 
"You get older generations who know what a significant thing he did in terms of opening the doors of power to non-whites and women when he became mayor in 1973, and has continued to support inclusion and diversity and equality," Levitan said. 
'Every vote is on the table'
Beginning almost immediately after Tuesday's primary, Soglin and Rhodes-Conway went to work to win over voters whose first choice was Cheeks, Shukla, Hart or Pettaway. 
"We're going to really focus on the issues that are of concern to voters who voted for any candidate, and that includes Satya," Soglin said.
On Tuesday night, Rhodes-Conway said she will continue to run a campaign that is focused on Madison's "affordable housing crisis, our transportation problems, the deep and shameful racial disparities that this city experiences, and the climate change that is coming for us."
"We're going to keep talking about those and we're going to keep talking about the solutions that we all know are possible," Rhodes-Conway said. "These challenges are not unique and they are not unsolvable."  
When she served on the City Council from 2007 to 2013, Rhodes-Conway represented parts of the city's east and north sides, from East High School to Warner Park. Her tenure also included six years on the city's Finance Committee.
Rhodes-Conway participated in contentious deliberations over the use of public funds for reconstruction of the Edgewater Hotel, which she opposed from the start of the project. She also served on the team that negotiated a deal to erase Overture Center's $28.6 million bank debt.
Prior to changing his mind about running for mayor, Soglin called Rhodes-Conway an "eminently qualified" candidate. Demonstrating his characteristic dry humor, Soglin attributed the comment to how "lovable" he is.
Since then, Soglin has disagreed with Rhodes-Conway on housing policy. At a Jan. 9 forum, Rhodes-Conway suggested expanding on Occupy Madison's "tiny houses" initiative as a creative solution to address housing in Madison.
Soglin argued that families with children can't live in tiny houses and pointed to his own record of combining low-income affordable housing tax credits and tax incremental financing to build affordable housing.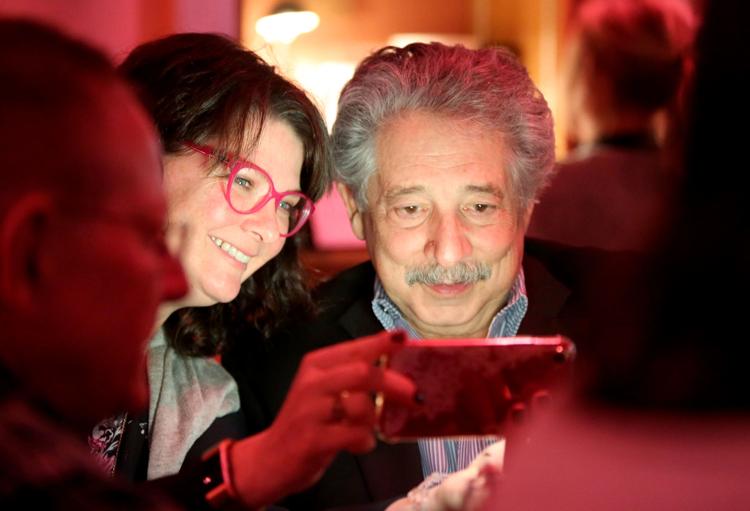 "Let's get real," Soglin said. "If we're going to talk about housing solutions, we've got to talk about how we are going to deal with the location issue, we've got to have the housing close to transit lines, close to schools, close to shopping, and then on top of that, financing."  
Michael Jacob, a volunteer with Rhodes-Conway's campaign, said "every vote is on the table."
"Every one of those voters and, frankly, most of (Soglin's), are voters we want to go get and we're going to work to go get them," Jacob said. "Some will be easier than others, but everyone is a target for Satya. She wants to be mayor of the entire city."
Kemble said Rhodes-Conway can win if she can get her message out to the whole community. She also pointed out that Rhodes-Conway is the only woman on the ballot, but has not made that an issue. If elected, Rhodes-Conway would be Madison's second woman and first openly gay mayor.
Kemble applauded Rhodes-Conway's sharp knowledge of the issues, listening and responding to people, and developing policy ideas that match issues important to the community.
"For me as a council member, I personally have worked really well with Soglin, but Soglin and the council as a whole have not worked well together and I think there's a lot of baggage and history there," Kemble said. "(Rhodes-Conway) understands the collective nature of the council and will be able to work with that."
Soglin said he inherited a "diverse city with very competing interests" when he returned to office in 2011 and faced challenges on the City Council when it came to spending. He said he has a record of making tough choices against that backdrop.
Ultimately, Soglin said he was elected to be a "competent, responsible" leader who carries out the values and goals of the Madison community. Though he may have offended people throughout his terms, he said his allegiance continues to lie with constituents.
"I always choose for the people I serve. They're the ones to whom I'm obligated," Soglin said. "That's been the story of the last eight years and will continue to be the story if I serve another four years."