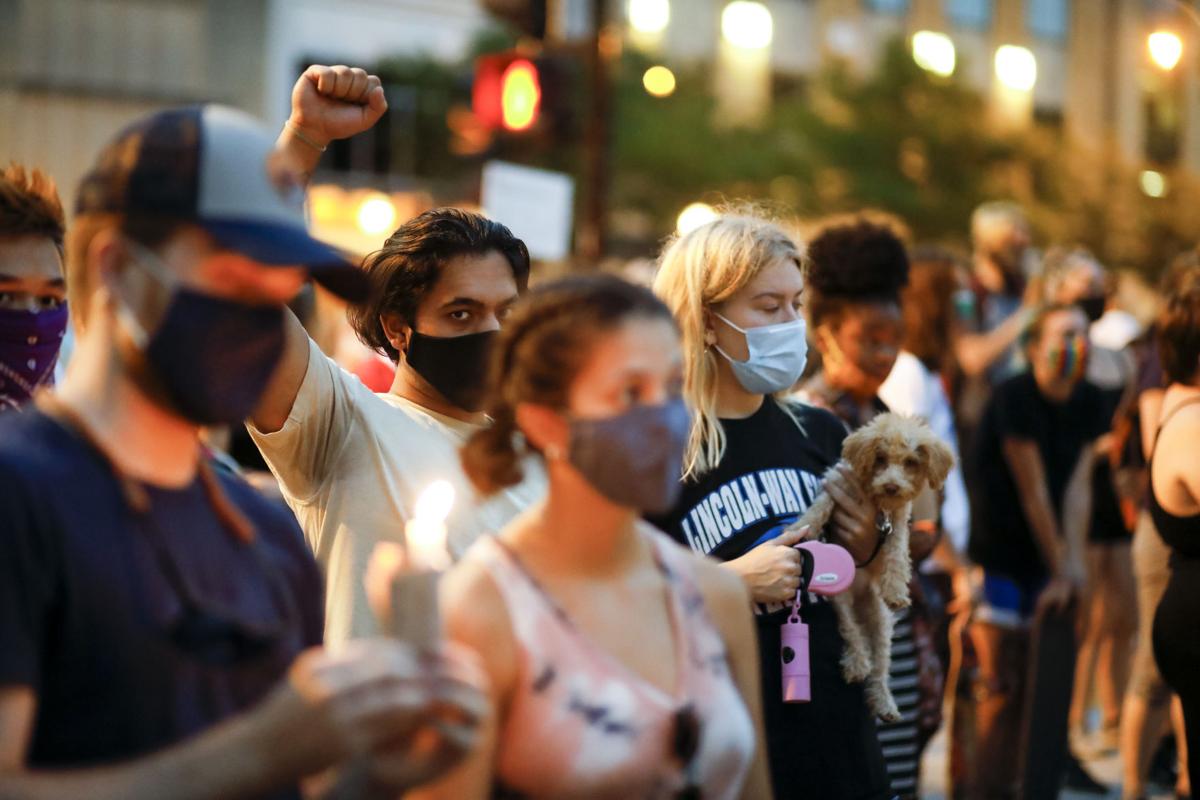 Standing with protesters and placing value on human lives over physical things has been top of mind for a number of businesses in downtown Madison. 
Businesses along State Street and in downtown Madison prepared for this, but readying means different things for different businesses. Patrick Sweeney is a co-owner of Rule No. 1 Hospitality Group, which includes Merchant on Pinckney Street and Lucille, a pizzeria at 101 King St.
Sweeney wants to mingle and converse with peaceful protesters, and have a bowl of soup while doing it. 
"We're not focused or concerned about things that can be fixed," Sweeney said. "We're angry and frustrated with the system and empathize with the protesters."
According to the Madison Police Department, over 40 businesses along State Street and downtown have been damaged this week, in addition to damage that has been done to city entities like the City County Building and Public Safety Building.
On Tuesday night, Lucille began what Sweeney said will be an ongoing practice of handing out soup to peaceful protesters and giving them a place to relax and find nourishment. He said about 100 protesters showed up for soup and conversations that night, making it one of the restaurant's most successful in recent memory. 
"We're not going to board up and cower in fear," Sweeney said. "We're going to be a place where people can come and talk and breathe and then we'll go home and go to bed. We hate the message of fear it sends to board up."
"Where conversations can happen"
Sweeney said that it was important to remember that people's ability to connect with each other is vital to finding solutions to issues around race and police brutality. 
He feels driven to provide that space. 
"It's important for downtown for someone to take up that mantle," Sweeney said. Tuesday "was such a great night ... with all of the conversations we had and all the protesters we met. I feel like more than ever it is up to the citizenry and small businesses to figure it out. We're trying to provide a place where those conversations can happen."
Over the course of the summer there has been a back-and-forth about the protection of property versus the protection of people's lives. Freedom Inc. has consistently rebuked the city of Madison and the Madison Police Department for what organizer M. Adams has called "valuing pavement over people." 
YWCA CEO Vanessa McDowell echoed those words during her speech at the candlelight vigil. 
"There's been all this talk about property," she said. "You're scared about something happening to your building and your property. What about people who are scared of what's going to happen to their life?"
Sweeney doesn't condone violence or destruction of property. But he understands the tension that has boiled over and how it may lead some to break things in order to get people to listen. 
On Tuesday, chef/owner of L'Etoile, Graze and Estrellon Tory Miller made similar remarks on Instagram. Graze took damage to its windows during protests on Monday night and closed on Tuesday in solidarity with protesters.
Urban Land Interests, which owns the US Bank building, has since boarded up parts of the lower level. The restaurant hopes to reopen on Friday. 
"We will not be opening Graze or our sister restaurant Estrellon today," Miller wrote Tuesday. "We stand with the victims of police violence. We stand with the people exercising their right to protest, and we keep Jacob Blake and his family in our thoughts." 
As for the damage, Miller wrote it's better than other losses — like lives. 
"I'd rather wake up to see every window in this city broken than wake up to another video of an unarmed Black man or woman being shot, strangled, kneeled on, or killed by police ever again."
Get Government & Politics updates in your inbox!
Stay up-to-date on the latest in local and national government and political topics with our newsletter.