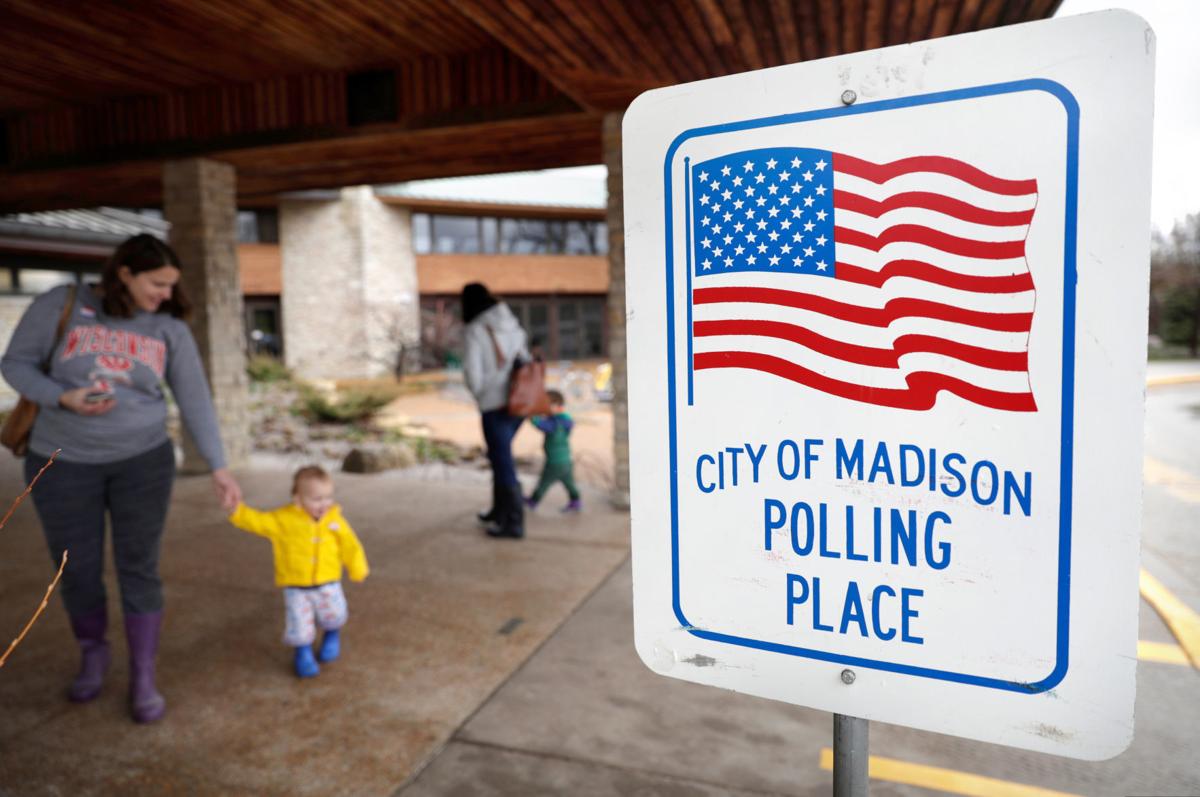 Faced with a Democratic-backed lawsuit seeking to ease absentee voting rules in Wisconsin, members of the state's Elections Commission grappled with how to handle next month's election amid the COVID-19 pandemic. 
With clerks across the state citing fears of a lack of poll workers, hand sanitizer, absentee ballot materials and more, commissioners Wednesday debated how to move forward for the scheduled April 7 election and whether it was safe to hold it in-person to begin with. 
"It is vitally important that this election happens on April 7 because it is vitally important to our state that we have continuity of government during a crisis," said Chair Dean Knudson, a Republican appointee. "The election must go on."
But some Democratic members, who backed language that would have called for legislative action to ensure the commission can safely administer the election, floated alternatives, including requiring that all ballots be mailed in. 
"I'm profoundly concerned that we're sort of going on a wing and a prayer here," Democratic appointee Ann Jacobs said during the teleconference meeting. 
Members ultimately voted 6-0 to allow the commission to spend $200,000 on additional assets needed for absentee voting such as envelopes, labels or sanitation supplies, as they urged Gov. Tony Evers and Department of Health Services to secure hand sanitizer for clerks and polling places. 
The state has an estimated shortage of 600,000 envelopes for absentee ballots, clerks have estimated, stemming from a shortage in the envelope material normally used. 
Wednesday's meeting came shortly after state and national Democratic officials sued the commission in federal court to make absentee voting easier and suspend aspects of Wisconsin voting law, including the photo ID and proof of residency requirements.  
Though the state has faced calls from some to postpone the election, Democratic Gov. Tony Evers has repeatedly said he's in favor of maintaining its April 7 date, when both the presidential primary race and local elections will be on ballots, including the state Supreme Court race, as well as a series of mayoral and city council elections. 
While the lawsuit doesn't request the election be delayed, the filing asks that county clerks count absentee ballots that arrive by April 12 if they're postmarked on April 7, giving clerks an extra five days to receive them. The suit also seeks to extend online and mail registration to March 27; under state law, that deadline was Wednesday by midnight. 
Still, voters are able to register in person at their local clerk's office by April 3 or at their polling place on Election Day. 
The Elections Commission doesn't have the authority to extend online or by-mail voter registration; changes would require court intervention or action by the governor or Legislature. 
Republicans slammed the lawsuit as an attempt to "hijack a national health crisis to rig an election in their favor," in the words of state GOP Executive Director Mark Jefferson. 
"If they cared about accessibility at the polls, they'd join us in urging clerks across Wisconsin to allow early voting immediately, not just those in their communities of support," he added. "Instead, they insist on suspending common-sense rules in an effort to further rig the election."
Meanwhile, Evers spokeswoman Melissa Baldauff noted the governor is prioritizing both the health and safety of individuals as well as the fact "that our democracy must continue." 
"He has been urging folks to vote by absentee ballot and believes that process should be as simple and accessible as possible," she said. 
Across the state, clerks have gotten 234,841 absentee ballot requests for next month's election, the Elections Commission announced Wednesday morning. In Dane County, 44,016 individuals have sought to vote absentee so far. 
The total number of ballot asks has already exceeded the number that were issued in three of the last four spring elections, with 2016 being the exception as of now. At that time, 249,503 ballots were issued, per the commission. 
To request an absentee ballot, voters can visit https://myvote.wi.gov or contact their municipal clerk's office. Voters who are already registered must request an absentee ballot by Thursday, April 2, though the commission suggests doing so as soon as possible.
Some Madison polling locations in limbo
State elections officials are also encouraging local clerks "to think creatively" about polling locations as nursing homes, care facilities and other sites typically used for in-person ballot casting on Election Day are being relocated. 
The moves follow the state Elections Commission's action last week allowing local clerks to relocate them in order to protect people from the coronavirus. 
Facilities the commission said could be used for polling locations should be accessible to those with disabilities and "large enough to serve their community while practicing as much social distancing as possible," such as fire stations, fairgrounds, park pavilions and others.  
In Madison, as in other communities across the state, district officials have signaled they may back out of using school facilities as polling sites. But now that schools are closed indefinitely, rather than til April 6 as Evers originally declared, it's possible those sites could still be used. 
Madison Metropolitan School District spokesman Tim Lemonds said Thursday officials have been talking with the city clerk but a final decision has not yet been made. 
If MMSD were to prevent its schools from being used on Election Day, it would impact 21 polling locations, the city clerk previously said. Additionally, St. Mary's Care Center, The Jefferson retirement community, Coventry Village assisted living facility and Capitol Lakes retirement community have backed out.  
Abigail Becker contributed to this report. 
Share your opinion on this topic by sending a letter to the editor to tctvoice@madison.com. Include your full name, hometown and phone number. Your name and town will be published. The phone number is for verification purposes only. Please keep your letter to 250 words or less.
Get Government & Politics updates in your inbox!
Stay up-to-date on the latest in local and national government and political topics with our newsletter.