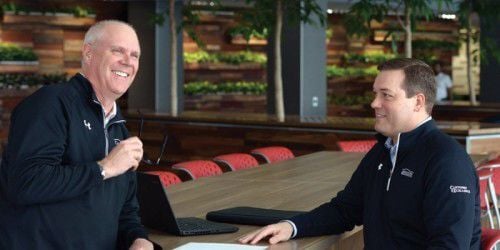 American Family Insurance CEO Jack Salzwedel on Wednesday announced plans to step down in January 2022 after a 10-year tenure that saw a near doubling of the company's assets.
Under the company's succession plan, he'll be replaced by Bill Westrate, president of American Family's insurance brands, who will serve as CEO-elect throughout 2021. Salzwedel will continue to serve as board chair.
In a statement released by the company, Paul Shain, director of the board, said the year-long transition is not unusual for a large company. He called Westrate the "perfect leader to continue the journey that American Family has embarked upon under Jack's leadership."
Westrate joined the company in 1996 as an actuary and rose through the ranks to roles that included vice president of the actuarial and personal lines divisions and chief operating officer.
Salzwedel took over the post from David Anderson in 2011, in the aftermath of the Great Recession. The company has since gone from a regional insurance company operating in 19 states to a Fortune 300 company with a presence in all 50 states.
Founded in 1927, American Family became a mutual holding company in 2016 and has acquired three other insurers — The General, Homesite and Ameriprise Auto & Home Insurance — and merged with Main Street America. Since 2011, the company's active policies have grown from 8.3 million to 12 million, and its workforce has gone from 7,900 13,500 employees.
The company's policy holder equity, an important measure of financial strength, has gone from $5.7 billion to $9.8 billion. Net assets have grown from $17.3 billion to $31.1 billion. 
The company said that it has also increased investment in agency owners through product and technology development.
The company has also made strides in enhancing employee benefits, including a $20-per-hour minimum wage, and created a division specifically focused on workplace diversity.
In addition, under Salzwedel American Family has established two charitable foundations. The American Family Insurance Dreams Foundation provides funding for numerous nonprofits across the country, with a focus on South Central Wisconsin, and offers a match for employees' charitable giving. It also initiated a COVID relief program that matches employee contributions two-to-one and has distributed $6.8 million.
And the American Family Insurance Championship, a PGA tournament in Madison launched in 2016, has raised millions of dollars for the American Family Children's Hospital and other charities.