Pursuing any of three alternative construction plans for a major jail construction project could cost Dane County millions more than building an addition next to the Public Safety Building at a cost that would exceed the original amount budgeted for the project.
County officials commissioned consultants in March to study options for consolidating jail operations into one building in downtown Madison after learning that expanding the Public Safety Building, 115 W. Doty St., would not be possible and that constructing an addition would cost about $150 million.
The latest report, which will be publicly available by Monday, April 29, ultimately showed that the costly annex, referred to as the "south tower," that would be built on land currently used as a parking lot is the most cost-effective option. In an interview Tuesday, Dane County Executive Joe Parisi said it was "prudent" for the county to explore all possibilities for the jail project. 
"The south tower seems to make the most sense when we look at all of our priorities, in terms of having one centralized location, to have a safe facility that allows us to provide the services we want — and need — to be able to provide to people in the most cost-effective manner," Parisi said.
Dane County included $76 million for the renovation project, which aims to consolidate the jail's three facilities and address critical safety issues, in its 2018 budget.
But the most recent estimates from consultants project the south tower addition to cost $148 million. The three alternative options, which include renovating the current downtown jail facilities and pursuing a "greenfield" site, are expected to cost between $161.1 million and $220.4 million.
These costs do not include staffing expenses, which range between $34 million and $45.9 million per year.
"Nobody wants to spend money to build a jail," Parisi said. "Our main priority has been and will remain to address the root causes of what lands people in jail, to focus on prevention, to continue to invest in mental health and diversion and re-entry services. But the fact remains that we are a community of more than a half-million people, and you cannot have a community this size without a safe jail."  
The Dane County Board of Supervisors plans to meet as a committee of the whole on Thursday, May 2, to discuss the project's future. Several committees — including Public, Protection & Judiciary; Public Works & Transportation; and Personnel & Finance — will review the options in the coming weeks.
To move forward, the board would need to vote on a budget amendment, which would likely occur in June.
"We're going to have to spend money on this jail in one way or another, and I believe that the responsible way to do it is to create a smaller, safer jail," County Board Chair Sharon Corrigan said. "There was support in the past, and I hope that we continue to have strong support for treating people in a fair, just way in how we house them."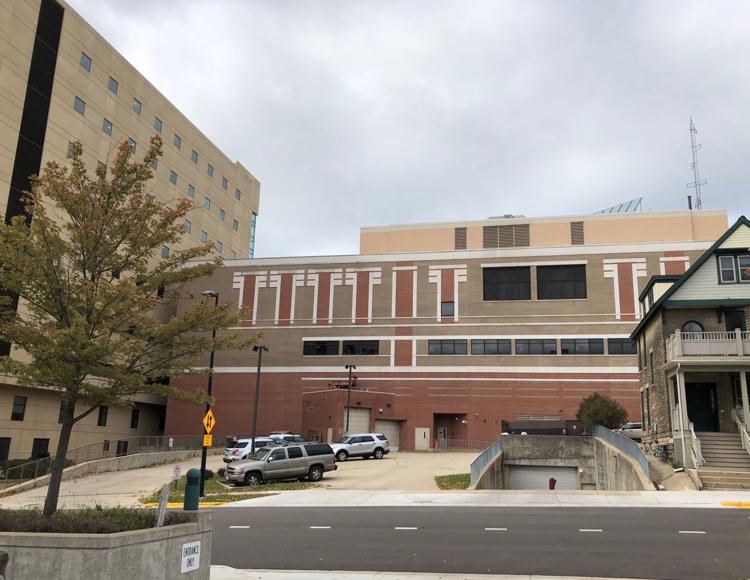 Dane County's jail system is currently spread across three facilities that include the Public Safety Building, the downtown City-County Building and the work-release Ferris Huber Center on the south side. In December 2016, consultants recommended closing the City-County Building jail with "due haste" because of the life and safety concerns it presents for inmates and jail staff.
"We are continuing to house people with medical conditions in solitary confinement, and we still operate the jail on two floors here that continue to put people in jeopardy," Sheriff Dave Mahoney said. "It's almost weekly we have incidents of attempted suicide."
The proposal approved by the Board in the 2018 budget would have closed the maximum security jail on the top two floors of the City-County Building, 210 Martin Luther King Jr. Blvd., and the Ferris Huber Center, 2120 Rimrock Rd.
Renovating the sixth and seventh floors of the City-County Building and the Public Safety Building. In addition, this plan would replace the Huber Center at a new "greenfield" site, or underdeveloped land that is eyed for urban development projects. Consultants expect this option to cost $161.1 million.

Renovating the Public Safety Building and using it to house work-release and minimum security inmates. This option would repurpose the City-County Building and involve building a new facility on a greenfield site that would house maximum and medium security inmates and provide medical, mental health and rehabilitation services. Cost estimates for this option are $164.5 million.

Consolidating all jail operations into a new site. The county could vacate the City-County Building jail, Huber Center and the Public Safety Building. It could then look into re-purposing or selling the Public Safety Building, which could potentially offset the the $220.4 million of building at a greenfield site.
All options include demolishing the Huber Center, which would be a future cost of $740,000.
Mahoney said consolidating jail operations allows the county to decrease the number of beds in the jail, eliminate solitary confinement and move away from an indirect supervision model, which hinders relationships between jail staff and inmates.
"It will allow us to begin addressing the core reasons people are coming into the criminal justice system," Mahoney said.
Whichever option the county ultimately chooses, the jail renovation would decrease the number of jail beds by about 10 percent, close solitary confinement cells, provide separate space for 17-year-old inmates, increase programming space and bring the jail into compliance with the Prison Rape Elimination Act.
Parisi emphasized that the jail renovation project is not an "abandonment of rehabilitation and prevention." He said it would be "irresponsible" for the county not to address the problems facing the outdated jail.  
"This is a jail consolidation project that is reducing the number of beds, that is working in conjunction with our prevention and rehabilitative efforts," Parisi said. "We're making a safer, smaller overall jail facility with a focus on preventing the people from getting there and helping the people who do get there succeed once they're out."
Building at a new "greenfield" site would take the shortest amount of time. Consultants estimate the project to be completed at the end of 2023.
The south tower addition option and the alternative option of renovating the Public Safety Building and building on a "greenfield" site would both be complete in 2024.
Because there are no out-of-county jail facilities to house maximum security level inmates during construction, the option that includes renovating the City-County and Public Safety buildings would not be done until 2027.