politics
Albert Borokhim shares his culture through Persian rugs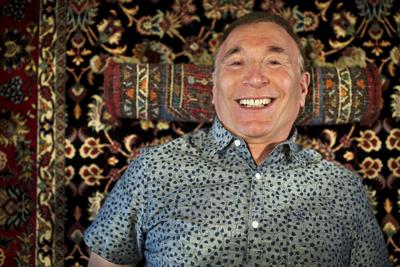 Albert Borokhim sees his rugs as "the art under your feet."
The long-time Monroe Street business owner is happy to talk about each roll of carpet that lines the walls of Borokhim's Oriental Rugs, 1801 Monroe St.
"I wish I could live another 500 years, I love these rugs," said Borokhim, whose shop has been in Madison for more than 45 years and online for 15.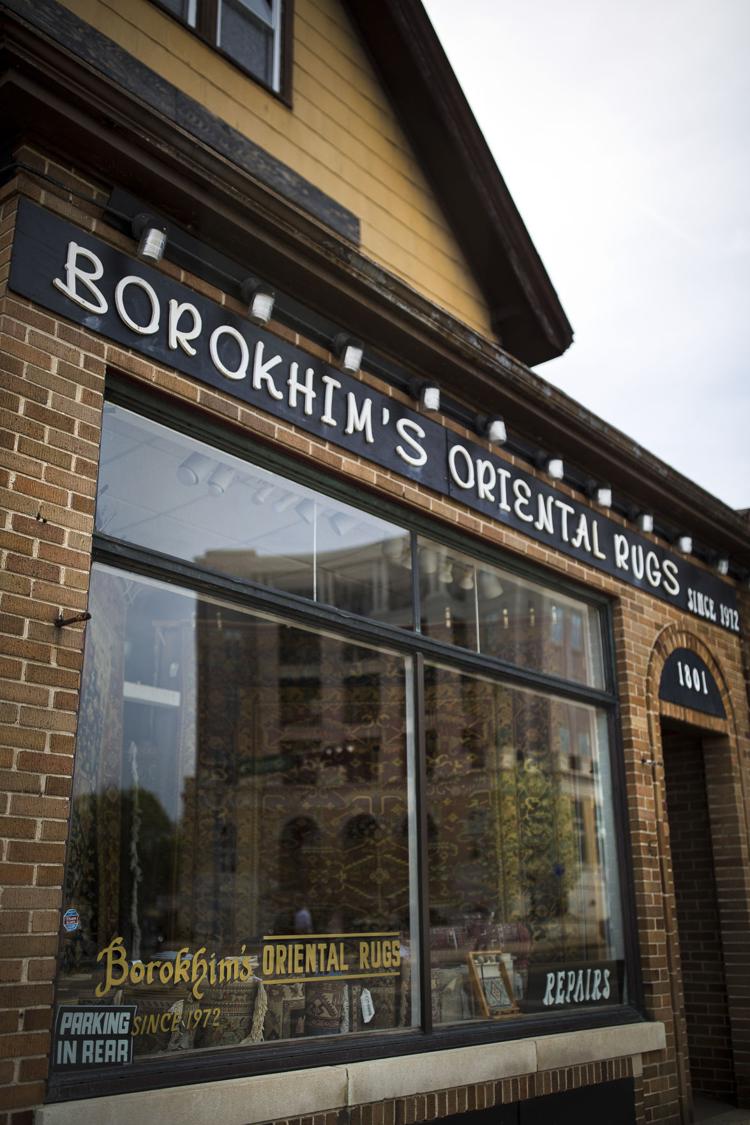 An Iranian Jewish immigrant, Borokhim initially came to Wisconsin for college then stayed to start a business. Although the relationship between the United States and Iran has been politically turbulent throughout Borokhim's time in business, he sees his rugs as ancient, apolitical pieces of a heritage he aims to share.
When considering a rug, there is a protocol, he said. One should walk the perimeter of the rug, take it in at different angles and inspect the rug in varying kinds of light, morning, noon and night.
Then, feel the rug. Its texture will reveal what it is made of — wool, cotton or silk — and how tightly it is woven. That will indicate its durability and explain the price tag. Prices for the colorful, hand-woven rugs vary greatly, anywhere from $200 to $35,000.
"The name of the game in the rug business is touch and feel and compare," Borokhim said.
Though he sells, repairs and cleans rugs from several countries, including Turkey, Romania, Pakistan and India, the ones from Iran are his favorite.
"Definitely an Iranian rug is preferable," he said. "They are tougher, more durable and better dyes, better investments."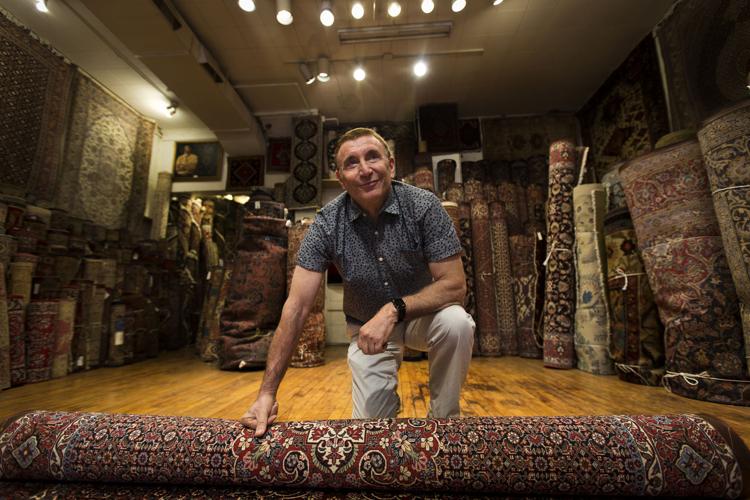 Rugs come from 65 regions in Iran, also known as Persia. They are all quality rugs, Borokhim said, but he especially loves the Bijar. Named for the Iranian city in which they're made — in the Kurdistan province of the country — Bijar rugs are finely woven rugs typically made of lamb's wool, with intricate patterns often modeled after the ceilings of mosques.
Ben Chafieian is a Persian carpet wholesaler in New York City who has been buying and selling rugs to Borokhim for more than 40 years.
He said Borokhim is a success because he knows what he's talking about and he takes the time to teach people about his rugs and the culture and craftsmanship that inform them.
"He is an authority," Chafieian said. "He knows, he explains to customer how is this made, that is why."
The Iranian rugs Borokhim sells are pieces of the homeland he left in 1973. The number of Iranian Jews have continued to decrease in the country. They numbered around 100,000 in the 1970s when Borokhim left. Now, there are less than 10,000, according to the nonprofit American-Israeli Cooperative Enterprise.
He grew up in a town called Nahavand in the western region of the country then moved to Tehran when he was 11. As a minority in the country, Borokhim said he didn't face discrimination growing up; Jews in both cities had their own communities and lived in peace with their Muslim neighbors.
Borokhim came to the University of Wisconsin-Madison in 1967 to study to be an an engineer. He earned a civil engineering degree in 1972 but realized quickly he was better suited to sales.
He got into the rug business out of necessity, selling two rugs he brought from home because he needed the money. He came to the country with only $600.
"I was staying in New York City with a number of friends and they said, 'You want to sell this one?'
"And I said, 'Sure.' I needed money, I was really desperate," he said.
It was that early experience of "selling his culture" that stuck with him, he said.
"That was a very, very rough time because you know first semester of tuition was $1,500. I came to Madison, I had to feed myself, I had to have the housing and transportation and health and all that, and I was totally on my own," he said.
"I was in this rich country not speaking too much English and really fending for myself. It was a really, really rough time, three, four years of really rough time. Sometimes I would have two jobs, wake up at 4 in the morning and go to one job, go to school and then I would come back to another job. I had to study and engineering was not a very easy subject."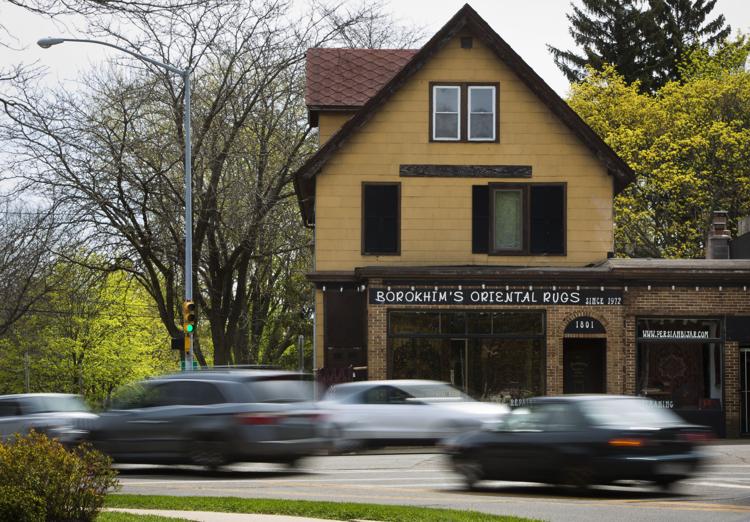 After graduating, Borokhim returned home to visit his parents.
"And so I said to my dad, 'I really want to be selling rugs,' and he said to me, 'I'm really disappointed, here you are, six years of struggle, very expensive and you work so hard,'" Borokhim said.
But his dad, who ran a shop selling tea, spices, sugar and some rugs on the side, agreed to get him some rugs on consignment to bring back to Wisconsin.
Borokhim brought back 12 rugs, collectively worth $8,000 at the time, to sell. He initially opened a shop in Middleton but didn't get much traction, so he moved to Monroe Street in 1972.
He has been there ever since and said he now has the largest selection of Bijar rugs in the Midwest. He has never wanted to locate his shop in a bigger city, he said.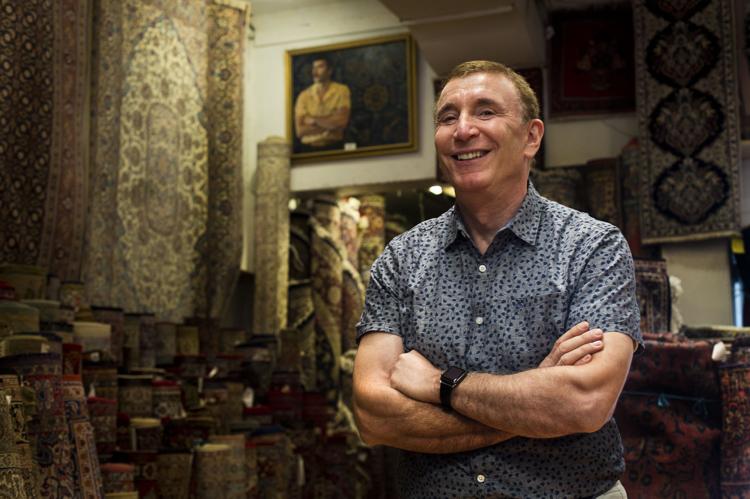 "Madison and Dane County and Wisconsin have really been a home to me. The people are superb," he said. "They are very flexible, there is no discrimination whatsoever. I've never seen backlash, even when there was the hostage crisis in Iran. There has never been breaking windows, paint throwing, eggs or things like that. This is my home and I fit in perfectly."
A little over half of Borokhim's business comes from Wisconsin, he said, but the rest of it comes from online sales and rugs he ships all over the country.
He said he will ship a potential customer as many as a dozen rugs at a time, tens of thousands of dollars worth of rugs, with no security deposit or down payment. And he covers the shipping both ways.
Because the best way to know if you want to buy a rug is to see it in its final destination, Borokhim said.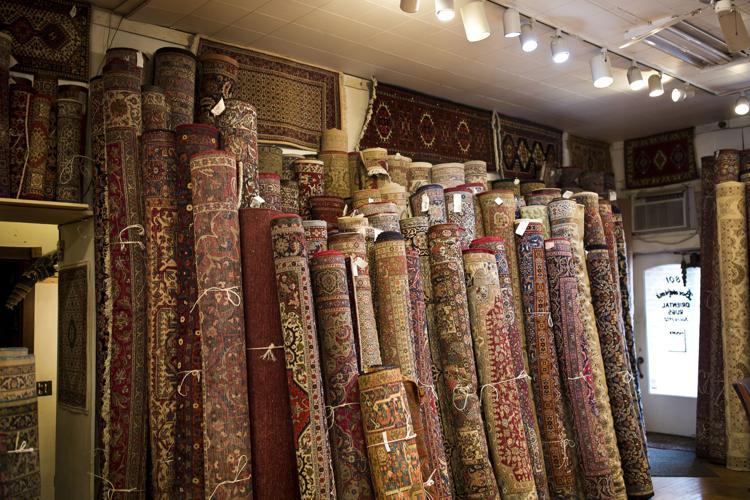 "You want to see it in various areas. Does it go with your furniture, does it go with your fireplace? Do you like the rug?" he said. "That's the only way to choose a rug. So in other words if Mohammad cannot go to the mountain, the mountain has to go to Mohammad."
If they like the rugs, customers send a check. If not, they send the rugs back. He said he has never had a rug stolen or problems getting money from people.
"It is remarkable, but we do a little bit of checking. People who call me are not crooks, they really are very trustworthy people. It's though you shake hands on a telephone, the rug comes and you're happy and you send a check," he said.
"You got to trust people and most people… and this I really want to say: most people are good in this country, the majority of them — actually, a high, high percentage of them. They are good people if you treat them good then it pays off."
"Maybe after this after people will say, 'Oh that sucker,'" he said, chuckling.
Borokhim's daughter, Laila Borokhim, owns Layla's Persian Food on South Butler Street downtown. Her father inspired her to start her own business even though he warned her it was tough.
"I learned a lot more from him (than in school)," she said. "I don't have a degree in business, I have a degree in biochemistry. It just seemed better to open my own business."
In her work, she said she has strived to adopt his approach to interacting with customers.
"You want to make sure you're treating a person with respect and looking at them in the eye. You have to stand out from the other people," she said.
"One of the ways to do that, especially in his business, … is kindness. It's almost like a friendship, and you know you're not getting ripped off and knowing the (seller) is a trustworthy person."
Although Borokhim's business is different than other Monroe Street businesses, any foot traffic he generates is a positive, especially as shops on the street brace for construction on Monroe next year, said Katy Schalles, owner of Katy's American Indian Arts, at 1817 Monroe St.
"The fact that he's been a good neighbor all these years has certainly been a plus," she said.
"With the Monroe Street Merchants Association, he's an active member and that's a good thing."
While the United States' economic sanctions against Iran hampered the global rug market by barring any new Iranian goods from being imported into the U.S., it hasn't hurt Borokhim's business, he said. He stocked up just before the latest one took effect in 2010, buying 700 Bijar rugs from Iran. The sanctions were lifted last year.
He estimates he has 1,500 rugs in his shop, he said.
"That was the best thing that I've ever done because Bijars are not being made as often these days," he said. "I would think that in 50 years there will not to be too many rugs that are made in Iran because it's a dying art."
Experts say fewer rugs are being made there due to shifting tastes, changes in production and the globalized economy.
"Even though there are many kinds of Persian carpets — tribal, geometric, floral — in general in the West, there's been a decline in the type and taste of carpet that you would stereotypically define as Persian," said Behnam Taleblu, an Iranian-American analyst at the Foundation for Defense of Democracy in Washington, D.C. "What is sold now is more minimalist patterns."
There is also a shift in Iran, as in the West, of buying cheaper goods and replacing them more frequently, rather than investing in a single item.
"What is facing the Iranian carpet makers is increasingly emblematic of the purchasing practices of the West: to buy something cheaper, easier, that you can reproduce when you change your house or you move," Taleblu said.
As trends in the U.S. and Iran have shifted, Borokhim has kept up, conversing with customers and educating them about his rugs and from where they come. 
"The more educated (customers) become, the better decisions they make, the happier they become," he said.