Leading a tour of Madison Metro Transit's garage on East Washington Avenue last week, maintenance manager Jeff Butler pointed out items stored on the building's ceiling beams, tight maintenance quarters and a cramped bus storage area.
Butler also demonstrated to city Transportation Commission members on the tour how 24-hour maintenance workers are separated by mere inches from buses driving through the facility's wash bay.
The garage at 1101 E. Washington Ave. is maxed out on space, poorly ventilated and 10 years past its useful life, general manager Chuck Kamp said. But with funding for a new satellite facility unlikely in the short term, the city identified over $50 million of necessary life and safety improvements at the garage.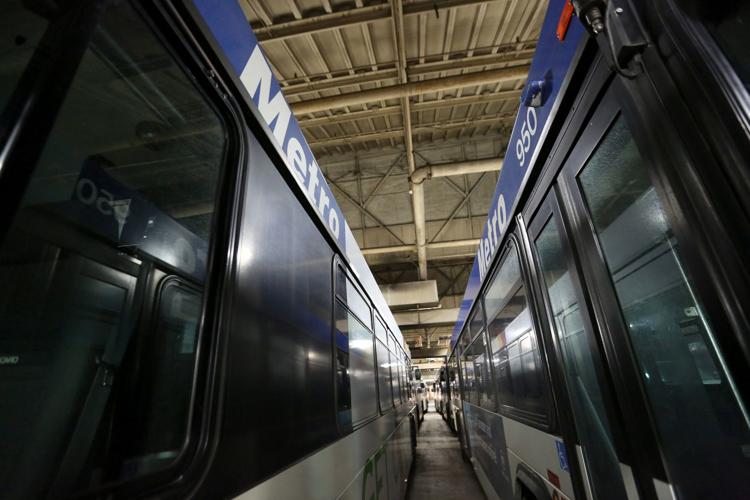 "Metro is going to need to plan to be in this existing facility for at least 20 to 30 years," Kamp said.
The garage was originally built for 160 buses but now holds about 200, each of which is 40 feet long. It will gain another 15 when Metro's lease with a facility in Middleton ends in summer 2019. Kamp said the tight quarters make it difficult to maneuver buses within the garage, increasing the risk of mirror dings and potentially jeopardizing employee safety.
The garage is designed for right-hand turn circulation for buses, although left-hand turns are the industry standard for current bus facilities. Right-hand turns create a blind-spot turn direction, while left-hand turns allow drivers a more clear path.
The building's 40-year-old exhaust system leads to diesel fumes and moisture from nightly cleaning hanging in the air.
"We do not have good ways of getting rid of moisture," Kamp said. "It makes working in the garage less safe than it should be."
The 2019 Capital Improvement Plan includes $57 million of improvements over the next five years. The CIP is a non-binding guide for how and when the city should fund projects. The budget includes $7 million in 2019 to design a heating, ventilation and air conditioning system and construct a new wash bay.
"This will make it a better way to keep our buses to do preventative maintenance and minimize corrective maintenance," Kamp said.
Metro Transit spokesman Mick Rusch said phase one will go out to bid in January with construction to start in April. HVAC design is about halfway complete with design work expected to finish in 2019 for a construction project in 2020. 
Air conditioning is needed to cool down the garage during the summer when temperatures can exceed 100 degrees. Butler said employees are allowed to wear shorts and are given sports drinks to avoid dehydration.
In future years, Metro Transit renovation includes improvements to maintenance and mechanic space, administrative offices and employee locker and restroom facilities. The CIP also includes $30 million in 2023 for a satellite facility that will store 70 buses.
Metro Transit has applied unsuccessfully for federal funds through the Transportation Investment Generating Economic Recovery (TIGER) program for the past three years. In the 2017, application cycle Metro applied for $19.6 million, which would have been used to address the garage's capacity issues, purchase more buses, expand service and work toward establishing a bus rapid transit system.