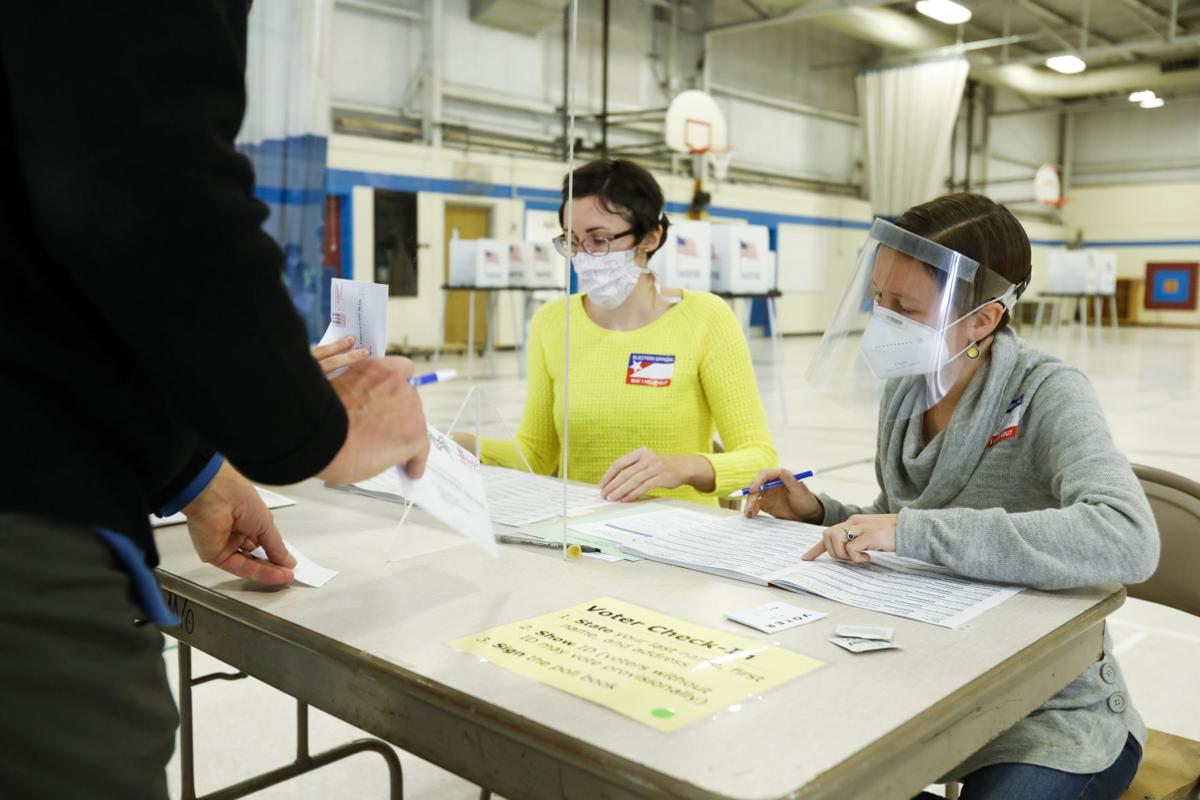 Hours after President Donald Trump's campaign officially requested a recount of two of Wisconsin's biggest and bluest counties, members of the state's Elections Commission sparred over proposed guidance for local officials as they gear up to re-tally thousands of ballots over the next two weeks.
The newly proposed language, part of a broader manual that drew hours of debate during a tense meeting Wednesday night, divided the Democratic and Republican members of the six-commissioner body, resulting in repeated gridlock and a series of partisan jabs before it was finally passed along with a legally mandated order kick-starting the recount. 
But that order authorizing the recount didn't ultimately include the guidance members spent hours partially updating and debating, in some cases line-by-line, because commissioners disagreed over whether the finished product accurately reflects state law. 
Even before the meeting began, a spotlight was thrown on the proceedings by state Republican Party Chair Andrew Hitt, who wrote in a Twitter post that received thousands of retweets that the new manual sought "to make objections harder to make" by recount observers associated with both presidential candidates. 
The nonpartisan Elections Commission staff members had offered changes to the recount guidelines, which amended a document from August 2018, largely to respond to the COVID-19 crisis. Tweaks ranged from best practices for observers given current public health recommendations to changes surrounding the review of absentee ballot materials during the recount. 
That included advising election officials to take health guidance, social distancing, the use of face masks and other measures into account. But Republican commissioners sought to go further by mandating the right to observing the recount couldn't be superseded by local public health guidelines — language that failed to pass over Democratic members' objections that the move would endanger workers' health. 
Commissioner Dean Knudson, a Republican appointee, alleged Democrats were using the coronavirus pandemic as cover to seek changes to elections procedures. Such action, he argued without evidence, could play out in the heavily liberal Milwaukee and Dane counties, where Trump's campaign requested recounts. 
"If they can figure out a way using a pandemic to make it harder to observe, then that wouldn't be out of character because Democrats have been trying to do that now for about six moths with this election," he said. "It would not be out of character at all." 
But Democratic appointee Julie Glancey, a former clerk, pushed back against the allegations of nefarious actions from "these evil Democrats ... so that these honest, hardworking Republicans can't see what's going on." 
"I'm tired of that," she said. 
During the course of the more than six-hour-long debate over those changes and others, other allegations flew, with Knudson suggesting it was possible all absentee ballot requests made through the state's MyVote website are illegal and fellow Republican appointee Bob Spindell charging that thousands of absentee ballots could have been sent out to Wisconsin voters who hadn't first requested them.  
Democratic appointee and commission chair Ann Jacobs seized on the second point, saying she was "shocked and offended" Spindell implied clerks in Madison and Milwaukee would have issued unrequested ballots, adding the allegation is "absurd" and "bizarre." 
"We need to take the level of rhetoric down to what we know, what is real, what has actually happened, and then we need to act on it," she said. "We need to not be pretending that those conspiracy theories are real, and they're not." 
While the commissioners did eventually agree to accept some of the manual changes staff had proposed surrounding COVID-19 modifications, they deadlocked repeatedly over the language centering on the review of absentee ballot materials.
Wisconsin Elections Commission Administrator Meagan Wolfe said the proposed changes came about after staff heard from local clerks that the August 2018 recount guidance mandated steps that weren't required in state law. 
Under the process for a recount, as laid out in statutes, officials have to review the absentee ballot log (which includes information about how and when a voter requested a ballot if they did so through MyVote) and the poll book to ensure everything aligns when tallying the number of absentee voters, Wolfe said. 
If it doesn't, officials could then review the absentee ballot requests under the updated 2020 guidance the commission's staff proposed (though such an action is only suggested if officials are unable to determine the number of absentee voters from the previous actions). That breaks from the August 2018 guidance, which mandated that officials review "the written applications for absentee ballots and the list of absentee voters maintained by the municipal clerk."
But Wolfe said upon review, that provision "is not a step that's required as part of the statutory process for a recount," leading to the proposed changes. 
Commissioners, though, could not agree whether staff's interpretation was consistent with state statute, leading to a series of 3-3 votes as Republicans argued the language shouldn't be changed at the last minute and Democrats countered it should reflect the latest legal interpretation. 
"I think we definitely can and should leave it alone the way it was. because that's the way it was when the petitioner put their money down," Knudson said. "I mean, that's just a simple matter of equity and fairness."
Jacobs, though, pushed back, acknowledging that while the commission "should have caught this in 2016," commissioners "have to admit when we're wrong."
"Our manual was wrong," she added. "This is not a required part of the recount." 
Because of the deadlocks, the new memo will keep in place the 2018 language surrounding the review of absentee ballots and materials. 
Sign-up here for the Campaign Notes newsletter to get important Wisconsin politics updates in your inbox each Thursday, now through Election Day. 
Get Government & Politics updates in your inbox!
Stay up-to-date on the latest in local and national government and political topics with our newsletter.