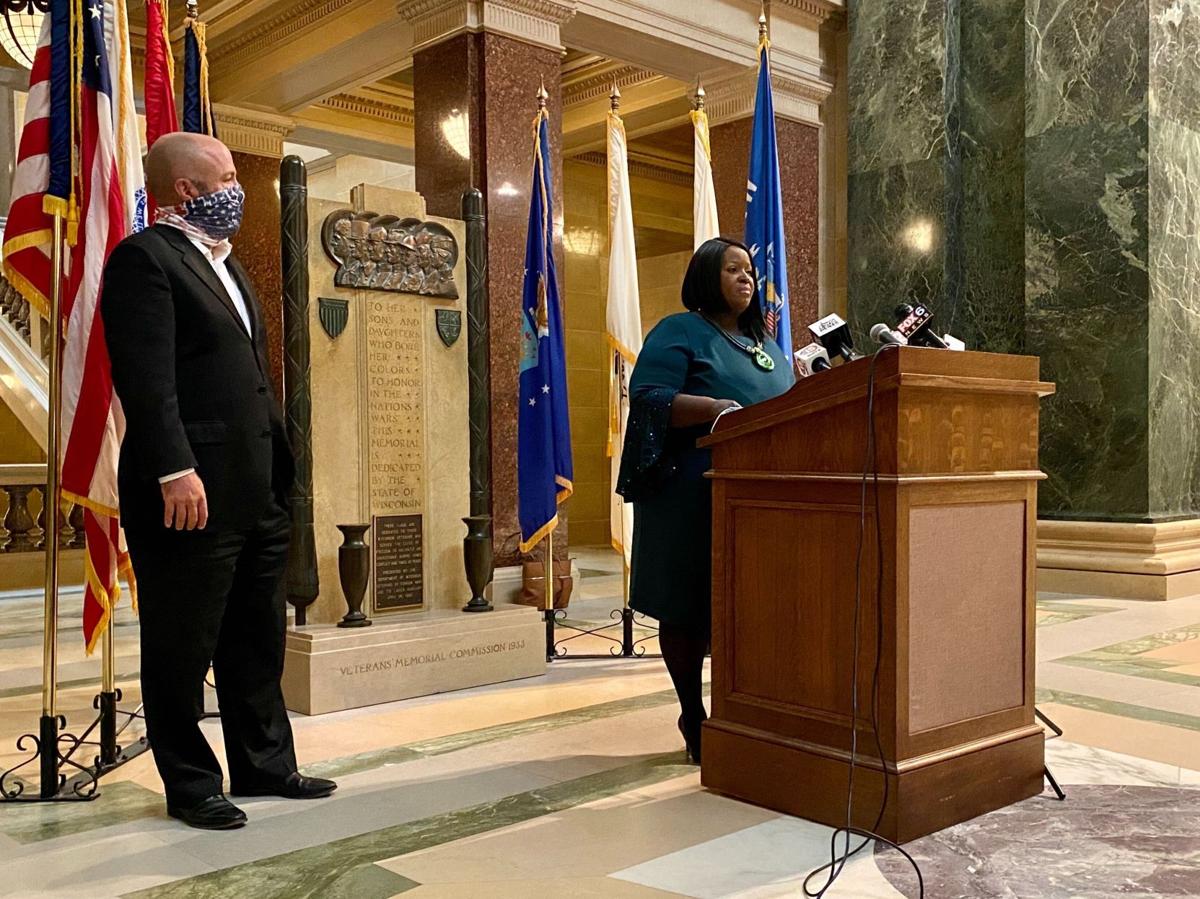 A week after the Republican-led Legislature declined to convene in special session to take up a slate of bills targeting policing practices in Wisconsin, a new task force seeking to address racial disparities in the state is starting to take shape. 
Democrats have made clear up to this point that they would have preferred immediate action from lawmakers over this option. But on Tuesday, one of their own — Madison Rep. Shelia Stubbs — stood beside fellow task force co-chair and Assembly Majority Leader Jim Steineke to emphasize that, right now, the committee is the only way to move forward. 
"Let me be clear: This task force is not a substitute for action and it is not the solution, but it is a step forward," Stubbs told reporters at a Capitol news conference, adding later: "As you can see now, we are stuck. The Democrats and Republicans, we are stuck. Our governor did the best he could do with the authority that he had and right now, this is what we have."  
Stubbs, the first African American lawmaker from Dane County elected to the Legislature, was announced earlier Tuesday as the panel's co-leader, joining Steineke, R-Kaukauna, at the helm of a body tasked with proposing legislative recommendations on racial disparities, educational opportunities, public safety and police policies and standards.
As part of the task force's work, Stubbs and Steineke said they planned to review the nine policing bills Gov. Tony Evers proposed earlier this summer, in addition to measures from Republican Sen. Van Wanggaard, a former Racine police officer. 
Evers' provisions include one that would ban the use of choke holds and another to bar the issuance of no-knock search warrants, while Wanggaard's would mandate use-of-force reporting, reduce state aid for police departments that have their funding cut and create an outside group he previously likened to the National Transportation Safety Board to investigate police shootings, among other things.   
Though many of Evers' bills have been introduced in prior legislative sessions and gotten no traction, Steineke blamed the Democratic executive for failing to bring Republicans and Democrats together on the plans when he first announced them in June. Between then and August, when Evers issued his special session call, there was no public movement on the proposals. 
But the task force, the Kaukauna Republican argued, would "ensure everyone has a seat at the table" as well as ownership of the recommendations the body presents.  
While such bodies tend to take months to produce recommendations, those also aren't necessarily guaranteed to easily pass the Legislature, a recent WisPolitics.com report noted. 
This session, the report found, just three of 30 recommendations from task forces Vos created on adoption, water quality and suicide prevention have passed the Senate and Assembly. The remaining 27 bills, per WisPolitics.com, have cleared the Assembly but so far faced inaction in the Senate. 
The newest task force, formed by Assembly Speaker Robin Vos a couple weeks ago following the Kenosha police shooting of 29-year-old Jacob Blake, a Black man, is currently accepting applications from community members. Stubbs said while the body would be equally split between Democratic and Republican members, community representatives would outnumber them, which she said "is a great thing."
Going forward, Steineke said the body's first meeting would be at the end of September or in early October, with the panel meeting every two to three weeks after that. 
While Republican leaders in both houses had declined to act on Evers' bills last week, gaveling in and quickly adjourning, Steineke Tuesday said there were no immediate plans to close out the session completely. 
That would leave the Legislature the ability to use the session as "a vehicle" to act on bill recommendations that could be finalized early, such as the beginning of December, he said. But he cautioned there would be "a volume of material that we have to get through" before that step is reached. 
Steineke has previously said he hopes "a broad package of bills" could reach the floor in January. 
Still, even if lawmakers were to gavel out of Evers' special session in the coming weeks or months, they could return in an extraordinary session whenever they saw fit to act on any legislative recommendations. Extraordinary sessions are convened by the Legislature, while special sessions are convened by the governor.  
The co-chairs gave no hints about other specific policies or areas they might be considering action in. Steineke also said there hadn't been discussion yet over what the body's budget would be, citing the "volatility of the economy" due to the COVID-19 crisis.
Despite the uncertainty and the acknowledgment that the citizen-led panel would be a "compromise committee," in Stubbs' words, she rebuffed a reporter's question about whether she had faith Republicans would listen and pass the overhauls Democrats may be seeking. 
"Let's not kill the process before we get started," she said. "It's overdue. I need something done right now. It is an urgency, it is a crisis and if this is what it takes for me to move forward, I'm looking to do it."   
Sign-up here for the Campaign Notes newsletter to get important Wisconsin politics updates in your inbox each Thursday, now through Election Day. 
Get Government & Politics updates in your inbox!
Stay up-to-date on the latest in local and national government and political topics with our newsletter.