Before she made history in 1976 as the first female justice to serve on the Wisconsin Supreme Court, Shirley Abrahamson sought to make other women feel welcome in the legal profession by offering some lasting advice.
Following her graduation in 1973, Eunice Gibson and some of her classmates "didn't feel very at home" in the existing Dane County Bar, leading them to consider forming their own group tailored to women in the legal profession.
The idea, Gibson recalled Abrahamson saying to her, was a good one and worth pursuing.
"But she said, 'You must go to the Dane County Bar. They have to see you,'" Gibson said.
"And I thought throughout the rest of my life, it's still good advice," she said. "If you're in a situation where you're the only one and you feel kind of excluded, they have to look at you. So don't deal with that by absence, deal with that by attendance."
Two years after the Dane County Legal Association officially launched, former Gov. Patrick Lucey appointed Abrahamson to the bench. She will wrap up her 43-year tenure at the end of this month as the longest-serving justice in state history.
Over her career and from her perch on the high court, Abrahamson oversaw a great deal of change in the legal profession. When she graduated in 1956, just 3% of law school students were female. Nationwide, that number surpassed 50% for the first time in 2016 and women continued to outnumber men in the following two years, according to the American Bar Association.
In Wisconsin, female representation in the courts statewide has increased since 2005, the first year data was compiled by the Wisconsin Women's Council. As of June 2019, according to the council, women made up 26% of positions on circuit courts and appeals courts across the state, as well as the state Supreme Court. In 2005, that figure was 14%.  
But while women are growing in attendance in law schools and the court system, female judges and attorneys in Dane County say more needs to be done to elevate women within the legal profession, and retain them in the first place.
End of an era
Abrahamson, 85, is poised to step down from the high court in a matter of weeks — a decision that came after she announced last year she wouldn't seek re-election.
Beloved by liberals who see her as a bold, crucial voice, Abrahamson in her career has also been derided by former colleagues and conservatives who say she operates as a judicial activist and is hard to work with.
Over her tenure, the former chief justice of the court and first woman to hold the post authored 535 majority or lead opinions and 491 dissents, for a total of 1,350 writings since her 1976-77 term, according to her staff.
Her time as chief justice from 1996-2015 triggered a constitutional amendment from conservative colleagues and lawmakers to change the rules of how the court elects its leading justice. Once the amendment cleared, Abrahamson's colleagues ousted her from the post.
The last case she participated in was the challenge to the state's December lame-duck laws brought by the League of Women Voters and other groups. In the court's 4-3 decision issued June 21, Abrahamson joined the liberal minority in dissenting.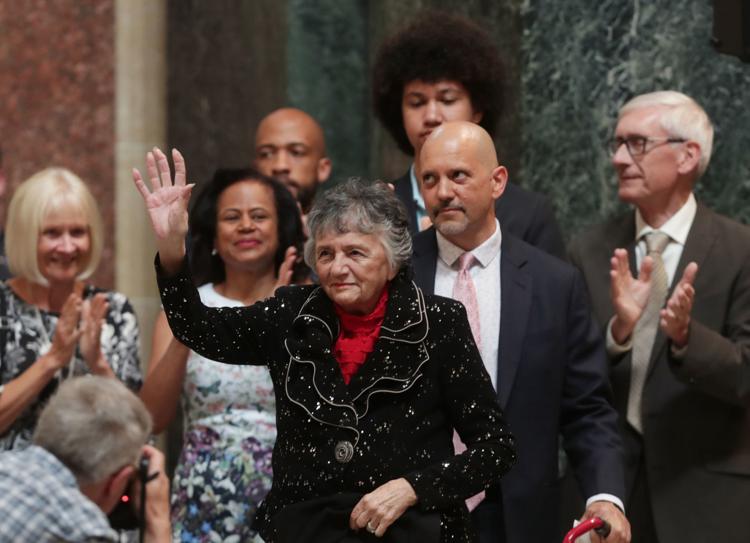 A changing landscape
When Gibson began working in city government in 1974, she didn't know she'd go on to become Madison's first female city attorney. That history-making move wouldn't happen until nearly two decades later, in 1991.
In the mid-1970s as a nearly 40-year-old mother with five kids, Gibson embarked on her career after law school with a plan: take "every possible certificate that you could ever possibly frame" and hang them up on a wall in her new office.
"Everything that I could — every honor society that I was ever admitted to, that went on the wall, because the (clients) have to get used to the notion that this is a serious person, this is a person that has good ideas about what you should do," she said.
She added: "(Clients) think, 'Who is this person and why in the world should she know more than I do?'"
Proving her credentials in that way, she said, "worked quite well" and helped her establish credibility as a new employee in the male-dominated city attorney's office, though she noted being older than most new staffers was also an asset.
The office's makeup was different when Gibson retired in 2002. By then, a majority of the assistant city attorneys were women she was largely responsible for hiring, according to a UW Law School post from that year.
Similarly, Madison's legal landscape has also evolved, opening more doors for women at private law firms and in the courts.
For example, the number of women registered with the State Bar of Wisconsin increased steadily from 1987 to 2019, going from 15.6 percent to 35.5 percent over those decades, according to data showing in-state and out-of-state bar membership.  
The state Supreme Court is perhaps one of the most visible examples of the decades-long evolution, arriving at a court where six of its seven justices are female, a dynamic that will continue through the end of this month, when Abrahamson's term ends and Brian Hagedorn takes over her seat.
But when Abrahamson took office in 1976, she was the only woman on the bench until Janine Geske won election in 1993 and became the state's second female justice. Since 2007, though, female justices have made up a majority on the high court.
While the state Supreme Court is majority female, lower courts across Wisconsin are a different story. As of June 2019, just 24 percent of judges at the circuit court level were women. And at the appeals court level, 31 percent were women, according to Wisconsin Women's Council data.
In Dane County, however, nearly half of the circuit court judges are female, and currently two of the five appeals court judges for District 4, which covers southwestern and parts of central Wisconsin, are women.  
JoAnne Kloppenburg, one of those two appeals court judges, has run for a number of judicial offices.
She was first elected to District 4 in 2012 after an unsuccessful campaign against incumbent Supreme Court Justice David Prosser in 2011. She later ran for the high court again but lost to Justice Rebecca Bradley in 2016.
Kloppenburg identified two roadblocks women typically face as they pursue judgeships: networking issues and time constraints.
But she noted the first aspect is evolving given that more women are becoming judges and are seeking public office at all levels, leading to networks building for and around women.
Regarding time constraints, Kloppenburg said those are largely due to women working to balance their family responsibilities and legal careers.
But she noted that's becoming easier, and because individuals who want to become judges first need established legal careers, younger women are able to both start their families and lay strong foundations in their work before eyeing a run for judicial office.
That run, the mother of three said, would then come as children grow up.
"The trends in both of those areas are heading toward enabling women, at least in Wisconsin, to run for judge and to become judges," she said.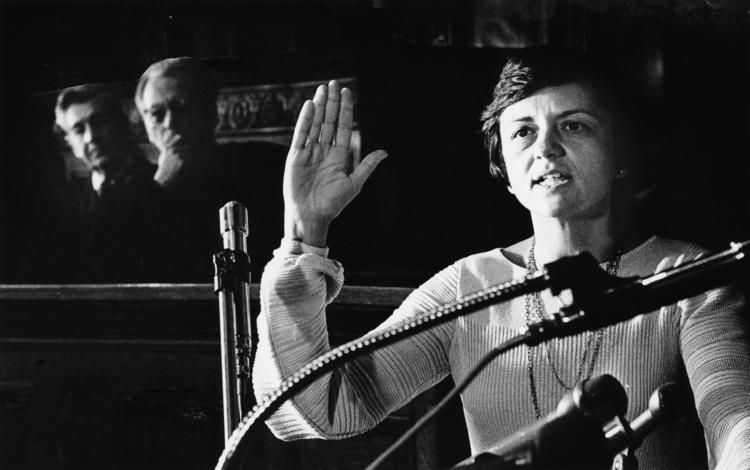 Balancing work, home expectations
While more women are enrolling in law schools and entering the legal profession today, the challenges in continuing to pursue their careers while raising families persist.
The difficulties drive some women out of the profession entirely or steer them toward opportunities with more flexibility, where they have the ability to work part-time, Dane County Circuit Court Judge Jill Karofsky said, including in state government.
The 2020 state Supreme Court candidate, who won her circuit court seat in 2017 in a race against Marilyn Townsend, formerly served as an assistant and deputy district attorney in Dane County. She also worked in the state Department of Justice and National Conference of Bar Examiners.
A single mother of two kids, Karofsky said it has been "incredibly helpful" to see women in law, like Abrahamson, have kids while balancing their careers. Growing up, Karofsky was able to watch Abrahamson — a longtime friend of her family — raise her son, Daniel. Karofsky said she and Daniel, who are the same age, went to camp together.
"There's 'how-to' books on everything: how to change a bike tire, how to change the oil in your car, how to fix a computer. There is nothing about how to have a legal career and manage a family," Karofsky said. "I have yet to see a program on it in any law seminar. We just don't talk about it."
But Abrahamson's management of her work and family expectations was well-known across the legal community in Madison, former municipal Judge Marilyn Townsend said.
In 1964, hours after giving birth to her son, Abrahamson requested that Gordon Sinykin, her boss at the La Follette, Sinykin, Doyle & Anderson firm, bring her case files to the hospital so she could work when her baby was sleeping.
"We had a reply brief due in a week. If I didn't help out, then the whole workload would fall on the others," Abrahamson said in a 1985 Milwaukee Journal story.
Townsend, a longtime attorney who set up her own law office after returning to Madison in 1987, quickly joined the Dane County Legal Association for Women, where she got involved in putting together a women's equity report for the profession that was published in the early '90s. Through that work, she interviewed a number of female lawyers in larger Madison firms, some of whom, she said, ultimately left their firms when they had children "because they felt the firms were not tolerant of taking time off to care for the child."   
In those interviews, Townsend, 70, recalled hearing that male attorneys pointed to Abrahamson and retired Dane County Circuit Judge Angela Bartell, as role models. Bartell became in 1982 the first woman to serve as chief judge for one of Wisconsin's judicial districts while raising five kids.
Calling Abrahamson "a tough act to follow," Townsend said of the outgoing justice: "She made the guys feel comfortable and it was difficult for women lawyers to emulate her."
A mother of three children herself, Townsend added the women she talked to at the time told her they felt it was "unfair" to be compared to Abrahamson and Bartell.
"But frankly, the men weren't like them either," she said.
Going forward, Karofsky stressed the importance of finding efforts to "promote both women raising children and working in the law." That includes, she said, the need for employers to be able to show "an incredible amount of flexibility" for anyone raising kids
"If we really want a judiciary that is representative of the population of Wisconsin, if we really want a judiciary that is representative of the United States, then we need to figure out how to help women balance their family and their work obligations," Karofsky said. "And I think what we need to do is see the value in family, the value that it has in the decisions that we make and the way that we make decisions."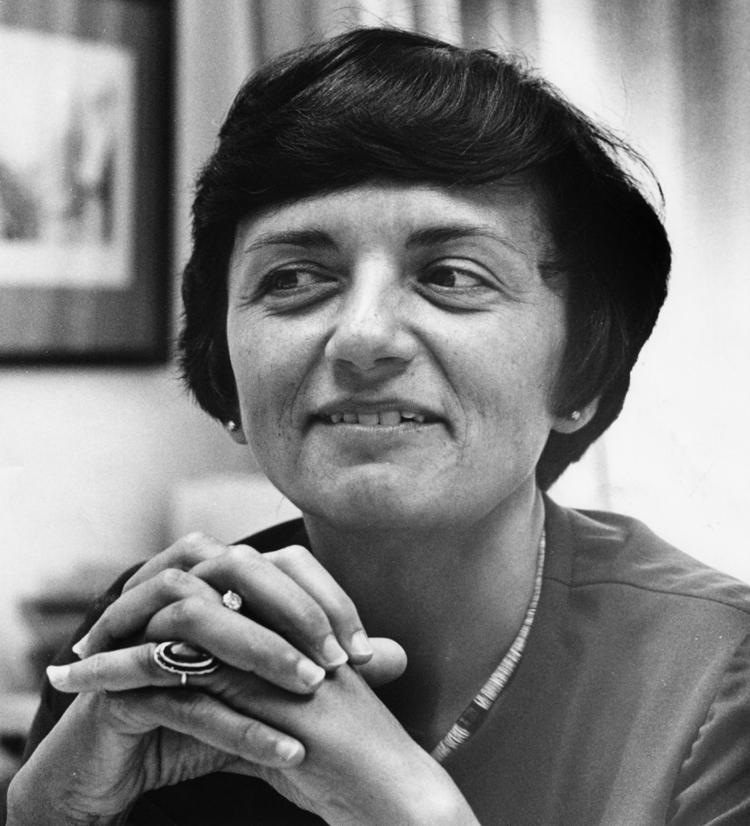 Law as a resource
As female attorneys, judges and law students grapple with these and other issues, members of the Dane County Legal Association for Women are actively weighing expanding their initiatives to tackle some of them.
But Eileen Dorfman, a 2015 UW Law School graduate and president of the group, said LAW leaders are wary of overextending themselves and their services. They're concerned about jeopardizing initiatives like education for attorneys after they're admitted to the bar and other efforts to advance the interests of women.
That means members are looking to partner with other organizations around the state to increase resources for those dealing with sexual harassment, for example, she said.
Dorfman, 30 and an associate at Bell, Moore & Richter, noted that while much of the focus is on maternity, women who don't have children also face "a different set of challenges in being in a male-dominated field."
For instances of sexual harassment, she said, it can be "very difficult to talk about it openly in the legal profession because it is a reputational industry."
"The nature of our industry doesn't lend itself to that kind of transparency all the time," she said. "So I think that's where the State Bar can step in and provide additional resources, whether it's confidential counseling or mediation or some kind of effort."
In addition to those roadblocks for women, Dorfman stressed another hurdle in the profession is its ability to retain women mid-career and reinforce the "pipeline to leadership" for female lawyers, whether that be partnership opportunities or the judicial track.
"It's like a leaky pipeline," she said.
Abrahamson has also addressed the barriers women still face in those arenas, writing in a two-page forward for the 2005 book "Women's Wisconsin: From Native Matriarchies to the New Millennium," that while "equal access" to law has been achieved, there's "not yet equal representation in the management of law firms and at the high end of the salary scale."
"If law is truly going to serve the public's interest, the profession must be opened wide to all people who wish to serve," she wrote.