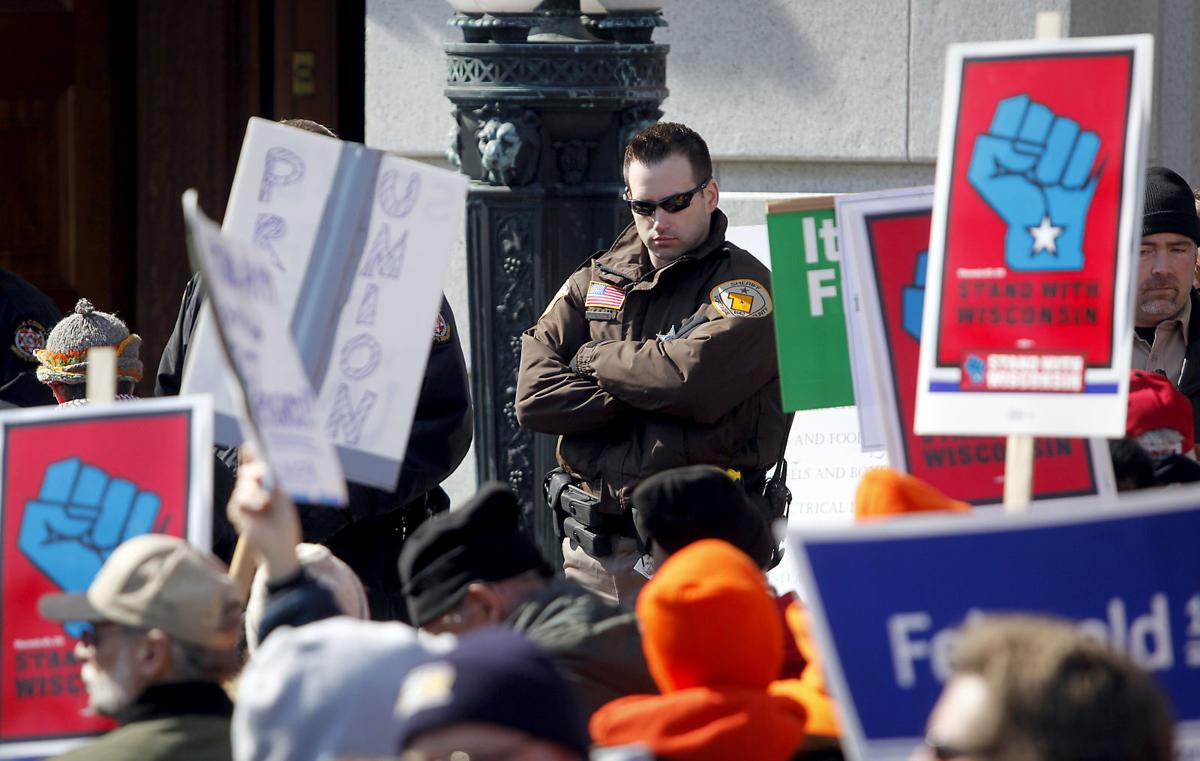 In the 10 years since the fight over Act 10, the law that effectively ended collective bargaining powers for nearly all public sector workers, Wisconsin's largest teachers union has undergone a shift both in its priorities and its approach to statehouse politics.
While the Wisconsin Education Association Council began the last decade with what President Ron Martin described as a strong reliance on current law, and "the kind of power and the kind of seat at the table" it provided organized labor, officials were in for a lesson with the introduction and approval of Act 10.
"What we've had to learn is that a law doesn't give you your voice," the Eau Claire social studies teacher said. "A law doesn't give you the ability to organize as a local union together to stand up for what's right."
A watershed moment in state politics, the law's enactment — following weeks of sustained protest at the Capitol that drew tens of thousands — reshaped the labor movement in Wisconsin.
In the years since, union membership has dropped in the state by 5.5 percentage points, according to federal data from the Bureau of Labor Statistics. Last year, 8.7% of Wisconsin workers were members of a union — below the national average of 10.8%.
"The decline in unionization is dramatic," said Laura Dresser, an economist at the University of Wisconsin-Madison's Center on Wisconsin Strategy. "It is a direct result of the Act 10 restructuring of union rights and relevance and on top of that then there's further de-unionization as a result of the right-to-work laws."
Along with the drop in membership came a weakening of unions' place in the political structure of the state. While a Wisconsin Democracy Campaign analysis found unions' campaign contributions and election spending have increased from 2011 to 2020 compared to the previous decade, they've dropped as a proportion of total PAC and corporate contributions and electioneering expenditures as other groups spent more.
Act 10 led WEAC to embrace more advocacy and grassroots efforts, Martin said. Rather than rely on paid lobbyists and staff that had been sent to the Capitol to work with lawmakers, organizers turned to their members, who Martin noted would be able to "put pressure on" their local elected officials back home in their districts.
"Why put all that money and all that time and all that effort into lobbying when they're not going to listen to us anyways?" he said of the Republican-controlled Legislature. "So we've just really had to change how we do things."
Beyond unions themselves, Mike Tate, who led the Wisconsin Democratic Party from 2009 to 2015, said Act 10 gave many "a real education in the breadth and depth of" the labor movement, lessons still playing out in party politics today as evidenced by Gov. Tony Evers' proposal to roll back parts of the 2011 law in his budget.
Outside of his push to reinstate collective bargaining powers for some public employees, Evers wants to again implement the prevailing wage for state and local projects, which was repealed under former Gov. Scott Walker; nix the so-called "right-to-work" law, which prevents businesses from entering contracts with unions requiring all workers to pay union fees; and allow state and local governments to require contractors to reach project labor agreements with unions on publicly-funded projects. Those are all measures Evers included in his last budget but weren't taken up by Republicans.
Wisconsin AFL-CIO director Stephanie Bloomingdale, whose union represents public and private workers, praised those measures as "very, very key" and "important."
"There is a recognition from so many politicians right now of the significant importance of representing workers and making sure that they're speaking out about what I said before, that worker rights are critical to having a healthy middle class," she said. "You cannot have one without the other."
But Wisconsin Manufacturers & Commerce's Scott Manley touted the savings Act 10 brought following its passage during a year the state was facing a more than $3 billion budget deficit.
He said in a statement that both it and right-to-work "provided certainty to employers and employees" and continue to ensure "all members of a union have a say, and if they don't believe they are receiving a benefit, they can vote with their feet and leave."
Under Act 10, union dues couldn't automatically be taken from an employee's paycheck. Further, it stipulated groups must hold an annual recertification vote in which a majority of all members — rather than just those who are present — must vote "yes."
"Gov. Evers' proposal to essentially repeal both of these landmark reforms in Wisconsin would make our state less competitive and likely result in higher costs for taxpayers and workers," Manley added. 
Despite the shift Act 10 represented for organized labor in Wisconsin, both Bloomingdale and Martin say they're optimistic about unions' future in the state.
Bloomingdale also credited unions representing those in the health care industry and others for advocating for on-the-job safety protocols for themselves and the people they serve amid the ongoing COVID-19 crisis, something she said "has really opened up so many people's eyes about the critical work essential workers play in our society."
"I believe that people have seen the harm that these anti-worker, anti-union laws have done to our state and our economy and our society and people are ready to turn that around," she said.