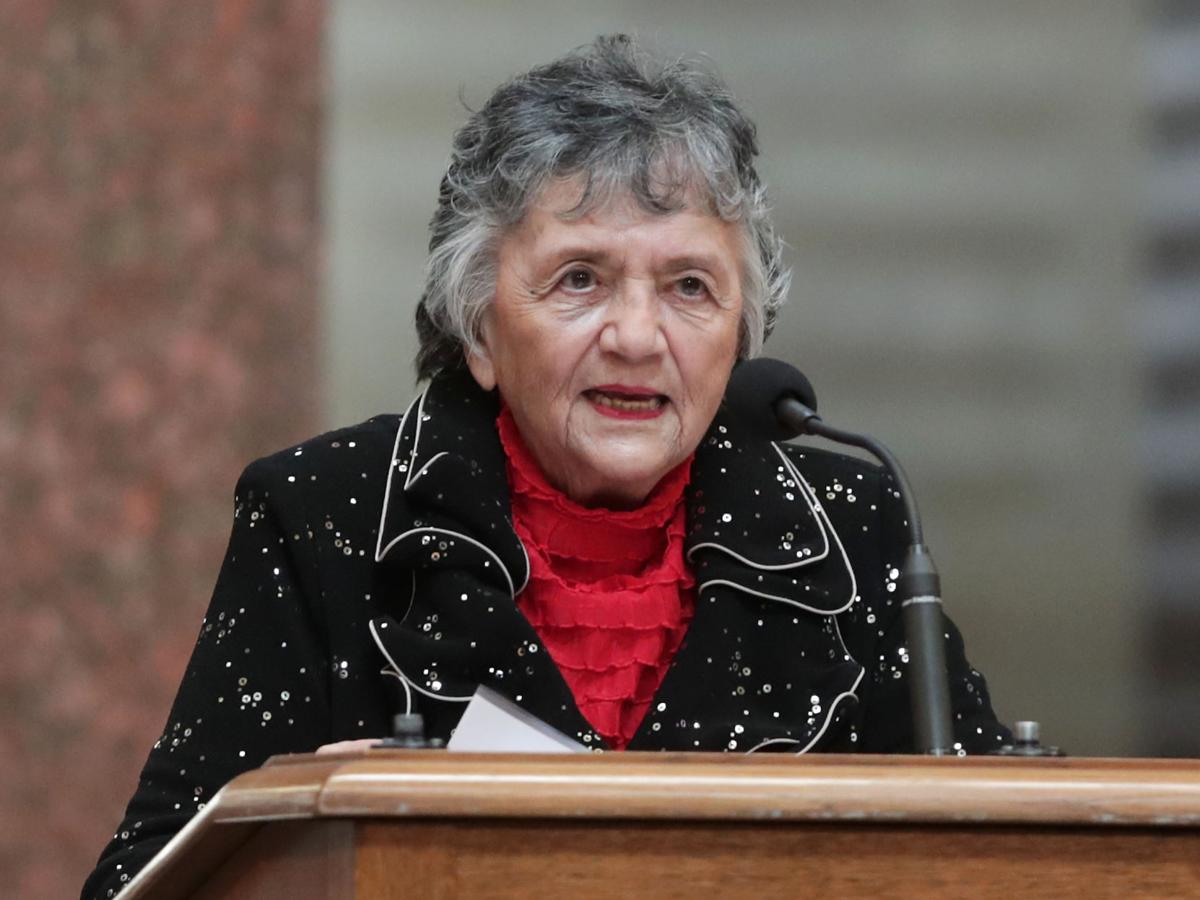 Shirley Abrahamson, the first woman to serve on the Wisconsin Supreme Court and its first female chief justice, had a message for her son Daniel when he would lose at sporting competitions to his rival Jill Karofsky.
"Girls are just generally smarter and stronger, and you're just going to have to work harder if you want to keep up," Daniel Abrahamson said his mother told him when he would return from Camp Shalom in the summertime, only to be bested by Karofsky once again.
Abrahamson, who died on Saturday at 87 in Berkeley, California, was remembered Sunday as a woman equally dedicated to her family life as well as the law. She paved the way for women including Karofsky, who was elected to the Wisconsin Supreme Court earlier this year.
"I invariably came in second and Jill invariably came in first," Daniel Abrahamson said. "I came home with my tail between my legs and my mom was gleeful."
Shirley Abrahamson was appointed to the court in 1976 by former Gov. Patrick Lucey, joining it at a time when "judicial selections were sleepy affairs and nonpartisan, and women were considered best suited for legal secretary jobs," Cap Times reporter Katelyn Ferral wrote in a 2016 profile of Abrahamson, on the occasion of her 40 years on the bench. "Her term (continued) … on a court where women make up a majority of the bench, and the judicial climate in Wisconsin and nationwide has become largely defined by partisan politics and million dollar election campaigns."
In the later part of her tenure, Abrahamson was frequently in the minority, at odds with the conservative-dominated court — which voted in 2015 to remove her from the chief justice position she held for 19 years after voters approved a constitutional amendment allowing justices to select the high court's chief rather than designating the role based on seniority.
Abrahamson retired from the court in July 2019 after 43 years. Shortly after that, she moved to Berkeley, California, to spend more time with her son and his family, including her 17-year-old grandson, Moses.
"She was there for a few months and then COVID hit, and wasn't able to return to Wisconsin even if she wanted to," said Daniel Abrahamson, a California attorney. He said she had been in hospice, and over the last few weeks, he was able to see his mother in person, rather than through a window or FaceTime.
"That made all the difference for us," he said.
The cause of death was pancreatic cancer. She was preceded in death by her husband, Seymour — a renowned geneticist — who died in 2016.
U.S. Supreme Court Justice Ruth Bader Ginsburg, a longtime friend of Abrahamson's, noted in a statement to the Cap Times in 2016 that "Among U.S. jurists, Shirley Abrahamson is the very best, the most courageous and sage, the least self-regarding," Ginsburg said at the time. "Her speeches and commentary inspire others to follow in her way. She never forgets the people law exists (or should exist) to serve. For her 40 years on Wisconsin's Supreme Court, she merits a rousing Brava."
Wisconsin Supreme Court Justice Jill Karofsky said of Abrahamson, "She was indefatigable. She was a trailblazer. She was brilliant, just brilliant."
Karofsky was sworn in by Abrahamson when she became a lawyer in 1992.
"I just reached out to her, and she was really very gracious about it," Karofsky said. "It was just Justice Abrahamson and me in the Supreme Court chamber, which was pretty special."
Daniel Abrahamson said the immense amount of energy and dedication his mother brought to her career was "mirrored in her family life."
"She was always there. She didn't miss a meal with the family. She worked with me every evening to make sure I was current with my homework," Daniel Abrahamson said. "She was deeply committed to making sure her family flourished."
In a 1976 interview in the magazine Madison Select, she was asked whether she thought she devoted enough time to her family.
"That's a bad question," she said. "You might as well ask that question to a man, it applies equally. But to answer your question, yes. You find time for the things you want to find time for."
Her immense success, prestige and position in her legal career didn't change her persona "one iota," Daniel Abrahamson said, describing her as "compassionate, fierce, funny and self-effacing."
He recalled another time when Abrahamson laid down on the floor of the Capitol rotunda to look up at the ceiling with Moses, when he was a young boy.
"She was a loving, doting grandmother and that was terrific," Daniel Abrahamson said.
Leaders from around the state lauded Abrahamson and her work on Sunday.
"Kathy and I were devastated this morning to learn of Chief Justice Abrahamson's passing," said Gov. Tony Evers in a statement. "Chief Justice Abrahamson was a first — the first woman to serve on the Wisconsin Supreme Court and the first woman to serve as chief justice. Yet, her legacy is defined not just by being a first, but her life's work of ensuring she would not be the last, paving and lighting the way for the many women and others who would come after her.
"Few others have given so much of themselves to the cause of public service in Wisconsin. Chief Justice Abrahamson was a meticulous jurist and a profound writer who believed in an independent judiciary. But she was also a champion for a more fair, more equitable state and country, and to that end, worked to hold our laws to account," the statement said.
Abrahamson "broke barriers," said Sen. Tammy Baldwin in a statement.
"For her serving on the Supreme Court meant serving the people of Wisconsin as an independent, fair and impartial justice because after all, the court and our court system belongs to the people, not powerful special interests," Baldwin said.
Abrahamson understood that "you can't serve the people if you don't walk in their shoes," Baldwin added, noting that Abrahamson traveled the state to meet with local judges, advocates for victims of sexual assault and domestic violence, and local law enforcement.
"Jessica and I and our whole family have lost a dear lifetime friend," said former Gov. Jim Doyle in a statement, noting that when his father hired Abrahamson in 1962, she became the law firm's first woman attorney.
"Nationally regarded as one of the country's greatest judges, she was widely recognized for her great intelligence, sharp writing, and keen sense of justice," Doyle said. "She was a mentor for generations of lawyers — including me — but in particular, for women. You wouldn't find a woman in Wisconsin who became a lawyer from 1970 on who wouldn't say Shirley Abrahamson wasn't part of their inspiration."
Karofsky counts herself as one of those women.
"If it weren't for Shirley Abrahamson and people like her, Ann Walsh Bradley, these women who really paved the way for other women, I wouldn't be on the Supreme Court today," Karofsky said. "Every time I walk up the steps of the Capitol and go into the Supreme Court, I always think of her. I imagine her having walked these steps.
"I think about the work that she did there. She really paved the way for women like me," Karofsky said. "To lose Shirley Abrahamson and Ruth Bader Ginsburg in the course of a few months is a tremendous loss."