Sixty-six African immigrants obtained legal permanent residence status in Madison during the 2013 fiscal year, according to most recent data by the U.S. Department of Homeland Security. This included 15 Nigerians, 19 Ethiopians and 32 Gambians, all of whom, to one extent or another, had to navigate new life in Madison. A Cameroonian sixth grader underwent a similar transition nearly five years ago. Vanessa Kana is now a senior at Madison East High School, and this is her story.
Woven throughout are italicized excerpts from a poem she wrote related to her experience titled "Struggle is real."
The 2013 Race to Equity Report showed that entering the Madison school system as a student of color presents challenges. Statistically, these students have lower literacy rates, graduation rates and are less likely to take a pre-college ACT exam. 
Imagine then entering this system as a student of color unable to speak English or navigate cultural systems of socialization.
This was the reality for Vanessa Kana when she moved to the United States from Cameroon in sixth grade. She is a first generation African immigrant.
"It was so hard," she said. "It's really hard to get adjusted to a culture you've never in your life known before or heard of or seen or anything. You have to get used to everything. Everything is new."
Today, Vanessa is 16 years old and attends Madison East High School, where she swoons over Michael Jackson's "Heal the World" and dreams of becoming a police officer.
But getting here took time.
"Moving to Madison was a big change, but it was pretty good," Vanessa said. "There are nice views."
The view off the plane, in fact, is one of only a few clear memories from her move in sixth grade.
"I was so surprised when I got here," she said. "Once I got here, I got out of the plane and saw it was snowing. It was the first I had seen snow. Wow. Snow for the first time."
Vanessa, her mother and three younger brothers arrived in the Midwest on Dec. 8, 2010, to join her father, Blaise Foueppe, who had immigrated six years earlier.
In 2004, Foueppe received immigration eligibility through the U.S. government's Diversity Immigrant Visa Program, a lottery system which promotes immigration from countries with historically low rates of immigration to the United States.
"It is very popular, because this is the best way ever to come to the U.S.," Foueppe said. "That way, you don't need to have money. You don't need to be in school. All that you need is a high school diploma or job."
This was especially extraordinary, he said, because of his family's poor background, French-speaking origin and lack of refugee status.
"Up until the time the U.S. launched that program, someone like us would never be here," Foueppe said. "Because we are from a very poor background and in third world countries, only those who are rich are able to send their kids here."
In search of a better life, Foueppe utilized existing social networks to choose a U.S. arrival city, a common consideration for immigrants looking to integrate into American society.
"When I was selected, the person that I had a connection with — a friend, a coworker — was in Madison," he said. "And he got here the same way — the person who supported him was in Madison."
Foueppe underwent a five-year naturalization process, during which time he was a permanent U.S. resident but unable to apply for citizenship. The U.S. government requires this observational period to ensure mastery of the English language, understanding of the U.S. government and demonstration "of good moral character, attached to the principles of the Constitution of the United States," according to the U.S. Department of Homeland Security.
During this time, Vanessa's mother, Hortence Nguipet, relied on extended family in Cameroon to help with child care so she could work in more urban areas.
Shortly after the five years had passed, Foueppe secured U.S. citizenship and less than a year later, Vanessa and her family stepped off of the plane and into the snow.
It was not long after that Vanessa's view of life in Madison would shift.
"What would life ever be without struggle?
Everyday I sit down and ask myself the same question
But I never find an answer
In her first days at Blackhawk Middle School, Vanessa, who only spoke Yamba and French at home, was thrown into an American classroom with little cultural or linguistic translation.
"I knew not a word in English," she said. "Nothing."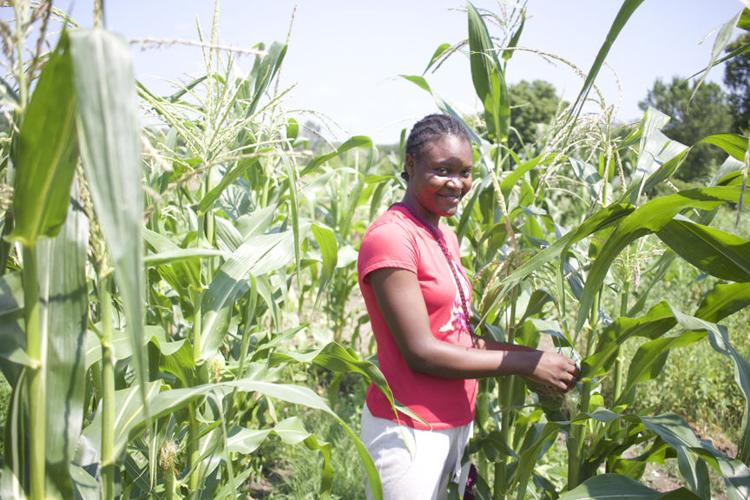 Vanessa's mother remembers that first day clearly.
"Vanessa's first day of school here, she cried," Nguipet said. "They gave her a test — they always try to give something to you to see where your level is in English, but she just looked at it, and she cried."
Vanessa was not the only one who struggled with the language transition.
Her father remembers landing in Chicago in early October, met by the frenzy that marks most international airports. Except this time, the frenzy brought fear.
"We got off the plane and they had to check us in," he said. "I didn't know know what the officer was talking about. I thought I would not have a problem with English here, but this English is totally different. It was like I had never heard English before, and I started to worry because communication is the key for integration."
While the school eventually provided Vanessa with some French translation, it did not necessarily help the socialization process, she said. A month into the transition, an effort was made to bridge the social gap that had begun to form between Vanessa and her peers.
"There was a girl who came speaking Spanish," Vanessa said. "English wasn't her first language, just like me. She was speaking Spanish, so the teacher told her to hang out with me. She speaks Spanish, I speak French, how is that going to work?"
It didn't. At least not at first, she said.
"No one noticed my struggles
No one knew what it's like
"When I first got here at school, since I was black, lots of people didn't want to hang out with me," Vanessa said. "They thought I was different, which I am, but everyone is different from everyone."
In addition to being avoided, she remembers being actively teased.
"Sometimes I would go to the cafeteria and people would only talk to themselves. And since I could not understand what they were saying, I felt like they were talking about me," Vanessa said. "Some students would look at me and laugh, make fun of the way I speak, make fun of the way I dress, make fun of the way I walk, make fun of the way I look."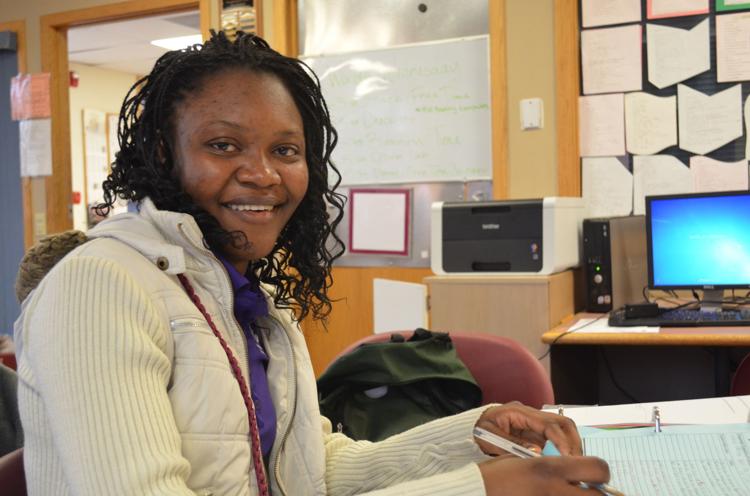 Vanessa said things began to turn around when she met her friend Saffi in seventh grade.
Saffi also attended Blackhawk and is the daughter of a Gambian woman and Senegalese man, whose West African heritages provided familiar ground for Vanessa.
"We're like thunder and lightening," Vanessa said. "We shine together."
While Vanessa struggled with social integration at school, the whole family was adjusting to a variety of other cultural differences, beginning with the speed of everyday life.
The struggle has presented itself again
Where the thoughts keep pounding in my heart"
"This is a very fast-paced society," Foueppe said. "It is so busy. It's not really the same, because in my native community, social life is part of daily life. But usually here, it's a scheduled thing."
Eventually Vanessa's integration experience improved, thanks in part to resources she was able to access outside of the formal classroom.
Especially instrumental was the Vera Court Neighborhood Center on Madison's north side, she said. Her family lives in the area, and she began attending after-school programming soon after moving from Cameroon.
"That center is amazing, so good," Foueppe said. "They have the power to transform Vanessa and help her to the level she is now."
Vera Court RISE Program Coordinator Grace Moran said Vanessa has her own determination in part to thank.
"Vanessa is a hard worker," she said. "It isn't always easy, but she's improved a lot even since I've known her."
Work has been accompanied by fun at the neighborhood center, Vanessa said. Games, crafts, snacks and laughter are commonplace. When asked whether Vanessa's three younger brothers hold similar sentiment for the center, their parents erupted in a chorus of "Oh, they love it."
"The worst thing you can do to them is when they come home, you tell them they're not going there," Foueppe said. "They might have a doctor appointment or whatever. Yeah, they don't like (to miss programming)."
Navigating Madison as a Cameroonian teen
Though Vanessa overcame many of her transitional challenges, there are some difficulties that persist, she said.
For one, she approaches Madison's most pressing social issues differently because of her Cameroonian experiences and culture.
"Race was not a big deal in Cameroon," she said. "I felt it more when I came to Madison."
Vanessa remembers a classmate with albinism from Cameroon saying, "We were friends. It wasn't that much of a problem."
Now, she said she feels the weight of racial diversity, or the lack thereof, in Madison.
"I'm the only black person in my French class," she said. "You see one me, and I look around and everyone is white."
"But no one wants to know the truth.
No one wants to know about the real you,
Thinking what is this person talking about?"
Vanessa has found relief from this reality in her neighborhood where she said many share an African heritage.
"We do a lot of things together — barbecues, soccer, hanging out," she said.
Her parents attend meetings of a local Cameroonian association every month. But Vanessa's experience linking to pan-African circles has not always been positive.
"There are a lot of (children of African immigrants) at school, but we don't talk that much," she said. "They just ignore me because I'm too African. They were born here and I was born there."
She also described more general racial segmentation within her peers.
"Africans try to hang out with Africans, and white and white, and only sometimes both," she said. "The world needs to change."
Even relatively simple issues like food choices can be troubling, Vanessa said.
"We mostly cook food from Cameroon. We only eat American food when we are at school or if we go to a restaurant," she said. "I don't like American food."
Her parents echoed the economic implications of this preference.
"We spend a lot of money cooking, because we try to eat Cameroonian dishes," Foueppe said.
"We must go to Asian stores for most of the stuff that we use," Nguipet added.
The family keeps a vegetable garden in the backyard where they grow many of the Cameroonian vegetables they consume, she said. This is in addition to the Vera Court Community Gardens, which provide training and vegetables to community residents. After two years of planning and coordination, the garden is now handled entirely by resident gardeners.
Like the garden, Vanessa continues to grow into her surroundings and self.
"I would tell them that I'm talking about life,
The real life, the struggles of life"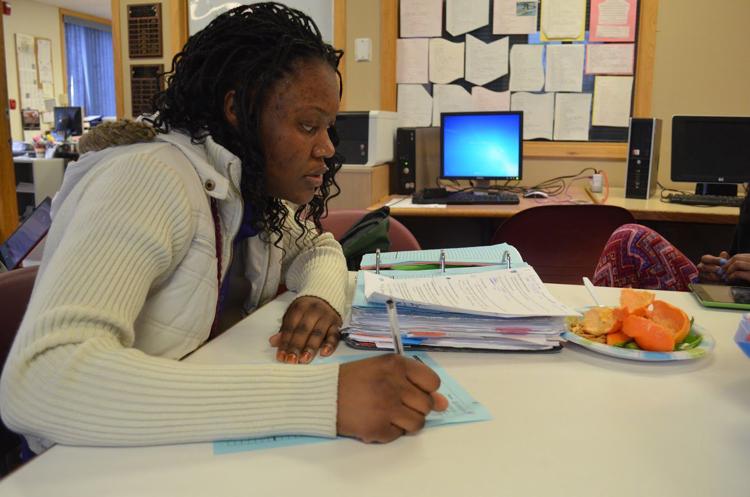 She plays sports for East High School, is an active member of the AVID TOPS college readiness program and participates in Explorer Post 911, a Madison Police Department experiential learning program for teens interested in learning about careers in law enforcement.
When asked what about the law enforcement profession is appealing to her, Vanessa replied, "I like solving problems, and I want to be an investigator so that I can solve them."
For Vanessa, these problems may be criminal. They may also be social.
"In school, we were writing 10 things we want to do before we died, and I said I wanted to be a female president," she said. "The teacher said since I was not born here, I cannot be a president here. Maybe I'll be the next Martin Luther King then."
As Vanessa works to achieve the goals she has set for herself, she said Madison natives should be mindful of the challenges faced by those who are new to the community.
"Coming here was really hard," she said. "Everyone has struggles, but we are all humans. We can be better to each other."