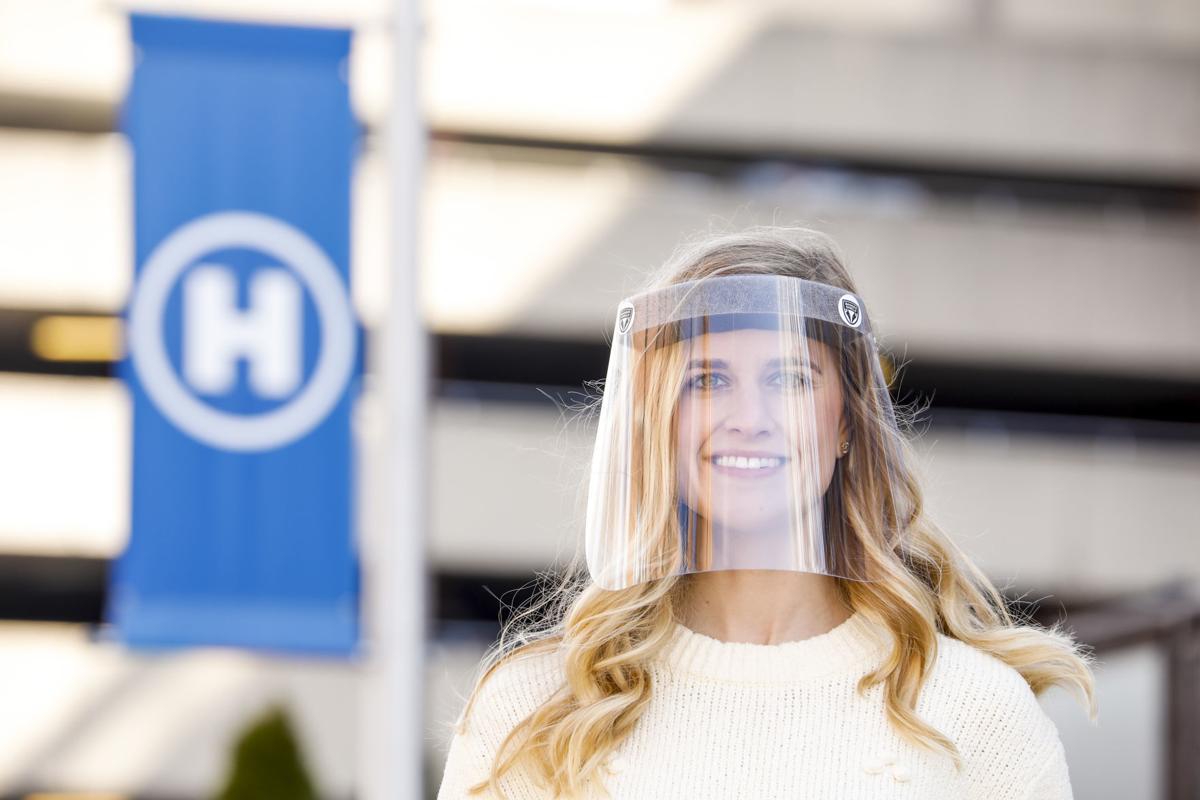 With the start of the school year rapidly approaching amid a recent uptick in coronavirus cases, healthcare professionals, parents and school administrators are weighing the best options for returning to school in the fall.
Options include limiting class size, a modified schedule, restricting access to community areas such as playgrounds, daily temperature checks and the use of PPE, such as face masks or shields.
Brian Ellison, business development manager at Midwest Prototyping, said that face shields in particular have drawn interest from local school administrators, especially private schools.
In March, Ellison partnered with Lennon Rodger, director of the Engineering Design Innovation Lab at UW–Madison, and Jesse Darley, a mechanical engineer at Madison design firm Delve, to create a face shield prototype using easily accessible materials. The team named the open source design the Badger Shield.
Since then, the project has expanded to include other forms of PPE. Recently, Badger Shield saw an increase in demand for pediatric-sized shields, which could be used alone or in conjunction with face masks if and when kids return to the classroom.
Ellison said that he gets three to five requests per day for children's face shields from private schools in the area and across the country.
Ellison and others in favor of shields listed a number of advantages. Unlike cloth masks, shields protect the eyes, a main point of entry for the virus, and they can be cleaned and reused almost indefinitely. Shields don't restrict breathing and are more comfortable than masks, while preventing face touching. Importantly, in the school setting, shields allow the whole face and facial expressions to be visible, which is vital for early childhood development, speech therapy, interpretation and hearing-disabled support.
Shields cost approximately $3-$5 to produce. The materials are easily attainable and no specialized medical knowledge or skill is required to construct them.
In a computer-simulation study published in April in The Journal of the American Medical Association, researchers Eli Perencevich, Daniel Diekema and Michael Edmond found that face shields "reduce immediate viral exposure by 96 percent when worn by a simulated health care worker within 18 inches of a cough."
The research, included in an opinion piece about the advantages of face shields, also mentions that no studies have yet "evaluated the effects or potential benefits of face shields on source control," for example, "containing a sneeze or cough when worn by asymptomatic or symptomatic infected persons."
Health care workers typically use shields in addition to masks to increase the longevity of the mask by protecting the outside from collecting respiratory droplets, but there are currently no real-life studies on the effectiveness of shields alone.
Dr. Dipesh Navsaria, associate professor of pediatrics at the University of Wisconsin School of Medicine and Public Health, warns against a silver bullet approach.
"As with a lot of things related to COVID-19, we need to be really, really careful about not extrapolating automatically from computer models or in lab testing to real world," he said. "I worry that we as a society like to put a lot of emphasis on highly visible things that people are not doing," he said. "Particularly, I think masking is a key one. Are you wearing a mask or are you not?"
Parents and teachers also shared feelings of unease about the return to school.
"I know there are grave concerns among teachers and educational assistants around the logistics and safety factors involved with going back to school, said Peg Coyne, a retired MMSD teacher who also works part time for Madison Teachers Inc. She added that, as a grandparent, she is conflicted and worried over the prospect of her granddaughter attending in-person 4K in the fall.
"I wear a face shield at the hospital almost all of the time," said Dr. William Hartman, an anesthesiologist at the University of Wisconsin School of Medicine and Public Health and a parent to school-age children. "I would hope the kids would get the same protection that I get. I do believe that a mask and the face shield together would be the best option, but because kids play with the masks so much and don't always use them properly, the face shield would allow for better compliance and likely fewer issues overall."
MMSD did not respond to whether or not it would consider face shields in schools, but said it would receive 53,000 masks and 106 thermometers prior to the start of the school year. These supplies are part of the more than 2 million cloth face masks and over 4,200 infrared thermometers that Gov. Tony Evers announced would be distributed to schools in the coming weeks.
Navsaria said he feels most confident in schools that take a thoughtful and flexible approach to safety as new information arises. He emphasized the importance of self-monitoring symptoms, not penalizing teachers for calling in sick and enforcing strict distancing guidelines. He recommends keeping class sizes small and not cross-contaminating between groups. Also key, widespread, accessible testing and contact-tracing strategies.
Neither masks nor shields are perfect, said Navsaria, so the extra measures will aid when—not if—mistakes happen. 
"We should be thinking about all these other structural measures," he said. "Because it's easy for a mask or a shield to slip or go askew. And all of those are honestly going to be more effective than the very challenging task of trying to keep masks on children in a high-quality way continuously."
Share your opinion on this topic by sending a letter to the editor to tctvoice@madison.com. Include your full name, hometown and phone number. Your name and town will be published. The phone number is for verification purposes only. Please keep your letter to 250 words or less.