Dick Pearson remembers the flood of 2000.
Pearson and his wife were in Okinawa on business and people were sending him pictures of the piers at his shoreline home on Lake Mendota getting battered by waves. He arranged to have concrete blocks placed on them, and when he arrived home 24 hours later they were still there.
"I turned a spotlight on them and they were disappearing," he said. "I turned the spotlight off and went to bed."
He has since installed piers that are more weather-resistant, so recent near-record water levels on Lake Mendota weren't an issue for him.
But, he said, "I have two neighbors to the west of me who have had horrible landslides."
In 2000, and again in 2008, high water wreaked havoc along the shoreline and sparked fears of that the Tenney Park dam would be breached, prompting talk of lowering the summer level of Lake Mendota, which is set by the state Department of Natural Resources. Since 1979, Mendota's elevation has been set at a maximum of 849.1 feet above sea level, the elevation requested by Madison and Dane County. On Tuesday, that level was 852.21 feet.
Pearson, whose family has owned his Lake Mendota property for 160 years, is a board member of the Yahara Lakes Association. He thinks that talk is about to surface again.
"It definitely is," he said, adding that recent torrential rains that have swelled the lake and changing weather patterns that may make such events more likely in the future have shifted some attitudes about lowering the lake. He doesn't think there will be the same level of resistance he's seen in the past from homeowners concerned about property values and boating.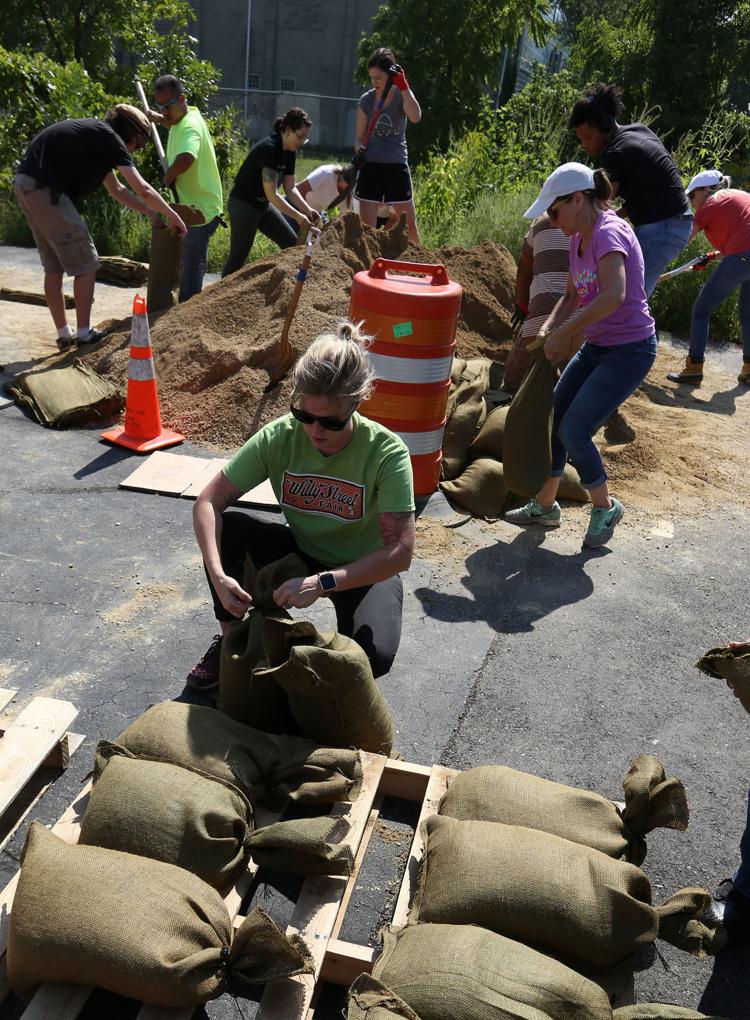 "I'm sure they are more amenable," he said. "I haven't done a poll. I'm talking about people I've talked to."
While Madison officials are still bracing for the disaster that could come with more rain, and isthmus residents are maintaining their sandbag barricades, lowering the water level in Lake Mendota is becoming a hot topic.
"The lake has been kept artificially high for decades, in large part to make sure the owners of the biggest speed boats can go zipping around the lake and so that waterfront property owners have an easier time maintaining their docks," wrote Alan Talaga in an Isthmus opinion column last week. "It's the county's gift to the wealthy but they aren't the ones who will feel the cost of flooding the most. As so often happens, a public subsidy to the wealthy becomes a tax on the middle class and poor."
Also last week, Madison mayoral candidate and former alder Satya Rhodes Conway presented a plan for stormwater management on her campaign's website. Among her proposals: "Working with the county to manage the lakes at a lower level so they can store more water before they flood."
Jon Becker is a local activist who has for years argued for lowering the lake. Now he's circulating a petition, "Protect Yahara Communities From Un-Natural Flooding," which he intends to deliver to the Dane County Board.
Becker proposes lowering the lake by 6 inches for flood protection to start, but then wants to keep lowering it by about 5 feet to its "natural" level, before it was artificially raised for a gristmill in 1847.
"It's pointless to keep the lake that high," he said. "We could use the reserve capacity, and furthermore it's a lake. It's not a stormwater retention facility. It's not a waterpark, it's not a storm sewer."
But Pearson shudders at the thought of what Becker's proposals would do to lakefront property values.
"It's not even possible to think about it," he said.
Even if Pearson, Becker and all the other property owners, environmentalists, boaters, anglers and other competing interests came to an agreement on changing level of Lake Mendota, it wouldn't be an easy process.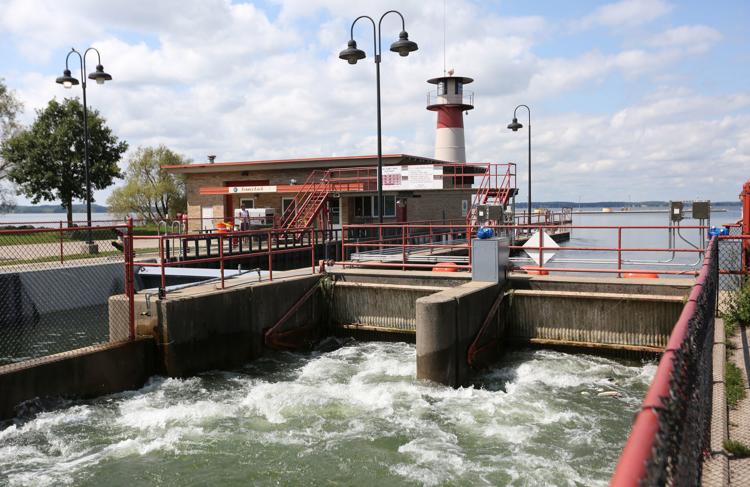 Last year, the state Department of Natural Resources, which has authority over most state dams, reached a settlement with recreational  groups to change the level of Lake Koshkonong, which spans Dane, Rock and Jefferson counties, by 2.6 inches — after nearly 15 years of wrangling. The agency agreed to raise the lake to enhance fishing and recreational activities.
"This is a very public process that takes a very long time, possibly years, to complete," said DNR spokeswoman Raechelle Belli.
A similar process in Dane County hasn't even gotten off the ground.
In 2002, the DNR empaneled a Yahara Lakes Advisory Group, which consisted of 26 county, state and municipal officials, scientists, business owners, conservationists and recreational users. The group met 14 times over 10 months, had few areas of consensus, and lake levels went unchanged.
In 2007, former Madison city engineer Larry Nelson petitioned the DNR to review lake levels. The following year the city was on high alert as the lake rose to near its historic high, but the petition went nowhere.  
In 2011, the Yahara Lakes Advisory Group 2 was established, with similar results.
Some argue that lowering the level of Lake Mendota would lessen the threat that the largest and most upstream lake in the Yahara chain would overtake the dam at Tenney Park and inundate the isthmus with catastrophic flooding.
Just how high the water would have to get to overtake the dam is classified information for the time being, said John Reimer, assistant director of the county Land and Water Resources Department. But the near record 852.29 feet on Aug. 23 — just off the historic high of 852.74 on June 6, 2000 — was "close to it," he said.
The best guess at how damaging a dam breach would be is also off-limits. In 2009, the county completed a model of what such a disaster would look like, but the U.S. Department of Homeland Security ordered that it remain under wraps out of fears of sabotage. Reimer also rejected a request for a tour of the Tenney lock and dam facility that controls Mendota's water level on the same premise.
"It's just not a safe thing to be providing that information," he said.
But one thing's for sure: A dam breach would be bad.
"It would be just a rush of water, going all at once, and Lake Monona would have a rapid rise in water levels which could cause flooding," said Reimer. "The streets would see a rapid rise in flooding."
In light of such a scenario, it seems reasonable to consider lowering the lake level. It's been done elsewhere.
For instance, in 2008 water gushed over the spillway on Coralville Lake on the Iowa River, flooding the University of Iowa campus, prompting the evacuation of several neighborhoods in Iowa City and eventually costing a staggering $10 billion in damages. In 2013, high waters threatened a repeat of the disaster and the Army Corps of Engineers and local jurisdictions agreed to step up the release of lake water into the river, lowering the lake.
"The challenge there was they had had so much flooding that people on all sides of that water body were happy to see changes made," said Shane Hubbard, a research scientist with the University of Wisconsin-Madison's Space Science and Engineering Center and an emergency response expert who worked with Iowa officials at the time. "So many people were impacted it didn't matter to them."
A major factor driving Coralville Lake levels had been the interests of boaters, Hubbard said.
"When you go around the country you find that recreation impacts how these things are determined," he said.
But along the Yahara chain, the factors determining lake levels are more complex.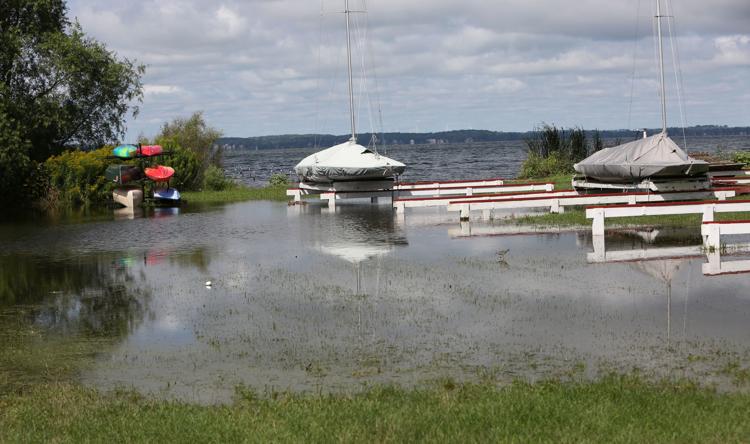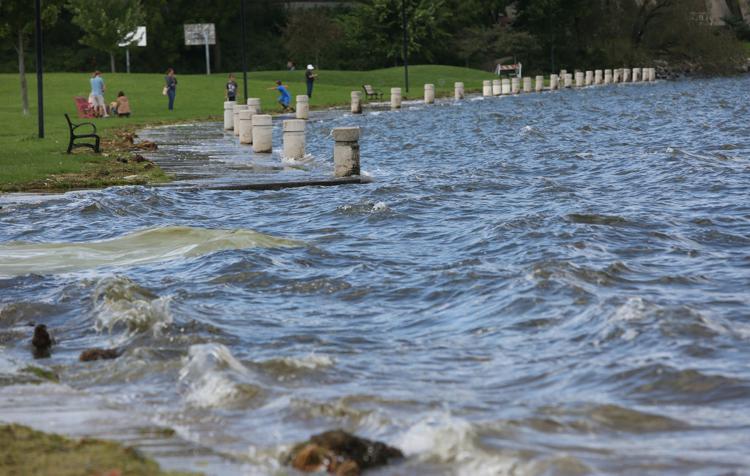 Lake Mendota plays a unique role in the regulation of the Yahara chain, which also includes Lakes Monona, Wingra, Waubesa and Kegonsa. As the most upstream body of water, it is a repository for the Yahara watershed, which flows into it at levels that can vary widely.
The level of Mendota is controlled by a lock and dam system at Tenney Park, which regulates the flow from Mendota to the Yahara River, through the isthmus and into Lake Monona.
The lock and dam system is controlled by Dane County and is designed to keep the lake's levels within a specified range. When Lake Mendota exceeds its maximum of 852.1 feet above sea level during the summer, the county is responsible for bringing that level back down by increasing the amount of water allowed through the dam, which it's currently in the process of doing — and will be for quite some time.
"We're not going to be at normal flow for a long time," Reimer said, "probably not until the winter time."
The process for getting Lake Mendota back to normal levels involves increasing the flow through the dam into the Yahara River, which as Madison's east side residents now know, involves raising the level of Lake Monona. That has resulted in the Yahara rising over its banks and flooding streets in low-lying neighborhoods along the river and near Lake Monona.
Let's say the DNR decided to lower the level in Lake Mendota. Since the county can't control the flow of water into the lake, extreme rain events like the one on Aug. 20 would still fill Lake Mendota to the maximum level.
"If we're talking dramatic amounts (of rain), then Lake Mendota's going to be bouncing around quite a bit to store water," potentially fluctuating as much as 3 or 4 feet during an extreme rainfall, said Reimer.
To avoid high levels on Monona and the other downstream lakes, Reimer said, the only mechanism is to store water in Lake Mendota.
"There's one lake then there's the next lake," he said. "Do you put more water into the next one, and meanwhile the upstream one gets relief but the downstream one doesn't, or do you store it in that upper lake?"
It's a balancing act, he said. "You can't have them both."
He said one option is to lower Lake Mendota by a small amount. But again, high rains would put the same pressure on the lake level, and also on the dam.
"With the rainfall we got in 24 hours, Lake Mendota went up 16 inches," Reimer said. "What is the level we're talking about? Two inches? Is that going to change us?"
In short, to maintain the lake system at levels that won't raise the elevation of Lake Monona and the other lakes, the county needs the ability to store water, and Lake Mendota is the only lake that can do that.
And right now, it's storing a lot of it.
"At this point we just have a lot of water in the system," Reimer said. "It's in the flood plains. It's moving as fast as we can, but for all the water we have, it's just going to take some time."
At any rate, he points out, the county treats the lakes as a system, and managing lake levels is a task that balances many competing interests.
Of setting lake levels, he said, "That's a community decision. There's many stakeholders involved."
Belli, of the DNR, said flooding is only one of many factors involved with deciding lake levels. Among the others are boat navigation, fish spawning and wildlife habitat, making sure flow rates don't affect water quality, scenic beauty and economics.
And for homeowners like Pearson, there are property concerns.
"I think it could certainly be lower," he said of Lake Mendota. "And then the debate would be, if you have a nice deep lakeshore, you don't care. If you have a shallow lakeshore you have to argue about inches."
Pearson lives on the west side of the lake, where it's relatively shallow. If the lake were lowered by a foot, it could have a huge impact.
"Middleton, to the west of where we live, is even shallower," he said. "They would have almost no water to run their boats in unless their piers were 100 feet long." 
Share your opinion on this topic by sending a letter to the editor to tctvoice@madison.com. Include your full name, hometown and phone number. Your name and town will be published. The phone number is for verification purposes only. Please keep your letter to 250 words or less.