Maria Powell had spent years battling city and county officials over pesticide use. She protested the repeated spraying of weed killer throughout Lake View Hill County Park near her home. She took the city to task for what she calls blatant violations of its own pesticide use policy.
She engaged in a long-running skirmish with public health officials after the county, state and U.S. Army Corps of Engineers teamed up a few years ago to dump tons of herbicides into a popular fishing area on Lake Monona to control weeds. And she spent years requesting information on pesticide use by local government, often with frustrating results.
For her pains, she said she gained troublemaker status among those government officials who have come more and more to depend on the use of pesticides to keep parks, playing fields and parking lots weed-free.
"I got burned out because I just couldn't get anywhere on the city or the county level," she said.
But she found herself getting pulled back into the issue when she saw a bright film of blue dye, used to mark herbicide applications, coating the banks of a stretch of Starkweather Creek, near the low-income Eastpointe Apartments on Clyde Gallagher Drive.
For Powell — an environmental activist with a Ph.D. in environmental science and founder of Midwest Environmental Justice Organization, a group that advocates for citizens with concerns about pollution — it was too much.
"It is an environmental justice situation," she said, "because you've got a lot of kids, a lot of minority kids, a lot of low-income kids, and no one is bothering to inform them or their parents that these chemicals have been used there and they should stay away."
The city maintains that the contractor for the project followed protocols for posting warning signs. But Powell said that neighbors she interviewed knew nothing about the application until they saw the vivid blue dye over a long stretch of wilting vegetation.
Powell and others say use of pesticides by the city and the county is out of hand. Meanwhile, the regulatory process that for years had kept tabs on the city's pesticide use has unraveled, paving the way for vast increases in the application of potentially toxic chemicals in the city's public spaces with little oversight.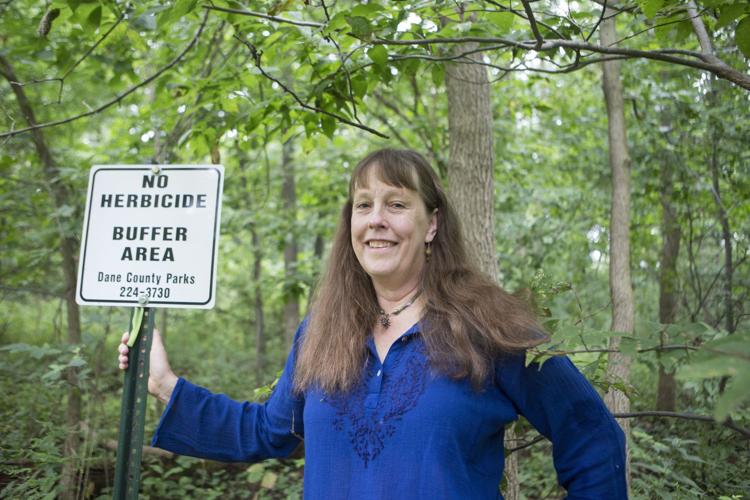 "If this is due to lack of oversight of pesticide use, it is very disappointing," said Claire Gervais, a family physician and a former member of the city's Pesticide Management Advisory Committee, a body established in 2003 to write the city's pesticide policy and review the city's use of pesticides. That committee was disbanded in 2013.
Madison's assistant parks superintendent Charlie Romines said the decision to ramp up herbicide use — the bulk of it on the city's athletic fields — had nothing to do with the elimination of the oversight committee.
"Wasn't even aware of it until the end of the year," he said.
Rather, it stemmed from complaints about the deteriorating conditions of playing fields, primarily from soccer groups fed up with trying to kick balls through fields teeming with dandelions. One group, he said, even provided funds for the herbicides.
In addition, he said, starting in 2014 the city undertook "major efforts to clean up our parks landscape," which involved large-scale removal of invasive plants.
At any rate, Gervais said, the committee's effectiveness had been on a steady decline.
"After many, many months and meetings the PMAC was formed and met monthly or so at first, then as years went by, turned out to be a 'rubber stamp' yearly meeting," she said.
A review of the city's pesticide reports, which include the use of herbicides, shows that following the elimination of the committee, the use of two controversial herbicides skyrocketed.
A recent Cap Times story detailed the city's use at city parks and conservation areas of the weed killer glyphosate, the active ingredient in the weed killer Roundup. While Roundup maker Monsanto maintains that the chemical is safe, some studies have linked it to non-Hodgkins lymphoma and endocrine disorders. 
A review of records shows that the city also makes copious use of another toxic weed killer, 2,4-D, which has been linked to non-Hodgkins lymphoma, abnormal sperm, increased rates of birth defects, thyroid disorders and increased risk of cancer in dogs. Studies have shown that the chemical, which is widely used in home lawn care products, is prone to being tracked into homes by people and pets, increasing the risk of exposure.
According to Parks Department pesticide reports, in 2014 the Parks Department started dispensing thousands of gallons of 2,4-D products on local athletic fields, a practice that was non-existent prior to that year.
(The city also makes abundant use of glyphosate and 2,4-D at the city's four golf courses, which spiked in 2012 and appears to have remained somewhat consistent since. However, data for 2014 and 2016 were omitted from the Parks Department pesticide reports.)
On the county level, glyphosate has been used on playgrounds, sandboxes and playing fields, as well as in conservancy areas to keep invasive plant species at bay.
Meanwhile, the debate over the safety of glyphosate and 2,4-D is ramping up worldwide after a World Health Organization research arm proclaimed them cancer risks.
The stated aim of Madison's pesticide policy, adopted in 2004, is to "eliminate or reduce pesticide use to the greatest possible extent." But records show that the two city departments that use pesticides the most, Parks and Engineering, have adopted practices that led to opposite results.
The actual amount of herbicides applied is difficult to ascertain from the reports, which list products with varying concentrations in pounds, gallons or ounces. And in some cases the amounts are omitted. But one thing is clear, since the elimination of the pesticide review committee,  the volume of weed-killing products used is on the upswing.
For instance, the city Engineering Department reported applying only about seven gallons of glyphosate products in 2014, then in 2016 used more than 60 gallons, most of that apparently on the Starkweather Creek project.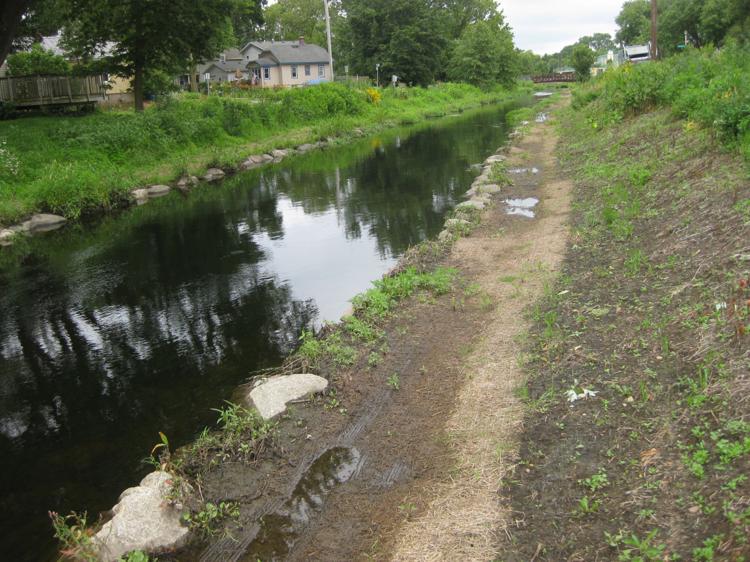 The Parks Department, which reported about 60 pounds of glyphosate herbicides in 2013, doubled that amount in 2014.
Even more dramatic is the Parks Department's use of 2,4-D. In 2013 the department reported that it applied about 14 pounds — 1.6 gallons — of the raw chemical, which is used to control broadleaf plants and perennial weeds. In 2014, it used 110 pounds of 2,4-D on the city's athletic fields, which translates into 11,252 gallons of product dispensed on heavily used soccer, baseball and football venues.
(Last year Parks dispensed 4,500 gallons of 2,4-D products to the city's athletic fields.)
And in 2012, the Parks Commission passed a policy allowing citizens certified in pesticide use to apply chemicals on invasive species in public spaces on a volunteer basis.
In 2013, Dane County health officials requested that the city's pesticide use review panel be disbanded because of difficulties filling vacancies. But that move came with assurances that pesticide use would still be monitored.
"If the Subcommittee is dissolved, (Public Health of Madison and Dane County) staff will continue to fulfill its role in compiling and reviewing pest management activities in the City," wrote public health director Janel Heinrich in a 2013 memo.
But while departments are still required to compile pesticide reports, no one's looking at them.
"The last few years since the subcommittee has been disbanded, those have not been reviewed," said John Hausbeck, the environmental health supervisor at Public Health of Madison and Dane County.
Hausbeck said he reviewed the reports in 2012 and 2013.
"The mayor's office had asked me what's been turned in, so I kind of pulled together stuff that had been turned in to us and did a quick look over the materials," he said. "Not a scientific or critical assessment of the products and that kind of thing, but just kind of looked to see who's reporting, and at least half the agencies are all up to date."
That means that the city's escalation in pesticide use took place with little or no review by health officials.
And that, said Powell, is a big problem.
"It's something that I think Madison, of all places, should be aware of," she said.
While there's no indication that Madison's current City Council has pesticide use on its radar, two decades ago it was front and center.
In the 1990s, a group of alders pushed through ordinances that mandated lake water warnings at beaches and lawn applications, instituted integrated management practices in parks and schools and established rules for reporting use, according to former Ald. Bert Zipperer, who led the fight against pesticide use.
"I happened to be on the city Health Commission, as well as the Commission on the Environment," Zipperer said, "so I was in a good position to move their good work forward."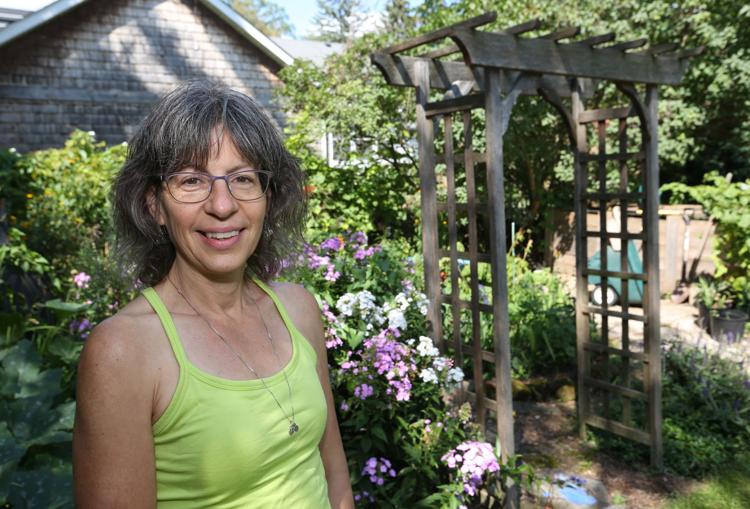 At the time, pesticide use was a national concern. Rachel Carson's groundbreaking 1962 book "Silent Spring," which documented the effects of the indiscriminate use of pesticides, had energized the environmental movement. And the 1989 Alar scare had renewed public scrutiny of pesticides.
But Zipperer said families and activists, mobilized by medical disabilities resulting from the defoliant Agent Orange during the Vietnam War, provided the impetus for much of the city's anti-pesticide fervor.
The efforts of Zipperer and like-minded alders eventually led to the city's 2004 pesticide policy, which laid out guidelines and rules for pesticide use.
The policy banned use of pesticides "to control dandelions and other broadleaf weeds on general parklands, median strips, street terraces, roadsides, general lawn areas, and athletic fields that are not reserved, nor are fees paid for their use." And it states that city departments will "evaluate and give preference to non-pesticide management practices and use reasonably available alternative pest control methods, will minimize their pesticide use through Integrated Pest Management, and will use least risk pesticides as a last resort."
But the policy's pesticide reduction strategies are merely guidelines.
For instance, the policy states that "because of concern over the health of children with repeated exposure to pesticides when playing sports, lower priority athletic fields in particular should have a much higher tolerance for weeds and should use non-toxic weed management methods if desired (emphasis added)."
"That was very intentional on the part of those invested in keeping pesticides available for use," said Gervais, the former committee member who participated in drafting the policy. "There's a lot of room for how you interpret it."
According to the Dane County pesticide policy: "Glyphosate is the herbicide most used in the Parks Department. Use is usually limited to landscaped areas, which include mulched areas, trees, fences, posts, foundations and parking lots."
County botanist Lars Higdon said glyphosate is also a key component of an integrated approach that includes mowing and volunteer efforts to manage conservation areas that seem to attract new invasive species every year.
"It's a constant struggle because our prairies and our woodlands are just choked," he said. "People see them as green, beautiful parks, but a lot of that green is not good stuff. It's actually detrimental to wildlife and the diversity of the land, and also water quality."
But records show that last year glyphosate was also applied to playgrounds, sandboxes, volleyball courts, campside parking spaces, shelters, horseshoe pits, park shelters and fire pits at Token Creek Park.
The records don't indicate how much of the chemical was used, even though the policy calls for a record of either "the concentration and total quantity of each herbicide applied," or "the amount of herbicide product applied per unit area and the total area treated."
Other records provided by the county include that information.
County parks director Darren Marsh said the county has used glyphosate on park facilities since he started with the county 24 years ago. The use, he said, depends on projects the county takes on.
For instance, he said, "If we are installing new wood mulch into a playground area, we'll remove the vegetation and then install new mulch."
The county, with the state DNR and the U.S. Army Corps of Engineers, also took part in a "research project" that entailed the dumping of more than 2 tons of 2,4-D products between 2008 and 2010 into Lake Monona's Turville Bay to see if the chemical was effective against the Eurasian water milfoil.
"To date, the research shows that repeated harvesting is effective at controlling nuisance levels of EWM while avoiding some of the negative impacts on beneficial native plants seen with chemical treatment," reads a 2011 press release from the county.
"Other than a couple of general media press releases, agencies leading this research project did not communicate about their toxic experiment with anglers who regularly eat fish from Lake Monona, people who swim in the lake, and others who use the lake," Powell said.
In Madison, the escalation of herbicide use in recent years appears to be at odds with a City Council resolution, passed in April, that certifies Madison as a participating city with Bee City USA. The resolution vows to pursue the goal of providing the struggling bee population with a "healthy habitat, rich in a variety of native plants and free to nearly free of pesticides."
Some evidence exists that 2,4-D, the chemical that has been used extensively on the city's athletic fields in recent years, is toxic to bees. 2,4-D producer Dow describes it as "moderately to practically nontoxic to birds and honeybees on an acute basis" in its product safety assessment. Other studies have suggested that the chemical is disruptive to bee populations, even at low toxicity. The National Pesticide Information Center says it's "practically non-toxic to honeybees."
At any rate, there's no sign that the Parks Department intends to cut back on its use.
"The pesticide plan for 2017 will continue to be aggressive with pesticide use on athletics," reads its 2016 pesticide report. "Years of little or no pesticide use has produced weedy, undesirable, and unplayable athletic fields."
In 2015, the World Health Organization's cancer research agency listed glyphosate as a "probable carcinogen." That same year 2,4-D was labeled as a "possible carcinogen."
The glyphosate ruling was bad news for Monsanto, which has made billions on Roundup and on genetically modified glyphosate-resistant crop seeds. Monsanto also markets the product as a pre-harvest drying agent for wheat, oats and other crops. The weed killer has become so widely used that in tests commissioned by the group Food Democracy Now, traces have turned up in food products that include chips, baby foods, whole-grain bread and breakfast cereal.
Since the 2015 decision, according to Bloomberg, 319 lawsuits have been consolidated against Monsanto in U.S. District Court in San Francisco alleging that Monsanto covered up the risks of non-Hodgkin lymphoma. At least 1,100 people have made similar claims in state courts, according to Right to Know, a group that advocates transparency in the food system and has filed a lawsuit against Monsanto in federal court.
Monsanto zealously counters suggestions that Roundup is toxic to humans.
The story recently published in the Cap Times about the city's use of glyphosate drew several responses, including an immediate response from Dr. S. Eliza Dunn, a Monsanto medical sciences and outreach specialist.
"Misinformation in Elbow's article includes the unfounded allegation that glyphosate causes cancer," she wrote. "He substantiates the claim by referencing one finding by a group called IARC, but doesn't share with his readers that IARC's flawed finding ignored crucial scientific data and contradicts conclusions of the EPA and every other regulatory body in the world that has studied glyphosate."
The International Agency for Research on Cancer is the World Health Organization's cancer research arm. Its decisions impact policies, legal cases and attitudes about suspected carcinogens worldwide.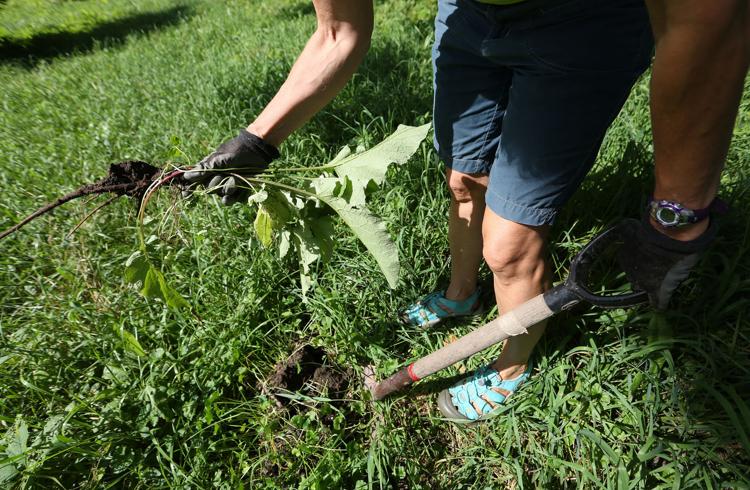 Meanwhile, internal Monsanto documents released earlier this month show that even within Monsanto, the risks of its flagship product raised red flags. In one email, a Monsanto scientist cautioned that ingredients included in Roundup, which at least one study found can amplify the toxic effects of the product, remain a health concern. Of particular concern has been polyoxyethylene tallow amine, or POEA, which was added to enhance glyphosate's uptake.
"You cannot say that Roundup is not a carcinogen," the scientist wrote. "We have not done the necessary testing on the formulation to make that statement. The testing on the formulations are not anywhere near the level of the active ingredient."
The contractor who applied the glyphosate at Starkweather Creek, Frank Hassler of Good Oak Landscaping, said that he's worked on "many projects" for the city Parks and the Engineering departments. So far this year, he said, he's applied just over 88 gallons of a glyphosate-containing herbicide along the banks of the creek, with concentrations of between 0.7 percent and 1.4 percent.
In an email, Hassler suggested that concerns about glyphosate are overblown, and he has often repeated Monsanto's claim that the chemical is less toxic than table salt.
"Roundup has been on the market for over 40 years and been heavily studied," he said. "It has been under particularly intense scrutiny for roughly the last decade. And yet there's no consensus that it is harmful to animals, in reasonable doses. Anything can be harmful in excess concentration, even drinking water."
Gervais, the physician who had served on the pesticide committee, called that a "silly statement."
"There are many studies showing certain risks," she said. "It's just, how do you assess that risk? A lot of these risks are cumulative. Cancer doesn't happen overnight, and it's hard to figure out what caused that cancer."
She said one of difficulties is tracing disease to exposure to chemicals, which might happen with one exposure, multiple exposures or even in utero. The fact that links between chemicals like glyphosate and 2,4-D and cancer haven't been definitive doesn't give them a clean bill of health.
"Specific to Roundup, there have been studies that show that it's connected to non-Hodgkin lymphoma," she said, as well as learning problems in children.
Gervais has spent a lot of time over the years arguing with city officials over the health risks of pesticide use. But she said she's come to realize that arguing doesn't change the underlying priorities.
"Their priority is weed control," she said. "Their priority is not health. Mine is. I'm a physician."
Now she approaches the issue from a different angle.
"Sitting and arguing actually doesn't get you anywhere and make change," she said. "What you do is just move on and do other methods of weed control."
She founded a nonprofit group called the Healthy Lawn Team and she looks for volunteers to control weeds at local parks the old-fashioned way.
"My fingernails are dirty today after all the weed digging and pulling," she said.
A lot of her efforts are focused on Westmorland Park, where she and her volunteers battle pesky species like burdock and curly dock by hand. But she also works with the city to organize volunteer efforts elsewhere.
"I try to teach people that this can work," she said. "Sometimes people see and say, 'Oh yeah, I guess I can do that.'"
Powell, too, had organized efforts to keep buckthorn and other invasives at bay in Lake View Hill Park, recruiting neighbors, children and even inmates on work release. But that effort came to a halt when she realized the county was spraying herbicides, which raised concerns from her and volunteers who didn't want to be exposed to the chemicals.
"Why would I want children to work in areas that had been treated with pesticides?" she said.
At one point she saw county workers inadvertently spraying herbicides on her own property, "very close to our organic vegetable garden."
Her long-running struggle to keep pesticides off of her private property has yielded one solid result: the county now maintains a pesticide-free zone in the area near her home, where she and her family remove buckthorn and garlic mustard by hand.
"They did agree to that," she said. "In fact, there are formal signs down there that say, 'pesticide free zone.'"
It was a small victory, and one that did little to dampen her shock when informed of the city's latest figures on pesticide use.
"Holy, shit!" she said. "What is happening? And people are rolling around in that, too."