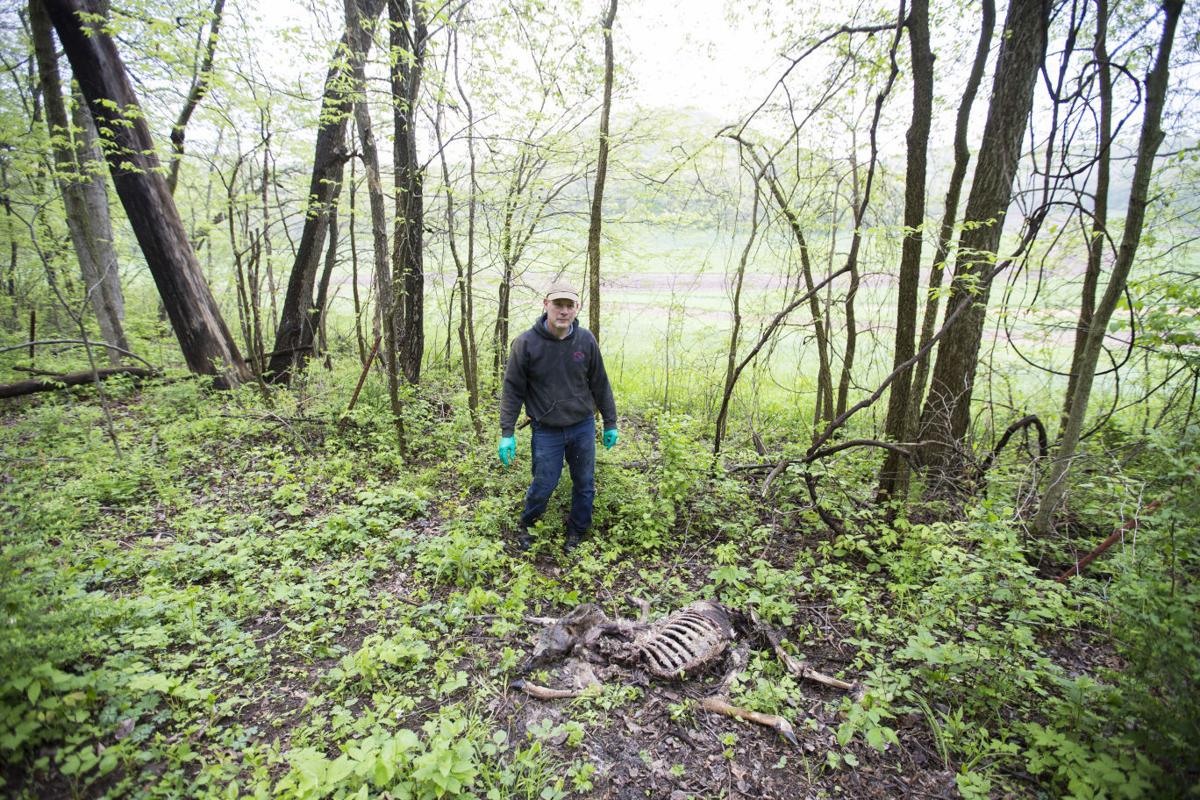 Matt Limmex has been hunting deer on his family's land near Spring Green his entire life. But in recent years the satisfaction of bagging a buck has been tainted by concerns about chronic wasting disease.
"An older buck, you're almost certain it'll be positive," said the 52-year-old Iowa County dairy farmer. "Or you'll be surprised when it isn't."
For Limmex the annual bounty of the deer hunt has become an exercise in carcass disposal. In recent years he's been spotting "the droolers and the shakers" with increasing frequency. At the request of the DNR, he has shot down deer that were too sick to run away, and more often than not, they test positive for the disease, which destroys the nervous systems of cervids — elk, deer and moose — reducing them to bony shadows of their former selves.
He hasn't kept track of the numbers, but he estimates that he and his family have killed more than three dozen CWD-positive deer, at least a dozen of them in the last two years. And that, he said, has taken its toll on the once-sublime experience of shooting a deer for the family table.
"It's not much fun to be shooting sick deer," he said.
Limmex lives smack in the middle of a 144-square-mile cauldron of deer and disease centered in Iowa County's Wyoming Valley and stretching into western Dane County, one of the most CWD-infected areas in the nation. According the most recent monitoring data, if he shoots a doe, there's roughly a one-in-four chance that it's going to have CWD. If he shoots a buck, it's essentially a flip of the coin.
In the Wyoming Valley, the prevalence of the disease among adult male deer — those 2 ½ or older — has seen an annual growth rate of 23 percent since it was discovered in 2002. By 2006, 6 percent of bucks tested had the disease. By 2010, it was 20 percent. In 2015, more than 40 percent. Prevalence among does, for reasons still under study, is lower: just over 25 percent, but growing at a faster clip. The zone is so polluted with the disease that it's in the soil, likely taken up in plants that deer feed on.
And CWD's geographic reach is expanding, stretching for the first time last fall to the Northwoods at a hunting preserve in Oneida County and popping up at an Eau Claire County deer farm in west central Wisconsin last summer. It's been found to exist in 18 Wisconsin counties, but because of close proximities to the sick deer, 41 of the state's 72 counties are banned from baiting and feeding deer in an effort to reduce deer-to-deer infection.
Its global reach is expanding as well. It's been detected in 24 states — up from 18 in 2010 — two Canadian provinces, South Korea, and most recently last year in Norway.
But as the spread and prevalence rises, Wisconsin's efforts in response to the disease diminish in a collective shrug as hunters, lawmakers and the wildlife management experts who advise them reject the notion that anything should, or can, be done about the exponential spread of CWD, an always-fatal disease that some fear could threaten the state's hunting heritage – and $1.3 billion in economic activity it brings to the Badger State each year.
CWD, which first popped up in Wisconsin in 2002 near Mount Horeb, has embedded itself in the deep political divisions in the state, with hunting groups and others opposing efforts to fight the disease aligned with Republicans, and those wanting the state to step up herd-culling tactics and regulatory measures tending to lean Democratic.
But the political lines sometimes cross.
Limmex patrols his 220 acres in a well-used red pickup truck bearing stickers supporting Gov. Scott Walker and state Sen. Howard Marklein, both Republicans. His criticism of the lack of state action is measured, but unambiguous.
"I can't believe that hunters in other parts of the state don't want this area to do more to control the spread of CWD," he said. "If this was elsewhere I sure would want that area to control the spread of it."
Recently two Democratic lawmakers, alarmed at monitoring data from the 2015 hunt that showed the statewide prevalence raising from 6 percent to 9.5 percent, called on Walker to do more.
Rep. Nick Milroy, a South Range Democrat, issued the plea with Rep. Chris Danou of Trempealeau.
"Obviously, deer hunting is a huge tradition in this state, but it also creates over $1 billion in economic impact every year," Milroy said. "I think if this spreads to every corner of the state it's going to have a real impact not only on our tradition but also on the economy."
The lawmakers want the Walker administration to look at baiting and feeding bans to curtail the spread of CWD, double fencing at deer farms and hunting preserves, targeted culls in newly infected areas, restoring DNR science positions — axed by Republicans in the Legislature last year — to study the disease. They also want Walker to take a close look at CWD-management efforts in Illinois, where the prevalence rate has been held in check.
The Wisconsin Wildlife Federation has called for stringent regulations for captive deer and elk facilities, a substantial increase in monitoring for the disease and more readily available information on the spread of the disease and incidents of escape from cervid farms. The group also wants the DNR to launch an independent scientific review of the state's CWD management program.
Meanwhile, Whitetails of Wisconsin, a deer farm and hunting preserve trade group, earlier this year issued a memo stating that CWD "is not a highly contagious disease," that attempts to regulate cervid farms is a ploy used by anti-deer farming forces, and that "no one can stop the spread of CWD."
But Limmex said in the disease zone, people are starting to warm up to the notion of deer management.
A member of the Iowa County Deer Advisory Council, Limmex has been pushing for an antlerless holiday hunt
to lessen the deer density that experts believe contributes to the deer-to-deer transmission of the disease.
He said many supported the hunt "so if they shot a CWD-positive deer earlier in the season they'd have a chance to get another deer so they could eat it."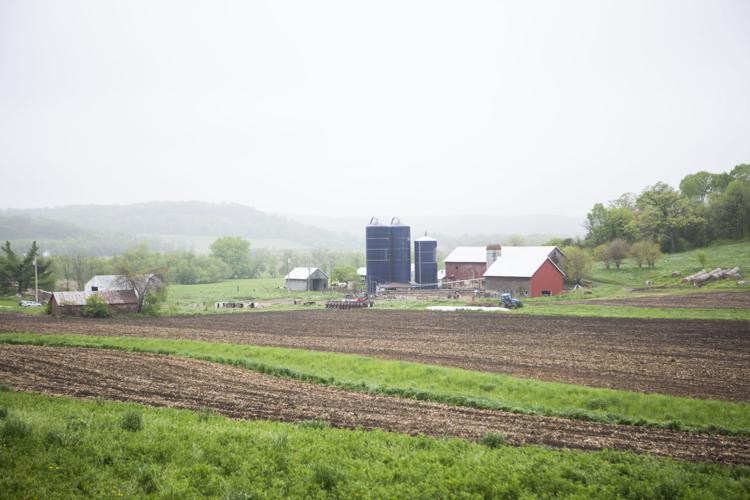 Several people, he said, even called for bringing back earn-a-buck, a program requiring hunters to kill an antlerless deer before bagging a buck that was so detested by Republican lawmakers, and the hunters who have their ear, that it was banned in 2011 by the Legislature.
But while Limmex puts support for the holiday hunt at better than 50-50, his fellow council members shot the idea down.
Last Friday, Walker unveiled initiatives that included more frequent inspections of fences at deer farms and hunting preserves, a study of how CWD is affecting the state's deer herd and a faster testing procedure to determine whether harvested deer have the disease.
But notably absent are sharpshooters and other herd-thinning efforts that the DNR initially used to combat the disease, until a backlash prompted a cessation of those measures in 2010.
"I was hoping they were going to take it more seriously," said Milroy. "But what I've seen from what they've put out, to me it's just fluff, and it's not really getting at the heart of the problem."
In setting state CWD policy, Walker in 2012 adopted the "passive management" approach advocated by Texas wildlife biologist James Kroll. The Walker administration recruited Kroll as the state's white-tailed deer trustee in 2011 with a $125,000 contract.
Kroll, who still keeps track of CWD in Wisconsin, doesn't believe the problem is getting worse. Rather, he said, surveillance efforts are getting better.
"The disease is not spreading," he said in a recent interview. "We're just sampling and we're looking for it and we're finding it."
"There are all these things that tie in together," said Bryan Richards, who heads up CWD efforts with the USGS National Wildlife Health Center. "Prevalence is growing, geographic distribution is growing. The amount of sampling available is dwindling. Human exposure and domestic livestock exposure to CWD-positive deer is increasing. There's nothing good about this situation."
CWD is a 100-percent fatal disease caused by abnormal proteins called prions that destroy the nervous systems of cervids, killing them off, on average, within 18 months. Prions tend to collect in the brain, where they bore small holes, and in the spinal cord, lymph nodes and spleen. But smaller amounts also infiltrate muscle, the part of the animal that typically lands on your plate.
First discovered on a Colorado research farm in 1967, CWD was recognized as a transmissible spongiform encephalopathy (TSE) in 1978. It was not a wide concern until another TSE, a variant of mad cow disease, began killing people in Great Britain in the mid-1990s, sparking worldwide disruptions in the beef market.
While health agencies and researchers generally say the chances of humans contracting chronic wasting disease are remote, they are not zero. Following the lead of the World Health Organization, most health agencies, including the Wisconsin Department of Health Services, advise against eating any part of an infected animal. And when it comes to prions, a well-done steak doesn't solve the problem. They can survive cooking temperatures.
But over the years, concerns among some about the safety of meat have fallen by the wayside.
"Complacency has kicked in," said one property owner in Iowa County, whose land sits squarely in the hot zone.
The landowner, who didn't want to be identified, said he's vigilant about testing the animals he shoots, two of which turned up positive in 2014. But members of his family don't take the same precautions.
"I am concerned," he said. "But a lot of people in the state, they go hunting and just say, 'whatever.'"
Jeb Barzen has 49 acres near Spring Green, on the northern edge of the CWD zone. The land is rife with deer. In a typical year his family harvests three of them.
Last year a buck tested CWD-positive.
"It sucks," he said. "But we hunt because it's our primary source of protein."
Barzen, a field ecologist, is careful about what he eats. When the deer turned up positive on his land, he decided to alert his neighbors.
"Almost every single neighbor that I contacted said, 'Oh yeah, we've had a deer that tested positive,'" he said. "Some of the neighbors disposed of the carcasses. Other neighbors said, 'After the first time we got a carcass testing positive we just didn't bother to test anymore, and we eat the carcass anyway.'"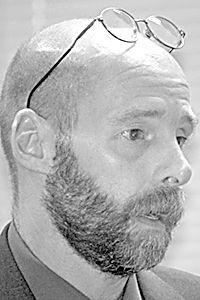 Limmex said about half of the hunters he knows won't eat CWD-infected deer. "I like to joke that your willingness to eat CWD-positive meat is directly correlated to your hatred of the DNR."
Richards conceded that the odds of a human contracting the disease are low. But with every infected carcass consumed, the odds get better.
"In a biological system, if the odds of some event are small and you want to do something to bolster those odds from a population sense, keep repeating the experiment," he said. "That's what we're doing. We're repeating the experiments out there. A significant number of humans are consuming CWD-positive venison every year. The chances of any one of them developing disease is extremely remote. But we keep repeating the experiment."
Kroll considers the chance of humans contracting the disease to be too much of a long shot to be of significance.
"There's some people there that I interact with pretty regularly that I honestly believe if a human being ever caught CWD they'd throw a cocktail party," he said. "They're that eager to prove they knew what they were talking about, that human beings were going to catch CWD someday. That's a shame."
In the mainstream scientific realm, Kroll is a renegade. The founder of the Texas deer consulting agency Dr. Deer, Kroll bills himself as the "father of modern whitetail management" and an "award winning scientist, author and TV personality." His firm, which includes two other deer management consultants, specializes in helping commercial white-tailed breeders and trophy hunt operations develop and market their businesses.
Kroll had never before set policy for a state natural resources department until he was tabbed by the Walker administration.
"They're the only agency that would tolerate someone like me coming in and doing it," he said. "And that's because the governor said to do it."
He brought to the job a Texas-style populist approach that fit remarkably well with the prevailing anti-DNR sentiment. He's under no illusion that his assertion that CWD is "not at the top of the list" of threats to the deer population has been embraced by his scientific brethren.
"You interview a bunch of people that say I'm a complete lunatic and all that sort of stuff," he said. "But I haven't been wrong yet."
Kroll and Richards are in agreement on one point: DNR figures that show a statewide spike in CWD prevalence from 6 percent to 9.5 percent from 2014 to 2015, which drew wide media coverage, are statistically flawed. With most of the samples taken in the CWD zone, both scientists agree that those numbers are suspect.
"That's too simplistic of an analysis," said Richards, whose concern is focused on the escalating prevalence of the disease in localized pockets where it has gained a foothold, and on the geographic spread.
Pointing out that samples were disproportionately collected in the CWD hot zone, Kroll called it a "biased sample."
"I just got my hands on all the sampling data for the state that created such a stir in the press by some folks," he said. "Seventy-five percent of the state samples have been taken in the heart of the area. And they focus primarily on the older age-class individuals, the most susceptible."
But when it comes to what to do about the disease, the two scientists are worlds apart. And they have vastly different interpretations of Kroll's "passive management" model.
"'Passive,' the interpretation would be merely monitoring the disease," Richards said. "And if you're merely monitoring the disease there's really no way that can have any impact on the course of disease itself. It simply can't, almost by definition. And even the level of monitoring we're doing has greatly dwindled."
Kroll maintained that his passive management concept has been greatly misunderstood.
"I'm very irritated about the interpretation of what passive management is," he said. "Passive management is not doing nothing. Passive management is monitoring what is going on in the traditional zone, trying to contain it there and spend our hard-to-find dollars and effort on catching it breaking out and then get on it aggressively to control it where we find it outside of the zone."
He also said he favors an emphasis on monitoring and research.
He added, "(Scientists) need to be studying the right things, not just padding our resumes with publications."
But monitoring and research efforts are on the decline.
Monitoring is considered by nearly all involved to be key in tracking the spread of the disease, but the level of monitoring is at a historic low. More than 40,000 deer were tested in 2002, the year CWD was discovered in the state. In 2014 the state tested just 5,465 deer. During the 2015 hunt, only 3,141.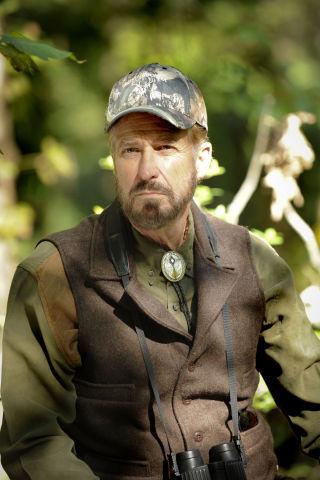 The 2015 drop is due in part to a new state policy that allows hunters to use computers and smartphones to register their deer, replacing the deer registration stations where hunters gathered for decades to admire each other's trophies and shoot the breeze. In recent years, they could also get their deer tested on-site.
The so-called Telecheck system puts the onus on hunters to get to a testing station.
"That's very different than when a person had to bring their deer in and someone at the check station said, 'Hey, we'd like to sample your deer, can we do it?'" Richards said.
Barzen, the Spring Green hunter, suspects the complacency that has already set in regarding the safety of venison from CWD-infected deer will only deepen with the new system.
"I don't have expertise in disease, or in mammal management or deer management," he said. "But I certainly know that it's a pain in the ass to get the animals tested now. And the DNR has backed off so much on testing that I have to travel a significant distance just to get the test. I have to work pretty hard just to be safe."
And funding for research has all but dried up.
"I think there's been a general drop-off of interest by all parties," said Michael Samuel, a University of Wisconsin-Madison professor of wildlife ecology who has been studying the disease for years. "This kind of happens I guess with a lot of studies, especially with disease. We call it the crisis du jour."
Like several researchers across the country, Samuel started researching CWD shortly after its discovery in Wisconsin. But the federal dollars that were the primary source of his funding have dried up and he's moved on.
"In terms of the ecology of the disease and its impact on the deer and how fast it's spreading and how fast it's growing, its prevalence, all those kinds of things, and what we might do about it, we're not doing anything," he said.
Some wildlife biologists believe when prevalence reaches 25 percent in does — which is about the rate in the hot zone — CWD will reduce breeding years to the point that population levels will decline.
In Wyoming, for example, where management of the disease has been virtually nonexistent, one recent research project has forecast declines of the mule deer herd of up to 19 percent a year.
Kroll's not buying it. The mule deer population is declining, but he said other factors like changing habitats and land use practices are to blame.
"A whole bunch of other reasons were involved," he said.
And he said white-tailed deer is on the decline as well, but not from CWD. The chief culprits are destruction of habitat and a gnat-borne viral disease.
"One of your scientists there came up with a model somewhere between 2002 and 2005 that predicted the extinction of white-tail deer in the zone area in 20 years," Kroll said. "Well we're getting pretty close to that and now folks are expanding it out, well, maybe 25 years, maybe 50 years, maybe 100 years. I'm waiting to see it."
And he sees early efforts by the DNR to control the disease, especially earn-a-buck, not only as ineffective, but harmful.
The program, he said, spared too many older bucks in the CWD zone, who are the most likely deer population to carry the disease, while killing off a higher percentage of does, which are less likely to be CWD-infected.
"Earn-a-buck created a much older population of bucks and actually increased the disease rate instead of helping it," he said.
There's no telling how long chronic wasting disease has been around, Kroll said, but it's been around for a long time. And the more you test for it, the more you'll find it.
"I'm not saying it's not a disease of importance," he said. "I'm just saying that it's been grossly overblown."
Officials in other states look at Wisconsin with a mix of paranoia and frustration.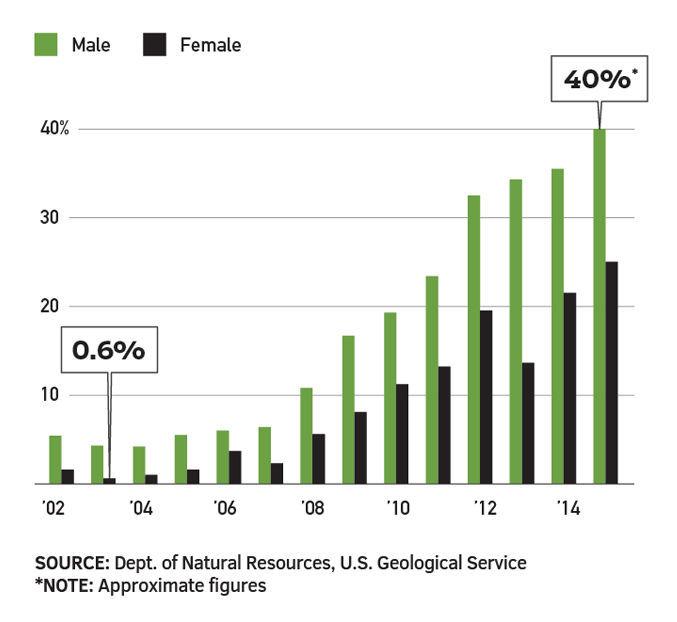 "Our situation poses a risk to our neighbors," said Richards.
The discovery of CWD in Oneida County last fall was the first instance of the disease in the Northwoods, and it raised fears among Michigan officials that the Upper Peninsula, about 25 miles away, is at risk.
Michigan detected its first case of CWD in free-range deer in 2015 downstate near Lansing and has mounted a vigorous response. Now the state sees itself as fighting on multiple fronts. Officials have launched a campaign dubbed "Keep the U.P. CWD Free!" and banned whole deer carcasses from Wisconsin.
In Iowa, monitoring efforts are focused near the in eastern border, where infected deer were found directly across the Mississippi River from Prairie du Chien.
In Minnesota, which has not detected the disease in recent years, monitoring efforts along the river also are extensive.
In Illinois, CWD-infected deer are concentrated in the north, with pockets near the Wisconsin border. But officials there have had a much different response than in the Badger State. And they've kept the prevalence at just over 1 percent.
Paul Shelton, forest wildlife manager for the Illinois DNR, said that his state has kept the pressure on with mandatory testing, aerial surveys, special hunting seasons and sharpshooters taking out diseased deer.
"We figure if we're removing sick deer at a rate faster than they're getting infected, then we're having a positive effect, particularly at the local level," he said.
But he called eradication of the disease "more of a fond thought than a practical reality."
Part of the reason, he said, is the porous border with the state's northern neighbor.
"From the very beginning there's been that shadow of how Wisconsin goes is going to affect Illinois and vice versa," he said. "But the reality is, short of a large fence all the way across the top of the line, that's something that we're going to have to live with."
Wisconsin's 350 deer farms and 68 hunting preserves are of particular concern, given their track record as a breeding ground for disease. Democratic lawmakers and the Wisconsin Wildlife Federation have called for measures such as double fencing to prevent nose-to-nose contact with wild deer and more stringent testing.
"We totally agree that the Department of Natural Resources and the Department of Agriculture, Trade and Consumer Protection are doing a very poor job of regulating deer farms and the management of chronic wasting disease in this state," said George Meyer, the executive director of the Wildlife Federation and a former DNR secretary.
So far, 14 game farms have had CWD-positive deer, necessitating the extermination of 11 entire herds, according to DNR records.
Early this year, the Milwaukee Journal Sentinel reported that 33 deer at Fairchild Whitetails in Eau Claire County tested positive for CWD, resulting in the slaughter of all 228 deer at the 10-acre spread. More than a dozen escaped the farm last year, sparking fears of a possible spread. The DNR said all the escaped deer were captured or killed.
The state placed a deer baiting and feeding ban in Eau Claire, Clark and Jackson counties as a result. And state officials also paid the farm owner, Rick Vojtik, who also serves as president of Whitetails of Wisconsin, $1,310 for each animal, for a total of $298,000.
Meyer testified earlier this year in front of the DNR board to complain about the DNR's handling of the CWD problem, but he has hopes that the agency will step up efforts after a mandatory review of Wisconsin's Chronic Wasting Disease Response Plan after the 2015 hunting season.
But the plan's current provisions have been on hold since the state adopted Kroll's passive management approach.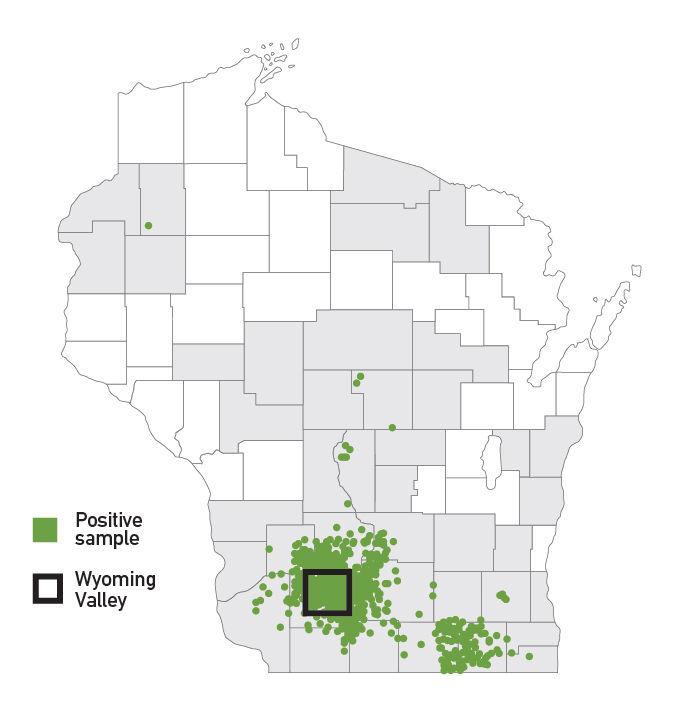 The CWD plan calls for use of the earn-a-buck program, easy access to testing, a statewide ban on feeding and baiting, continued surveillance in CWD-free areas to track its spread, reduction of the number of escaped deer from farms and hunting preserves, stepped-up educational efforts, a registry of people known to have eaten CWD-positive venison, research support and sharpshooters deployed along the periphery of the CWD zone to control the spread.
None of those measures are currently in place.
Milroy, the Democratic lawmaker, doesn't expect review of the plan to result in the aggressive approach he and Danou have called for.
"It's all very frustrating and it shows the lack of competence of the administration to take these concerns seriously," he said.
Walker spokesman Tom Evenson said in coming up with the initiatives unveiled last week, Walker sought "constructive input" from experts and also consulted with "professionals at the DNR" on Milroy's and Danou's recommendations.
"As a hunter, the Governor fully appreciates the need to do all we can do to combat CWD effectively," Evenson said in an email.
He didn't answer a specific question about whether Walker sought further advice from Kroll, who said the state's current approach to handling CWD is appropriate.
"The DNR has implemented what we recommended fairly well," Kroll said. "The biggest mistake they made is they haven't told anybody that they have. They're doing a good job."
And as far as human health, Kroll said that's something that's up to the hunter.
"I've eaten deer that probably were infected," Kroll said. "Let's use some common sense here. If a hunter sees a deer that comes by that's a walking skeleton, skinny, are they going to shoot it and eat it? I think not."
For Limmex, common sense means doing something to prevent those walking skeletons from haunting his land in the first place.
"It would be nice if they'd try to do something," he said.
Share your opinion on this topic by sending a letter to the editor to tctvoice@madison.com. Include your full name, hometown and phone number. Your name and town will be published. The phone number is for verification purposes only. Please keep your letter to 250 words or less.
Be the first to know
Get local news delivered to your inbox!