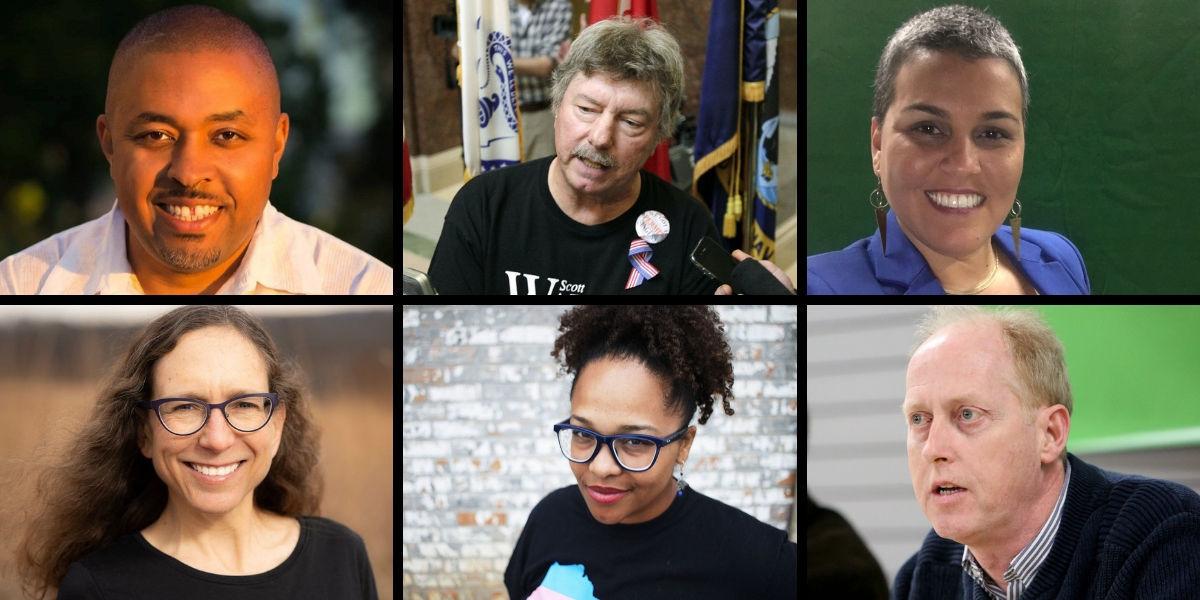 The Madison School Board's general election is still nearly five months away, but candidates have been jumping into the race the past few weeks at a rapid pace. Three seats on the seven-person School Board will be on the ballot this spring, and each seat will be contested. Here's what you need to know about the race so far:
Seat 3, currently held by Dean Loumos, will have a new member this April. Loumos announced earlier this month that he would not seek re-election, citing medical concerns that would take him away from the campaign trail.
Carusi told the Cap Times that she learned a lot from her first-ever campaign for public office.
Caire also has run for School Board. He lost the race for Seat 4 in 1998.
Caire went to the UW System to get One City Schools chartered after an earlier attempt to get a charter school, Madison Prep, approved by the Madison School District failed on a 5-2 vote in 2011.
He has previously said that he won't have a conflict of interest if he serves on the School Board because One City Schools isn't chartered through MMSD.
The Seat 4 race is a tale of opposites, with a bit of uncertainty still at play. James Howard, the incumbent, has not announced if he will seek re-election this spring. When he ran for re-election in 2016, he told the Wisconsin State Journal that his current term would be his last.
Howard told the Cap Times last week that he would make a decision in the next week, but has remained mum about his future plans.
Blaska, a conservative blogger who has strongly supported the use of education resource officers in the city's four high schools, said in his announcement that he didn't plan to get back into local politics, but that there was a crisis in Madison public schools.
Muldrow has said she's running to address the achievement gap and LGBTQ inclusion in Madison's public schools. Muldrow previously ran for Seat 6 in 2017 against Carusi and current School Board member Kate Toews. Muldrow won the primary, but lost the general election to Toews.
Seat 5 features an incumbent who is running for re-election. TJ Mertz, who has been a history instructor at Edgewood College, was first elected in 2013 after his opponent Sarah Manski dropped out after the primary race.
Mertz faces challenger Ananda Mirilli, who currently works as an education equity consultant at the Department of Public Instruction. Mirilli is running a campaign parallel to Muldrow — each of them has endorsed each other and they held a combined campaign event last week.
Mirilli, who has previously worked for the Madison School District and YWCA of Dane County, said her campaign is focused on addressing the achievement gap.
As it stands, there are six announced candidates running for three spots on the Madison School Board. When these three seats were up in 2016, the incumbents all ran unopposed.
"I think there's an ebb and flow to it," Anna Moffit, who was on the School Board from 2015 until 2018, said of the number of candidates running this cycle. "I'm not necessarily surprised around who is running. Blaska running was the only one I was surprised about."
Ed Hughes, another former School Board member, also wasn't surprised at the number of candidates.
"It's been more typical recently to have contested races, especially after 2016 when the three incumbents all ran unopposed," Hughes said.
Hughes ran for School Board unopposed three times. He faced a challenger in 2018, though he had to drop out of the race.
Hughes views the candidates as split into two camps: one that would be more collaborative with Superintendent Jennifer Cheatham and her administration, and another that would be more adversarial. He thinks Mirilli, Muldrow and Caire would likely be more collaborative, and Mertz, Carusi and Blaska would be more adversarial. 
For Tim Slekar, the dean of the School of Education at Edgewood College, what the candidates stand for should be more important than necessarily who they are.
"With local races, sometimes support for a candidate can be personal — you know them as a neighbor, you worked with them, and so on — sometimes to the point of looking at who the person is instead of the issues that they stand for," Slekar said. "And with contested elections, it's going to be important for voters to be able to know what the candidate specifically would do on the School Board if elected."
A slew of issues are likely to dominate the conversation during this election cycle, including the use of educational resource officers in the city's four high schools, which Blaska has staunchly supported.
Moffit said the expansion of voucher and charter schools will be a top issue in the race.
"I think the School Board is going to have to deal with the impact that voucher schools and two ex-charter schools will have on the budget," Moffit said.
Moffit also cited the need for more adequate support for students who have significant needs as an important issue for candidates to focus on.
"It's continuing to become evident that there isn't adequate support for students who have mental health or trauma-related needs," she said. "I don't think that problem is going to decease and will continue to persist."
The deadline to file paperwork with the city clerk's office to run for a seat on the School Board is Jan. 2, 2019. The primary election is Feb. 19, 2019, and the general election is April 2, 2019.