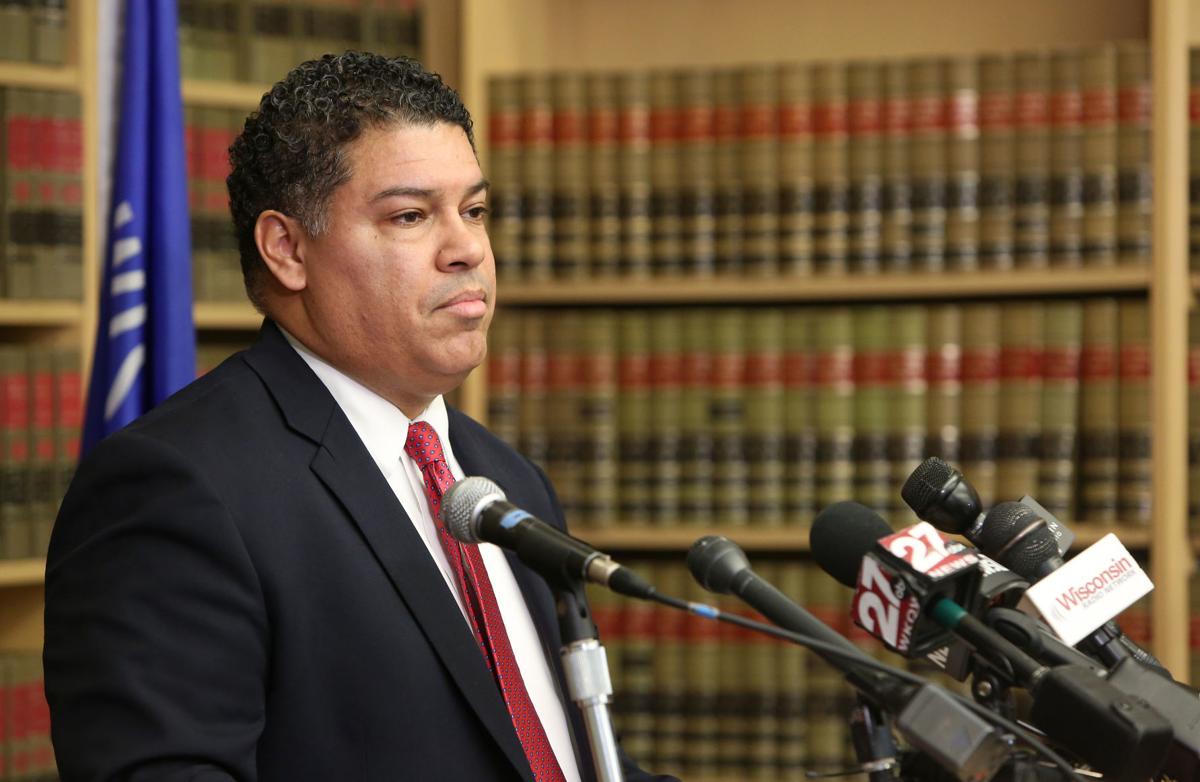 Dane County District Attorney Ismael Ozanne said Tuesday that Rob Mueller-Owens, a staff member at Whitehorse Middle School who allegedly pushed and pulled an 11-year-old girl's braids out, will not face charges. 
Ozanne said he did not believe a crime was committed after reviewing the Madison Police Department's investigation, which did not find probable cause to make an arrest.
"I am aware of the public narratives about this incident," Ozanne said. "Some of these narratives are based on incorrect information and assumptions that have been alleged as fact. Slices of this story have come out and some members of our community have coupled this information with their own experiences, drawing conclusions that are simply wrong."
Ozanne said he reviewed police reports, a report by Child Protective Services, witness statements, medical records, the school's use of force policies, and video surveillance of the incident.
"I am personally aware of the racial inequities that historically and currently paint a very different experience for persons of color living in Madison," Ozanne said, who mentioned his own experiences as a person of color and being a parent of two children of color. "These daily challenges are exhausting and traumatizing. Therefore, it is completely understandable that some people have reached conclusions about what occurred at Whitehorse Middle School. However, in this instance, some of those conclusions were premature."
Ozanne declined to say if he believes workplace rules were violated and whether Mueller-Owens should be disciplined by the Madison Metropolitan School District. 
The student's mother and grandmother said they were outraged by Ozanne's decision to decline bringing charges. 
"We knew from his approach and demeanor (during meetings with Ozanne during the investigation), he had already made up his mind," said Mikea Price, the mother of the student. "They all stuck together. It's outrageous ... if Michael Brown or Trayvon Martin never mattered, why should my daughter's life matter?"
Price is a special education assistant at MMSD.
"I have been in several situations where students have kicked me, spit on me, broke my ankle, and I still did not conduct myself in that kind of manner," Price said, noting that she believes Mueller-Owens lost his cool and snapped.
The incident began when Price's daughter allegedly was spraying too much perfume and did not initially follow a teacher's direction to stop. Price said that while her daughter should have initially followed directions, "she did not deserve to be beaten by an educator."
"And the Madison School District knows protocol is that we never put our hands on a kid unless it is necessary," Price said.
A spokesperson for MMSD said district officials will use the information available from the police reports in deciding their next steps. Mueller-Owens will remain on administrative leave while the district completes its review.
"Schools exist to nurture, uplift, and care for students," Rachel Strauch-Nelson said in a statement. "We must take every action to ensure that is true for every child."
Madison Teachers Inc., the teachers' union, did not immediately respond to a request for comment.
"When I arrived at school, the school did not even call the police. They never called child protective services, they didn't even notify me," Price said at a news conference alongside Pastor Marcus Allen of Mt. Zion Baptist Church and other faith leaders. "When I did get in contact with police, we had a child that stated she was abused, a teacher witnessing my child being abused, and we also had video showing abuse. And this man still hasn't been arrested."
Allen said that Ozanne had told them in a private meeting on Feb. 25 that the process had "gone off-kilter in some way."
Mueller-Owens has been on administrative leave since the incident last month and will not return to Whitehorse, according to the Madison Metropolitan School District. 
Community outrage over the incident has risen in the weeks since it surfaced in media reports. A community meeting was held at the Boys & Girls Club of Dane County where parents aired their concerns about MMSD. The Madison School Board's monthly meeting on Feb. 25 was dominated by speakers criticizing the district's response to the incident and to the several reported incidents of staff members using racial slurs in the classroom. Disruptions at that meeting ultimately forced the School Board to finish its meeting in a closed room. 
MMSD Superintendent Jen Cheatham penned an open letter last week calling the incident at Whitehorse "especially horrific" and said there was a failure on the part of the district regardless of what comes out of the police investigation. Cheatham said the district is exploring launching a hotline later this spring for students, family and staff to report incidents of racism and discrimination. 
Brandi Grayson, a community activist and founder of the Young, Gifted and Black Coalition, said in a response that Cheatham's letter amounted to gaslighting. 
Another open letter in response to Cheatham has circulated in recent days saying that MMSD devalues the opinions and engagement of students of color and their families.