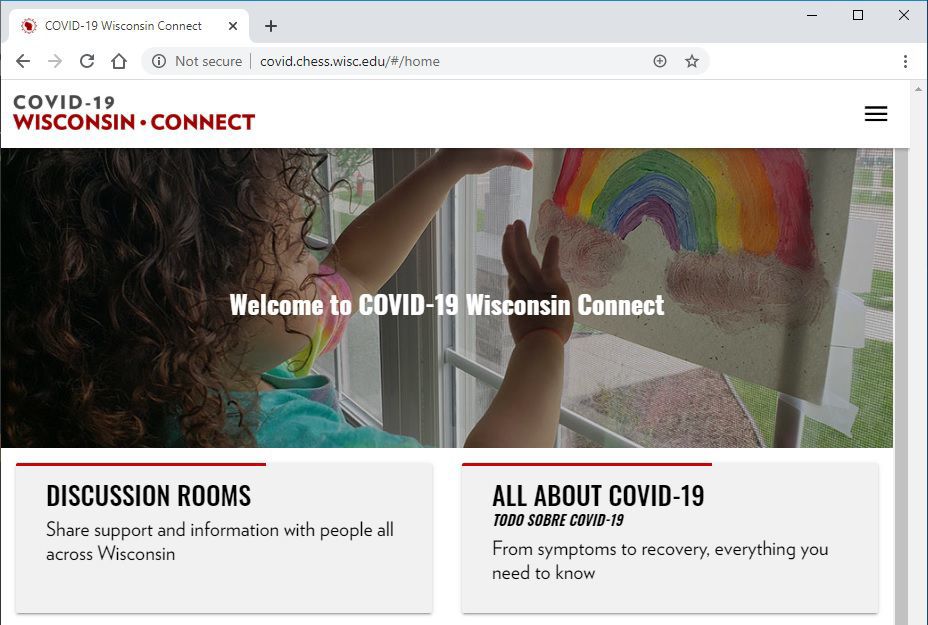 COVID-19 Wisconsin Connect, a free website and mobile app, launched Monday with free information, resources and social support for people in Wisconsin during the COVID-19 pandemic.
The Center for Health Enhancement Systems Studies in the University of Wisconsin-Madison's College of Engineering received a $470,000 grant for the project through the Wisconsin Partnership Program at the School of Medicine and Public Health. CHESS collaborated with faculty, staff and students at the journalism school's Center for Communication and Civic Renewal, which received a $140,000 subcontract.
The project team, many of whom worked as volunteers, capitalized on existing infrastructure at CHESS, which has a track record of building social support-based health apps. Both the website (covid.chess.wisc.edu) and mobile app, soon to be available in Google and iPhone App stores, include local discussion boards, meditation exercises, a bilingual fact checker and articles and symptom tracking logs from the Department of Health Services.
"There's so much misinformation. You Google, 'Do I have coronavirus?' and you're not sure whether to trust what comes up," said Michael Wagner, a journalism professor who leads CCRC. "This way you could just look on the app and have these things already vetted by health professionals, so we know that this is the best information."
Advertisements in print and online newspapers, including those serving Latino and African American populations, will encourage people to visit the website or download the app. Television stations will also air 15- to 30-second videos in various languages, as well as one featuring former Wisconsin Gov. and U.S. Health and Human Services Secretary Tommy Thompson, who Wagner said is influential among older adults.
Team members have engaged with the community to best gauge the needs of Wisconsin's more vulnerable populations, said Dhavan Shah, a co-principal investigator on the project. Next steps include creating a formal advisory committee and a wider range of translations.
"It's been on the front end, really understanding needs, what we can do to support and help," said Shah, who also runs CCRC. "These communities are doing lots themselves, so it's not like we're coming in to save the day so much as it is to assist them in what they're already doing."
The website was designed to be user-friendly with simple tips, especially for people who may be less familiar with smartphones, Wagner said. Though much of the information is universally applicable, he said the process of targeting misinformation has been somewhat Wisconsin-specific, including scraping Twitter or Facebook for popular local posts.
Marie-Louise Mares, a co-principal investigator, has led a team of seven people, mostly graduate students, who will moderate the app's discussion boards to answer questions or monitor misinformation. The boards will display usernames, not people's real names.
Mares said the project felt very personal after navigating the difficulty of returning home from France while her son was ill. She frantically searched the internet for questions about where he should be tested, or how long the symptoms might last.
When she was approached about the app, Mares — whose son eventually tested negative — said she immediately "saw the value in a curated set of information."
"I desperately wanted to be able to hear from other people, whether they had gone through similar things, how they had tackled" said Mares, a communication science professor. "I wanted to know, for example: What does it feel like to get tested? What should I tell my kid to expect?"
In addition to graduate student moderators, undergraduate journalism students contributed to the project's marketing while taking full-time course loads. Students on the team were paid as hourly workers.
Mares hopes to see the discussion boards become a safe and useful space, with the option to flag potentially dangerous entries. Even after Monday, she said that "now, more than ever, it becomes more complicated and more piecemeal," with a greater need for peer-to-peer contact.
Wagner added that "COVID-19's not going away" any time soon, and the team will continue adding updates to the app and website moving forward.
"At some point, we will start to see each other in greater numbers again, so the advice people are giving is going to change. People are going to be managing acute economic stress as well," Wagner said. "We're going to keep rolling out new things as new problems emerge and we have the best information from experts on how to handle that stuff."
Be the first to know
Get local news delivered to your inbox!