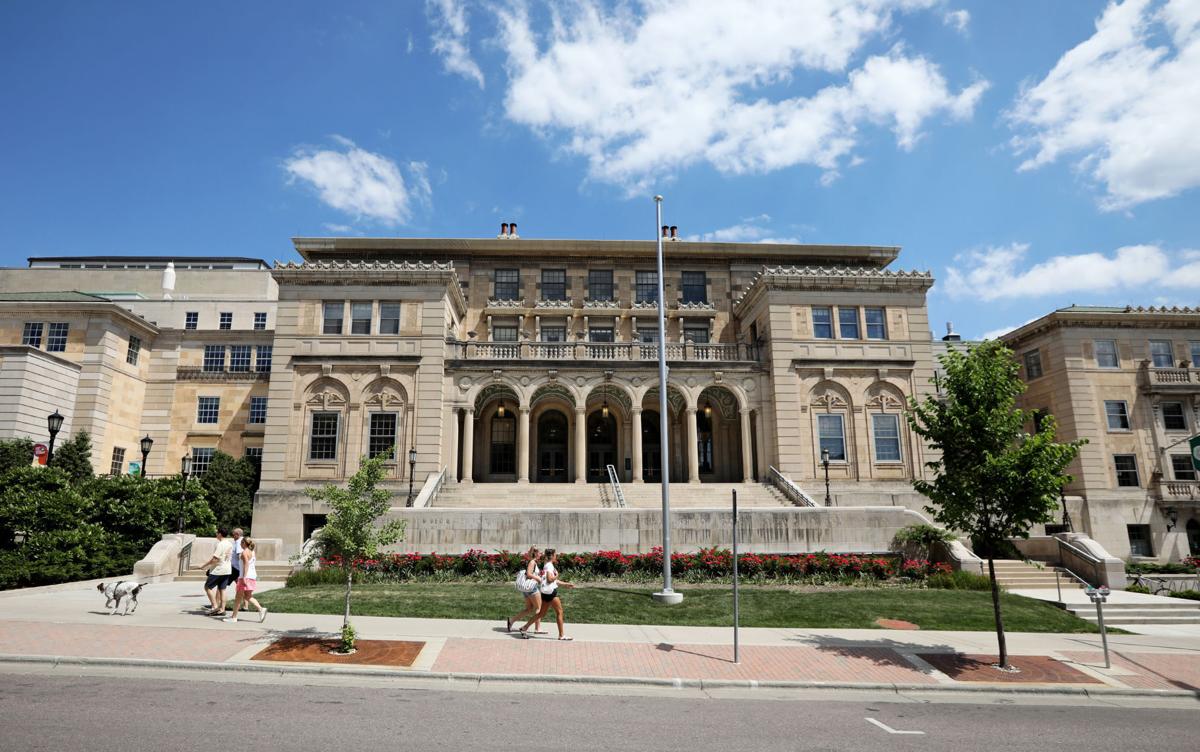 Over 150 people attended a Zoom town hall Wednesday evening to voice concerns about the University of Wisconsin-Madison's Smart Restart opening plan, calling instead for a fully online, "moral restart" this fall semester.
The event was hosted by the University Labor Council, a new coalition of workers representing the Building and Construction Trades Council, Teaching Assistants Association and local chapters of the United Faculty and Academic Staff and American Federation of State, County and Municipal Employees. Last week, the group released a statement demanding not only that the administration move all instruction online, but also implement a $15 hourly wage and pay and employment continuity for all workers.
Individual schools and departments are responsible for determining how courses will be offered, which instructors have said results in inconsistent policies and communication. Ankur Goswami, a panelist representing the Teaching Assistants Association, said there are "so many unknowns" when it comes to the fall.
Goswami, a graduate student in computer science, said that he felt during meetings with the Dean's Advisory Board that the university was treating workers as an afterthought. When he asked questions, such as when courses may have to pivot back to online or how to handle a student who doesn't wear a mask, he said he didn't hear any clear responses.
"I just have very little faith that they'll be able to carry out the promises that they've put forth," Goswami said. "How are we going to be on a campus? How are we going to be on a bus? … Bringing all these concerns up, it was like (administrators) were hearing it for the first time, and that's what happens when you have a really top-down process and you don't have workers who can relate what their day to day looks like."
According to a survey conducted by the TAA and UFAS in July, 86.4% of respondents reported feeling uncomfortable or extremely uncomfortable with the reopening plan. About 37% of classes this semester will be taught fully in-person.
In an email responding to the statement last week, vice president for finance and administration Laurent Heller said "we appreciate the contributions of all our employees to help us weather the pandemic."
"It has been a very difficult time for the university and our whole community," Heller said. "We're in the process of reopening campus with an emphasis on health and safety in order to fulfill our mission of teaching, research and outreach."
With the exception of the Building and Construction Trades Council, the four other unions do not have legal bargaining rights as unions. Heller said the university has "received and acted on employee feedback, especially through our frequent meetings and collaboration with shared governance groups."
University spokesman John Lucas added in an email that the campus has communicated extensively through the Smart Restart website, email and live events.
Panelists echoed Goswami's experience, saying shared governance does not always allow for effective communication, instead siloing workers into separate parts of campus as faculty, staff or students. Hannah Eldridge, representing UFAS, called on faculty and employees with more stable employment to join the unions in demanding a more worker-driven approach to the fall semester. 
"We get really upset about things like academic freedom, tenure protections," said Eldridge, an instructor in the German, Nordic and Slavic department. "But those things get eroded anyway. Academic freedom, like all freedoms, comes from solidarity … Join us in direct action, think about what you can do and come work with us."
On Tuesday, members of the University Committee and Academic Staff Executive Committee sent out a message to all faculty and instructional academic staff, saying they share worries about Smart Restart and are asking leaders for more definitive answers: "We feel that leadership will be more responsive the more they hear from us so please don't hesitate to relay your questions and concerns directly to them."
Beyond course instruction, panelists criticized inconsistent, decentralized communication from the university across parts of campus. Eldridge added that reopening is the most dangerous for low-wage workers and workers of color, calling Smart Restart a "racial justice issue."
"We cannot, as a university, say that Black Lives Matter and ask Black students and workers to come back in the middle of a pandemic that's killing them at disproportionate rates," Eldridge said. "We cannot say we value diversity and ask Latinx students and workers to come back on campus in a county where they're dying at rates several times disproportionate to their population."
Town Hall participants submitted input through the chat. Common questions reflected those that have been raised by faculty in University Committee meetings, including health and safety on public transportation and privacy issues when reporting positive cases.
Ellen La Luzerne, representing AFCSME local 171, reemphasized demands in the Council's statement, saying that guaranteed pay and job security is most critical for already vulnerable employees, such as food service workers. Many employees whose hours were reduced through UW-Madison's workshare program were able to receive unemployment benefits, but La Luzerne said national uncertainty about federal aid will only exacerbate concerns for people who have been "hanging on."
"(One of my coworkers) is faced not only with a loss of income due to furlough days, but she also is feeling a lot of anxiety about the unknown," La Luzerne said. "If this continues and if we don't find solutions, the whole situation is going to become much more dire."
The workshare program ended in July and furloughs across the university are continuing into October. Heller said in the email that it is unclear whether such actions will need to continue into the future and that is "simply not possible to guarantee" there will be no further cuts impacting jobs and wages.
Though Act 10 "nearly decimated" union power in the state, La Luzerne called on everyone in the town hall to join their local unions in addition to any shared governance channels.
"Unions are the people. Shared governance is not representative of all of the workers; it's a select few," La Luzerne said. "A union doesn't have to be just negotiating a contract that's binding … We need to make sure our voices are heard together to try to make a change."