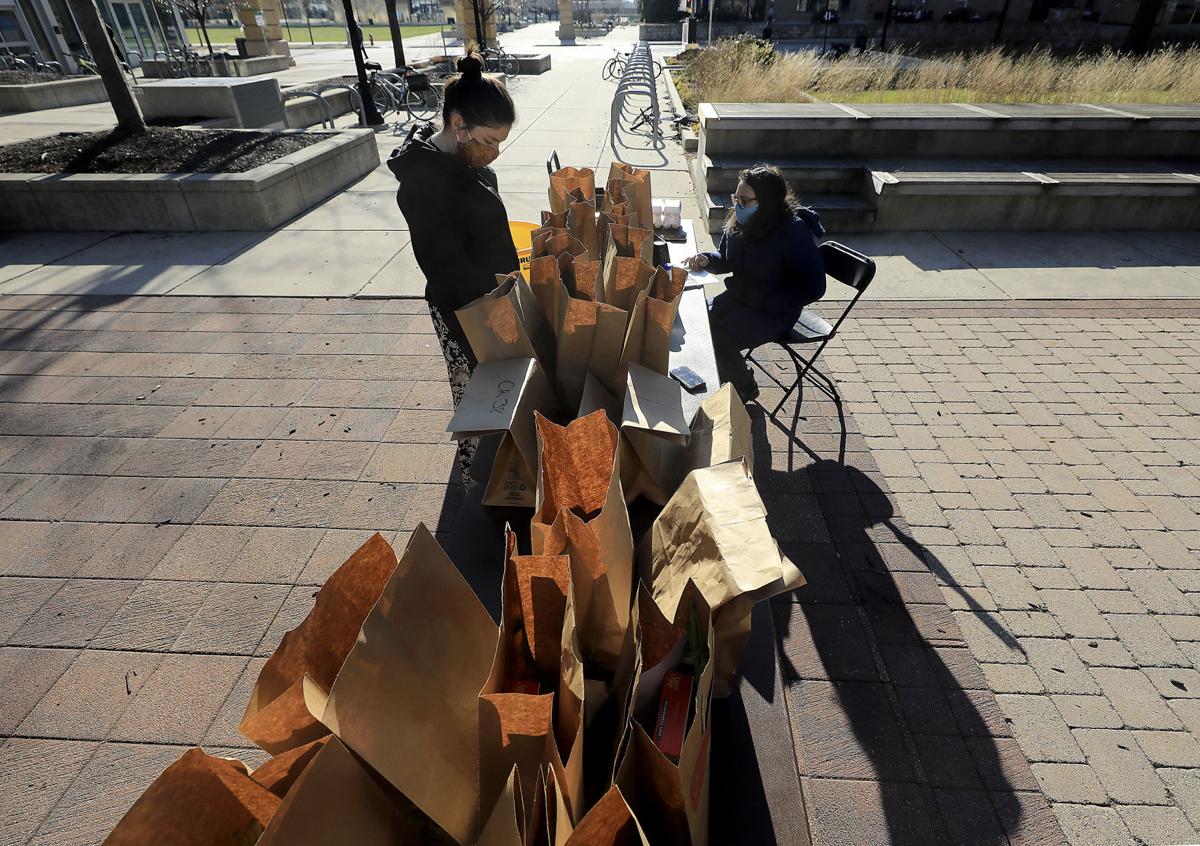 The University of Wisconsin-Madison expects to receive about $29 million through last month's federal COVID-19 stimulus bill, although it remains unclear how much will go directly to students as emergency aid. 
The CARES Act required that institutions distribute 50% of their allocations to pandemic-related costs and 50% to emergency student aid. In April, UW-Madison received over $19 million from the federal government, meaning almost $10 million went directly to students. The university distributed the aid to over 9,180 students by July 6.
The new bill, however, only stipulates that an institution must spend at least the same dollar amount in emergency student aid as it did through the CARES Act. This means schools may dole out a greater or lesser percentage to students than they did in the spring, depending on their difference in allocation.
UW-Madison has estimated about $50 million in extra costs related to the pandemic, including testing, personal protective equipment and contact tracing.
Helen Faith, director of UW-Madison's financial aid office, said the nuts and bolts of the CARES Act and student aid were confusing to many schools. Institutions opted for a wide range of methods to distribute the aid, from creating a new application form to using their usual financial aid criteria.
"Last time we were very proud of the fact that we distributed the funds very quickly to as many students as we could," Faith said. "We will definitely prioritize making sure that we are as equitable as possible."
At UW-Madison, students were able to request specific sums of money and describe what they needed the funds for. Cassidy McGee, a senior, requested and received $1,200 in the spring. After exhausting the first round of funding, the university made more money available, and McGee was able to receive over $600 more.
McGee said most of the money went toward food. She was relying on her job in the financial aid office to pay rent and bills, but she lost a second on-campus job during the pandemic, which she said was a "really big dip in my funds."
"I got my funds very quickly after I was notified, I would say no more than about a week," McGee said. "There wasn't a hassle."
University spokeswoman Meredith McGlone said in an email that the university has yet to receive guidance from the U.S. Department of Education about the rules and has not made any decision on how to allocate the funds.
Gains beyond the pandemic
Also tucked into the bill were two major, non-pandemic related wins that higher education leaders have long supported.
First, it lowers the standard of eligibility for the Pell grant, a need-based assistance program, allowing more students and formerly incarcerated individuals to receive aid. Over 500,000 more students will become eligible for the Pell grant and 1.7 million more eligible for the maximum award.
Second, it simplifies the FAFSA, or federal student aid form from over 100 to a maximum of 36 questions. It will no longer include questions about drug conviction and selective service registration.
Helen Faith, director of UW-Madison's office of financial aid, added that the simple changes to messaging in FAFSA will reduce barriers to aid. Currently, the process uses an "expected family contribution" number to determine aid, which Faith said many families incorrectly assume to be a required minimum payment.
"That tends to freak people out a little bit. It makes them a little nervous and think they have to get this amount of money … and oftentimes that causes them to retreat from the process altogether," Faith said. "It's never been an expectation that a family should be able to come up with a check for that amount." 
The new language will use a "student aid index." Though the formula is effectively the same, Faith said it more accurately frames financial aid eligibility as how much aid a student can receive, as opposed to how much they may be expected to pay. The student aid index can also run into the negative, meaning the neediest students can receive more money than the cost of attendance.
Faith said she is a bit wary that Congress passed the provisions through a pandemic relief bill outside the official Higher Education Act reauthorization process. The act is supposed to be reauthorized every five years but has not been renewed since 2008.
Making the changes through an unrelated bill, she said, can rush the process and "lack coherence with the rest of student aid policy," she said. Still, she described the legislation as overwhelmingly positive.
"Certainly we have a lot farther to go to make college more affordable for more families," Faith said. "But the changes, by and large, are really focused on improving access and simplifying the process, especially for families without complicated finances likely to be intimidated by the process."
The changes will likely not be implemented until July 2023.