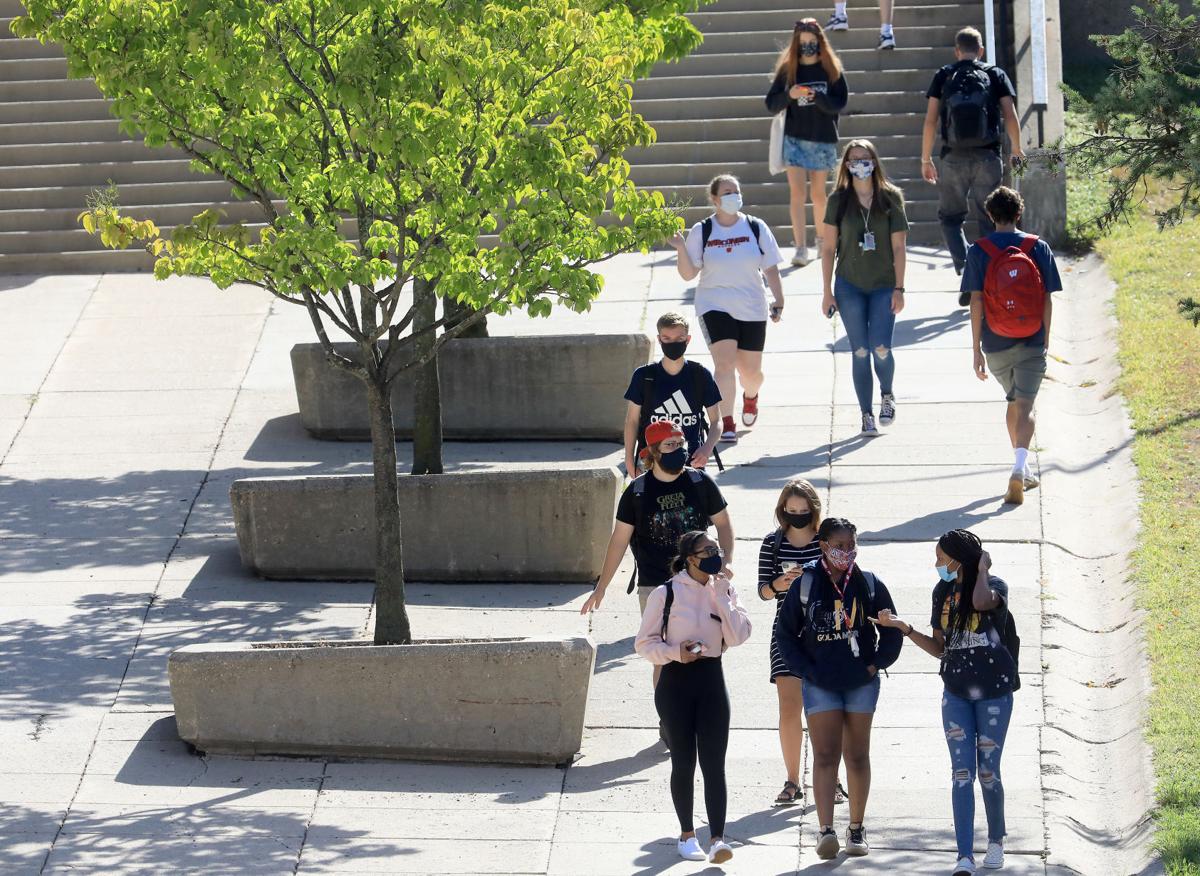 The University of Wisconsin-Madison has implemented full and partial layoffs affecting 35 people — or about 18% of the staff — in the Division of Continuing Studies, citing the COVID-19 pandemic's financial toll.
In an internal announcement Sept. 15, Dean Jeff Russell projected a 30% funding decrease and deficit of about $3.9 million. It is phasing out educational travel, creative writing and arts, select workplace training programs and behavioral health programming services. It has also reduced administrative, human resource and marketing and communications positions.
The division's noncredit programming felt a disproportionate blow, with 13 positions eliminated. The program offers classes, courses and workshops beyond the UW-Madison community.
"For the noncredit area, (the cuts) mean focusing on a smaller number of programs that have the best potential for financial sustainability," director of noncredit programming Jessica Courtier said in an internal email Aug. 25. "Beyond the near-term, the financial pressure on noncredit is greater than ever."
Seven more layoffs were in strategy and integrated marketing and communications, with others distributed across student services, the dean's office, administration and finance and learning design, development and innovation.
UW-Madison has not previously implemented layoffs in its pandemic response. DCS said in an email Thursday that the layoffs were specific to the division, which is largely made up of self-supporting programs funded by user fees and registration.
Russell said in his announcement that noncredit programming can "emerge more effective and a better steward of our resources," with "fresh, market-driven offerings, a pivot recommended since I first became dean."
But Alejandra Perez, a marketing specialist who was laid off, said the long-standing programs have consistently been undervalued.
"Jeff always talks about how lifelong learning is so important, how our lifelong learners are our blood … but he's always chopping noncredit," Perez said. "(Other programs) are important, but the reason Continuing Studies exists is because of the noncredit. It's because it's a community connection."
Writing program director Christopher Chambers also characterized leadership as hands-off and focused on revenue targets. In an email to Russell on Tuesday, Chambers said the division underwent frequent reorganization and hired more high-salary administrative positions which were not eliminated, despite a tight budget during his five years there.
Chambers told the Cap Times the announcement took him by surprise. Since UW-Madison first announced furloughs in April, division leadership consistently said more information — on potential further furloughs, part-time work or early retirement options — would come soon. But after a "disconcerting" lack of communication for much of August, Chambers thought his position might be safe through the end of his contract year in June.
Chambers received two months' notice in late August at a regularly scheduled monthly meeting with his supervisor and an HR representative. He will stay at the division through October, while other staff have received slightly longer notices depending on their length of tenure.
"It's a sad commentary on higher education and on this division that the educators and support staff are the first to go," Chambers said in the email. "The lack of transparency and the virtual silence from leadership about the extent of these cuts, with no acknowledgement of who is 'experiencing a change in their work status' and who for now remains employed, is disappointing but not surprising."
DCS responded in the email that leadership previously discussed the possibility of layoffs and communicated regularly about the pandemic. The division said layoff decisions were "made over the course of many months and many hours of deliberation."
"A staff reduction is a last option and it is not a decision the DCS leadership came to lightly," the email said. "We recognize that a situation like this will always be upsetting both to those directly impacted and their colleagues. We continue to share as much specific information as possible with employees in as timely a way as possible."
Supervisors emphasized to employees that the layoffs are strictly financial and unrelated to personal or performance issues. Chambers' writing programs, for instance, have actually seen an increase in applicants and learners in recent years.
Throughout the pandemic, Perez and the integrated marketing and communications team heard weekly updates from higher-ups including Russell, the associate dean and their team leader and supervisor. The meetings addressed evolving issues such as workflows and furloughs but remained very vague, they said.
"It was like if you can envision hungry kids and someone eating snacks in front of them and not giving them any," Perez said. "They knew something was going on, but they wouldn't give us any piece of it at all, and we were dying to know."
Perez said they saw the cuts coming, especially given the division's already-evolving marketing strategy, and that DCS has seen "pretty low morale" since their arrival in early 2018. A total of six IMC staff have either quit or been laid off in recent weeks, but despite a much smaller team, Perez said the division continues to expect the same quality of work and plans to hire contractors to fulfill eliminated roles.
Health care and other benefits will continue for several months for employees who were laid off. Perez's role lasts through October and, in the meantime, they are applying for part-time jobs and even considering graduate school.
Chambers said he has been too busy wrapping up work to fully process the news, but said it surely was not well-handled at DCS. In his email to Russell, he reflected on his decision to give up tenure at another university to work with adult learners in Wisconsin.
"This might seem now like a colossal mistake, but I don't regret it," Chambers said. "I've learned a lot in the past five years and am a better educator for it."
Be the first to know
Get local news delivered to your inbox!