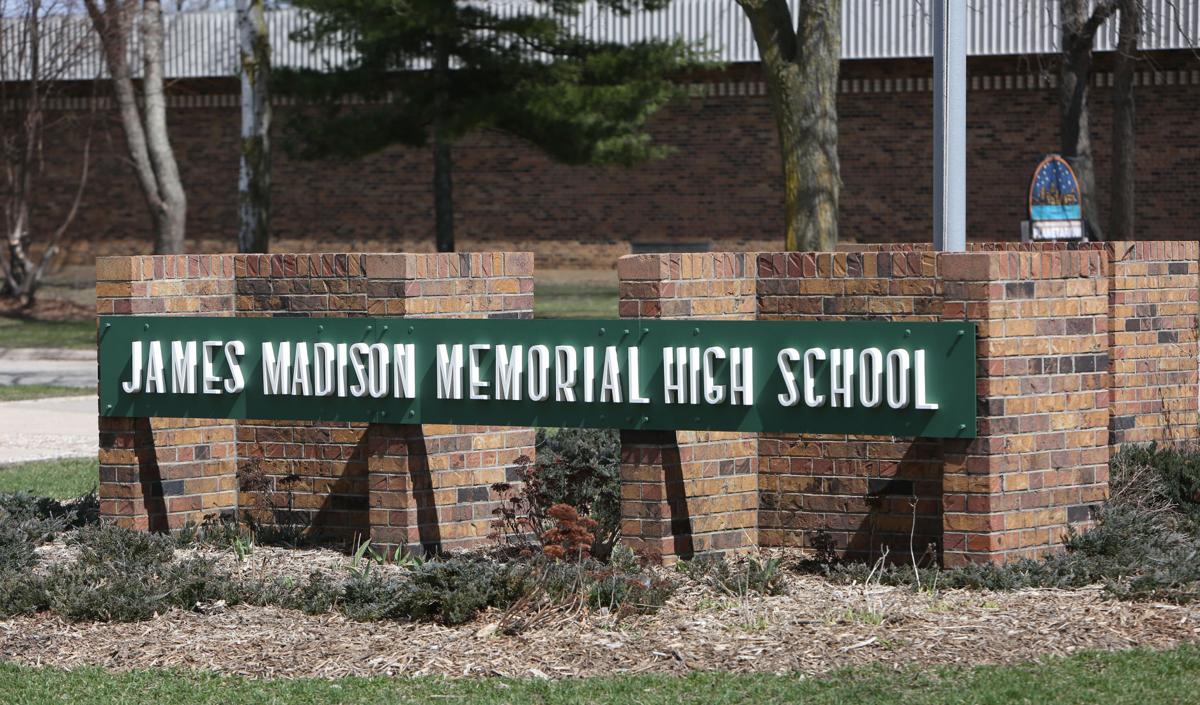 Mya Berry, a senior at James Madison Memorial High School, is asking the Madison Metropolitan School District to change the name of the school, citing the need to create a more inclusive environment for African-American students.
The school was named after James Madison, the 4th president of the United States. According to archived information from James Madison's estate, the founding father from Virginia inherited over 100 slaves along with the Montpelier plantation from his father, James Madison, Sr.
It is estimated that at least five generations of enslaved African-Americans lived at the Montpelier plantation. Madison was one of the 18 United States presidents who owned slaves. The city of Madison was also named for James Madison.
Berry's Change.org petition garnered over 1,000 signatures since it was posted two days ago. In the petition, she details her experience as a black student at Memorial, saying the name of the school contributes to a hostile school culture.
"The lack of representation I feel in this school makes me feel more than unsafe," Berry writes in the petition.
"I do not feel supported by the majority of staff at Memorial, especially considering the fact that I've been called the (n-word) multiple times, along with having an individual threaten me by telling me they would lynch me."
In an interview with the Cap Times, Berry said the incidents involved other students and they did not happen this school year. She said she did not feel comfortable reporting the incidents to staff at Memorial when they occurred.
"At the time, I didn't feel safe. I didn't know who to reach out to. Now that I'm a senior and I've become more comfortable speaking out, I've told more people about it," she said. "I feel like faculty overhear injustice and they know it's wrong. Some of them don't speak up, and that adds to the unsafe environment."
In an email to the Cap Times, Memorial High School Principal Jay Affeldt said that he was not aware of Berry's complaints, but is following up with her and other students.
"I have met and will continue to meet with Ms. Berry and other student leaders to discuss how we can best move forward to have this dialog as a larger school community in a safe and healthy way," he said. "Also, I do not believe the specific incidents mentioned in the petition were ever reported to school staff, and I am trying to learn more about these incidents from Ms. Berry."
Affeldt also said that he is committed to creating a school culture at Memorial where all students feel valued.
"It's important to me that every student feels safe, and we take all reports of hurtful behavior very seriously," he said.  
In her petition, Berry also urged MMSD to consider the achievement gaps that exist for African-American students as a reason to change the name of the school.
"Do you think it's truly appropriate to glorify a man that enslaved my ancestors?" Berry asks in the petition.
"With the education disparity between black and white students being a huge concern in the Madison Metropolitan School District, and if you truly care about black students, you would change the name of Memorial High School."
Although African-American students in MMSD have shown some academic improvement in recent years, black children still have disproportionately higher rates of school discipline and lower academic outcomes. For the 2015-2016 school year, the high school graduation rate for black students was 58.7 percent compared to 91.4 percent for white students.
At the Madison School Board's May operations group meeting, MMSD told board members that 63 percent of students who received out-of-school suspensions in the third quarter of this school year were black. African-Americans are 19 percent of the district's student population.
During the public comment section of Madison School Board meetings, community members have three minutes to express their concerns to the board while board members listen silently. Berry read the full text of her petition to the board on Monday. 
Berry said she was inspired to start the petition after watching a documentary about the history of enslavement. Currently, she is enrolled in a social justice class where her teacher asked students to consider the type of change they want to make in the world.
"This is my social change," she said.
MMSD spokeswoman Rachel Strauch-Nelson said in an email to the Cap Times that she appreciates the student voicing her concerns. 
"We're grateful that our students have brought this concern to our attention," she said. "Memorial is continually focused on strengthening its school community, and it's important that students can identify concerns and share their perspectives."
James Madison Memorial High is not the first school where students have expressed concerns over buildings named for slave owners. Students at Georgetown, Yale and Rutgers successfully petitioned their universities in the last year to rename residence halls and other campus buildings named for slaveholders.  
Berry hopes the petition is successful and will be part of a culture shift at Memorial.
"We don't want this name to be glorified as a representation of us. I hope that the Memorial community becomes a more safe environment for black students and students of color," she said. "I am blown away by how much support I've gotten. I am overwhelmed with the amount of people who support me and believe in me. It's been cool to see."