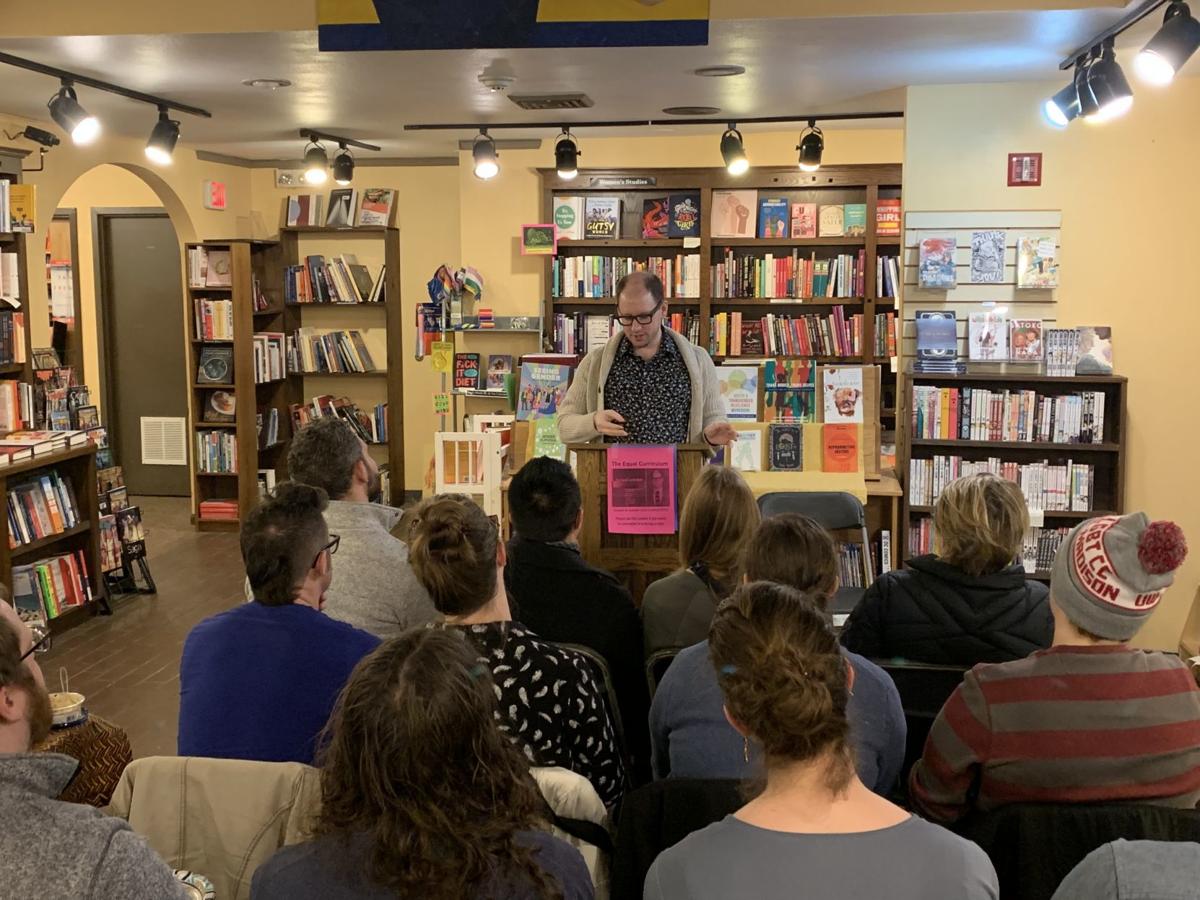 At a textbook launch Thursday evening, James Lehman introduced his project by saying, "It's hard to tell the story of a textbook or make it have a meaning."
But, through the course of the evening at A Room of One's Own bookstore, he managed to do so. Lehman, a psychiatrist and University of Wisconsin-Madison alum, told the story of "The Equal Curriculum: The Student and Educator Guide to LGBTQ Health" by recalling his own childhood experiences and referring to Australian comedian Hannah Gadsby.
Throughout his life, Lehman said, he was driven by the belief that he could remedy the pains of loss, family trauma and coming out as gay simply through hard work — an attempt to fix the holes in a world that hurt him. More specifically, Lehman traced his work back to around 2012, when he developed a "yearning sense" that he could do something about the lack of institutional focus on minority health.
"There was nothing that filled the role (for LGBTQ health resources)," Lehman said in an interview. "Students across the country were reinventing the wheel all the time. They were going through their own curriculum, doing their own literature searches, advocating with the administration, sometimes even doing such things as getting permission to start an elective or certificate in the health of sexual and gender minorities."
As he was taking a break from medical school to pursue his master's degree in public health, Lehman came across a presentation by medical student Meena Thatikunta proposing a curriculum on LGBTQ health. Around the same time, he noticed an increase in institutional and government tool kits for health education, such as by the American Association of Medical Colleges.
So, he reached out to Thatikunta. They built a team of trainees, editors and content experts to compile "The Equal Curriculum" and were "highly intentional" about meeting the existing standards of medical education that were coming out at the time.
The years-long professional endeavor became personal for Lehman. The project lost a funding source, there were internal disagreements and he unexpectedly rose from associate to senior editor. That led to Lehman losing sleep and wondering whether he was qualified to tackle such a large project.
"Even though I think the blossom of pain is beautiful and this project was entirely worth it and I'm so ready for it to go out into the world and see what people do with it, I have some doubts," he said. "Would I do it again? It's a bit strange being changed by a thing, yet having to have one's feelings so close to it."
"The Equal Curriculum" begins with broad — what Lehman calls "how to actually have social consciousness" — chapters about LGBTQ health before leading into specifics, such as transgender health or HIV/AIDS. It is tailored to medical students' training sequences, with an appendix recommending chapters for specific specialties.
At more than 300 pages, the textbook will hopefully address the "conspicuous absence or pigeonholing of LGBTQ content" in medical schools and improve education for students who take on the burden of improving their own curricula, Lehman said.
Third-year medical student Adam Awe experiences similar frustrations regularly while chairing for a student-run curriculum board. A former executive member of Pride in Healthcare, a student group founded by Lehman, Awe said administrations often reject new curricula or assume it comes at the zero-sum cost of removing something else.
"The more people we can expose to this information, the more that it trickles horizontally through word of mouth and down to future students and medical practitioners," Awe said. "Hopefully through that, there's more momentum of people who are becoming increasingly more interested in it and understanding there's a huge gap in what we're not taught about LGBTQ medicine and health care."
With the book finally out, Lehman is allowing himself a small victory lap. And through the experience of producing it, he said he has learned that sometimes being an advocate is not only about trying to fix the world, but also in healing and opening oneself up.
Alongside that, he urged his audience to reconsider how other people, or their patients, may experience the world differently.
"Even if I can't fix the way other people might treat patients, I can at least observe and respect their story as it unfolds. I don't think I can change people's minds about whether it's important that we take into account new dimensions about how people experience the world," Lehman said. "(But) I think it's worth stopping to experience those stories."
Be the first to know
Get local news delivered to your inbox!