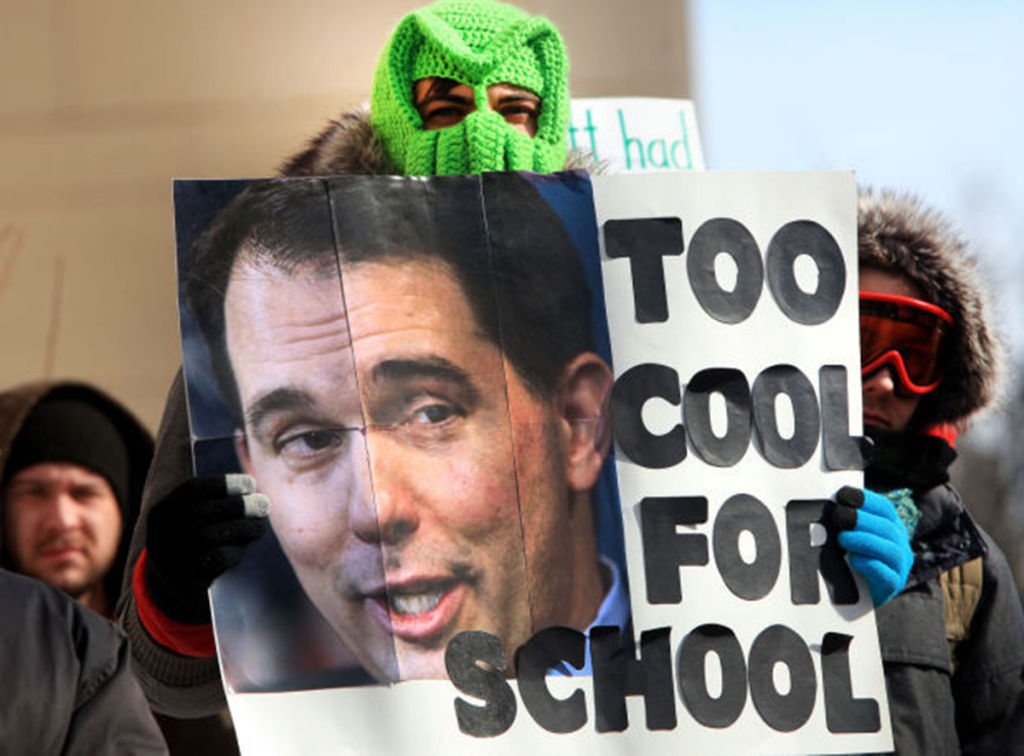 Wisconsin Democratic legislators are greeting the news that Gov. Scott Walker wants to freeze tuition at UW System schools for another two years with a rallying cry of sorts: Fund the freeze!
"I think a tuition freeze is good for the state of Wisconsin and for students. However we have to fund the freeze," said state Rep. Dianne Hesselbein, D-Middleton, a member of the Assembly Committee on Colleges and Universities.
"We can't continue to say tuition is frozen and cut funding to the university system and think that our young people are getting a low-cost, quality education," Hesselbein said.
Assembly Minority Leader Peter Barca, D-Kenosha, posted a similar message Tuesday on Twitter, using the hash tag #fundthefreeze.
In a July 25 letter to state agency heads, Walker said he wanted to keep UW schools affordable by extending the freeze on tuition for undergraduate resident students through the next biennial budget. That would make six years of tuition frozen at the 2013 rate.
"To build on our commitment to student success, we must extend our tuition freeze," Walker wrote. "This will make our universities affordable and accessible."
Tuition varies from campus to campus, but at UW-Madison, which charges the most, the rate is $10,416 a year.
In his letter, Walker also warned agency heads not to expect any additional money in the two-year spending plan. The only exceptions to that will be K-12 education and the Corrections, Health Services and Workforce Development departments, the Associated Press reported.
Walker spokesman Tom Evenson told the AP that the governor is considering additional funding for the UW that would be tied to meeting certain performance benchmarks that Walker has not referred to in the past but has declined to describe.
UW campuses absorbed a $250 million reduction in state funding in the current 2015-2017 biennial budget, and the cuts they had to make are impacting students, Hesselbein said.
Her son attends UW-Milwaukee and could not graduate on time because of the cutting of core academic classes, she said.
"You can't make these awful cuts to the UW System and not think it isn't going to impact students. It absolutely does," she said.
Hesselbein wondered also about the economic impact of faculty who have left the UW for other universities, citing funding cuts and a hostile political environment, taking their research grants with them.
She mentioned, for example, Constance Steinkuehler and Kurt Squire, leading academics in the field of games and learning, who will leave UW-Madison at the end of the year.
Their departure will mean the end of the Games+Learning+Society center, which played a pivotal role in building Madison's burgeoning video game economy.
UW System spokeswoman Stephanie Marquis told the AP that a freeze without offsetting state aid could mean fewer classes and longer paths to graduation. System regents are set to consider their 2015-2017 budget request to Walker when they meet Aug. 18-19 in Madison. Marquis said that request will include new initiatives to address student affordability, but that she could not yet elaborate on them.
"Should the governor maintain a freeze, we hope he will fund our new initiatives so that college remains affordable for Wisconsin families," Marquis said.
Share your opinion on this topic by sending a letter to the editor to tctvoice@madison.com. Include your full name, hometown and phone number. Your name and town will be published. The phone number is for verification purposes only. Please keep your letter to 250 words or less.
Be the first to know
Get local news delivered to your inbox!