"The optimism is palpable," University of Wisconsin law professor Sumudu Atapattu said, speaking live via teleconference from the COP21 conference on climate change in Paris to about 200 environmental activists and interested citizens gathered Thursday at the Wisconsin Institutes for Discovery in Madison.
Atapattu's sense of optimism permeated "Live from Paris," featuring a panel of five Wisconsinites representing health, law, business and science convened by the Wisconsin Academy of Sciences, Arts & Letters and the UW-Madison Global Health Institute.
Clay Nesler, vice president for global energy and sustainability at Johnson Controls, a Wisconsin-based maker of energy efficiency and power storage systems
Jonathan Patz, professor of population health sciences, director of the Global Health Institute for Environmental Studies
Nathan Schulfer, assistant director of professional programs at the Nelson Institute
Jeff Thompson, CEO of La Crosse-based Gundersen Health System, which provides all of its own power through renewable sources
The conference, the 21st session of the Conference of the Parties to the United Nations Framework Convention on Climate Change, seeks a legally binding agreement among nations on reducing fossil fuel emissions.
Despite their enthusiasm about the conference's possibilities, panelists pointed to challenges that confront the government negotiators from 194 countries.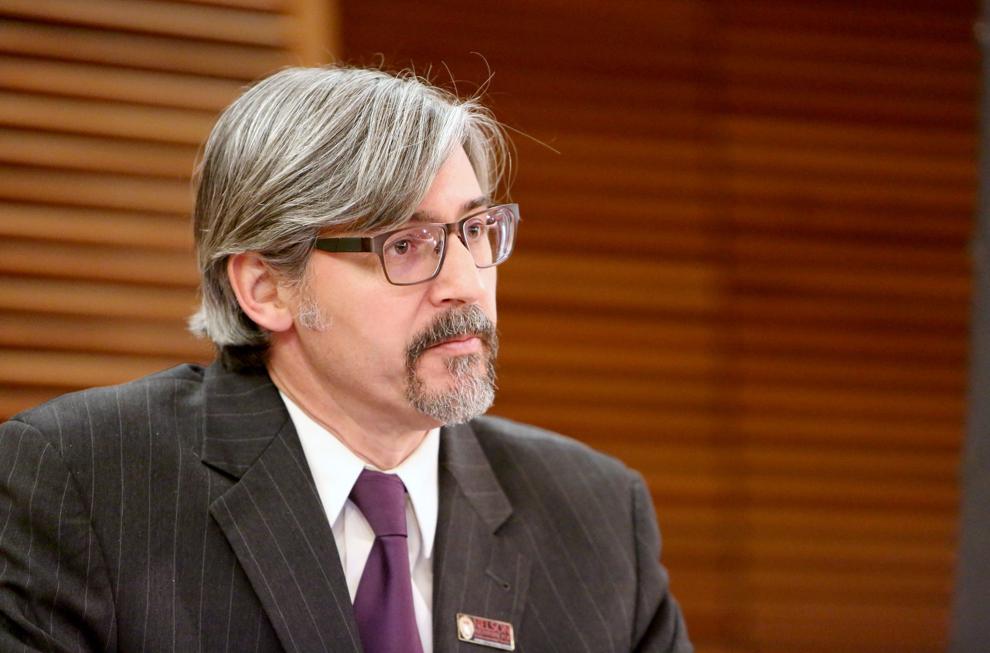 The challenges run from the length of the draft agreement — now over 100 pages — to reaching agreement on the level of reduction in carbon emissions targeted, to getting commitments for a planned $100 billion annual fund to assist developing nations in funding strategies to mitigate the impact of climate change, said Nesler.
"No one should believe that this should be easy. 'Legally binding' are the two most sensitive words in the negotiations," he said. "But I am optimistic."
Schulfer said he was impressed by the diversity of sectors represented at the conference — science, business and the humanities. The interdisciplinary approach will help build bridges so that governmental leaders "can push the ball forward," he said.
Strategies to control climate change also offer opportunities, panelists said.
Thompson said that since his health organization moved away from using fossil fuels to renewable energy, "we're making money doing this."
And not only does burning fossil fuels produce pollutants that lead to premature death, lifestyle changes demanded by limiting the use of those fuels are good for human health, Patz said. "Our health is core to the climate conversation," he said.
Patz counseled against relying too much on technological advances to move fossil fuel use reduction forward. Simple things like walking, bicycling or using public transportation are even more beneficial to health and the environment than, say, switching from conventional to electric cars, he said.
Designing communities to make such lifestyle changes possible is one way that cities are taking the lead in reducing fossil fuel consumption, rather than waiting for national policies to emerge, panelists said.
Panel discussion moderator Paul Robbins, director of the Nelson Institute, remarked at its conclusion that following the climate change debate over the past 30 years has been like "riding a roller coaster."
"I've been through 'everyone agrees it might be a problem, to the end of the world is coming and there is nothing we can do about it, to what I'm hearing from you," he told panelists. "It gives me a different feeling out of Paris than I've heard from the other sessions. I'm feeling pretty good."
Marilee Sushoreba was feeling pretty good too. She was one of a group of members of 350 Madison, a local chapter of global grassroots climate movement, who attended the teleconference.
"It's terribly exciting," Sushoreba said. "What's happening in Paris is the pulse of what's happening with this issue world-wide.
She and other activists will spread the word about what they heard, she said. "An echo effect will take place. We'll share with our members and friends. It doesn't have to be esoteric; it's graspable."
Share your opinion on this topic by sending a letter to the editor to tctvoice@madison.com. Include your full name, hometown and phone number. Your name and town will be published. The phone number is for verification purposes only. Please keep your letter to 250 words or less.