Laura Minero learned multiplication from the back of a Ritz cracker box when she was in first grade.
"My mom wrote the times tables out by hand, 1 through 9, so I could learn them," Minero said.
With just a sixth-grade education, Minero's mother was motivated to not just teach her daughter math, but also bring her along as she illegally entered the United States from Mexico to rejoin her husband.
DACA, created through an executive action by former President Barack Obama, has been in the sights of President Donald Trump since his campaign vowed to tighten up immigration policy and enforcement.
Since his inauguration on Jan. 20, Trump has issued a series of executive orders that have alarmed immigrants. He focused first on beefing up border security, increasing arrests of people in the country illegally and cracking down on "sanctuary cities." Then on Friday, Trump went further, temporarily banning entry to the country by people from seven Muslim-majority nations and indefinitely barring refugees from entry.
Trump remains under pressure from immigration hawks to cancel DACA. In this environment, Minero and other DACA recipients continue to live with the threat that the provision that allows them to live, study and work in the open will be pulled out from under them.
"Undocumented, unafraid, unapologetic," is the rally cry of undocumented immigrants who entered the U.S. as children, Minero said. The bravado of the phrase undergirds their decision to come out from the shadows of undocumented life. But at times it is more symbolic than actual, she acknowledged.
"We certainly are afraid," Minero said. "This is the time we need our allies the most. This is the time for people to recognize that the lives we worked so hard to fulfill can be easily taken away. It is time to recognize that this is a real threat."
Meanwhile, observers are tallying up the cost of killing DACA and bipartisan support for a replacement program has been growing.
The roots of DACA stretch back to 2001, when the first in a series of legislative proposals that would have provided temporary protection from deportation to people who entered the country without documentation as children was introduced in Congress.
What became known as the DREAM Act — an acronym for Development, Relief, and Education for Alien Minors — was not passed that year, but was reintroduced numerous times and its provisions included in comprehensive immigration reform bills.
A 2005 bill introduced by Rep. James Sensenbrenner, a Wisconsin Republican who then chaired the Judiciary Committee, would have made being in the U.S. without documentation a felony, and barred states and cities that didn't enforce immigration law from receiving federal funds. It unleashed a wave of political demonstrations across the county.
Immigrants – many of them undocumented –took to the streets in cities across the country in the spring of 2006 by the hundreds of thousands to articulate a newly formed belief of "Se Si Puede," Spanish for "Yes We Can."
Sensenbrenner's bill passed the House, but the Senate never acted on it.
Once awakened to civic participation and political influence, immigrants did not look back. Young people who would have been afforded protections under the DREAM Act began speaking out publicly on the need to change immigration policy to allow them to succeed in the only country many of them could recall living in.
After Congress repeatedly rejected the DREAM Act, Obama in 2012 took executive action through the Department of Homeland Security, which issued a policy memo establishing DACA.
DACA defers deportation to qualifying applicants who arrived in the United States before age 16, completed high school or an equivalency program and have a clean criminal record. It provides employment authorization and eligibility for a social security number that permits recipients to legally work and drive.
As a policy statement – rather than executive order with the force of law – it can be rescinded through unilateral action by Trump.
In November, within a week after Trump was elected, two graduate students at UW-Madison joined a professor in asking university administrators to declare the campus a sanctuary for undocumented persons being sought by immigration officials.
Thousands of people ultimately signed on to a letter penned by Prof. Cindy I-Fen Cheng and students Minero and Sergio Gonzalez asking Chancellor Rebecca Blank, Provost Sarah Mangelsdof, Dean of Students Lori Berquam and Vice Provost for Diversity and Climate Patrick Sims to declare the campus a "sanctuary."
"If we do nothing, then our stated commitments to defend our shared values of inclusion, justice and humanity will reveal themselves to be empty promises," the letter's authors declared.
The Associated Students of Madison student council and United Faculty and Academic Staff, a campus labor union, ultimately called on the UW System to provide sanctuary for undocumented students on all campuses.
UW-Madison officials soon announced that Blank did not have the authority to make the campus a sanctuary. A week later, Blank joined the leaders of what became more than 600 colleges and universities across the country in signing on to a statement calling on federal officials to continue DACA.
The statement, which originated at Pomona College, a small, private liberal arts college in Claremont, California, stated in part: "We have seen the critical benefits of this program for our students, and the highly positive impacts on our institutions and communities. DACA beneficiaries on our campuses have been exemplary student scholars and student leaders, working across campus and in the community."
Blank spoke to concerns at UW-Madison in her address to the Faculty Senate in December: "There is a great deal of concern about future federal policies that might affect our immigrant students and particularly any undocumented students on campus."
She reiterated her lack of authority to declare UW-Madison a sanctuary and suggested that that role might fall to religious organizations.
Later that month, officials quietly posted the policy of UW-Madison on assisting immigration officials on the university's campus climate website.
"Our resources are limited and such enforcement is not part of (UW Police Department's) duties," officials said of assistance to Immigration and Customs Enforcement.
It has been a longstanding practice of UWPD to not assist ICE, but it had not been previously captured in writing, spokesman Marc Lovicott said.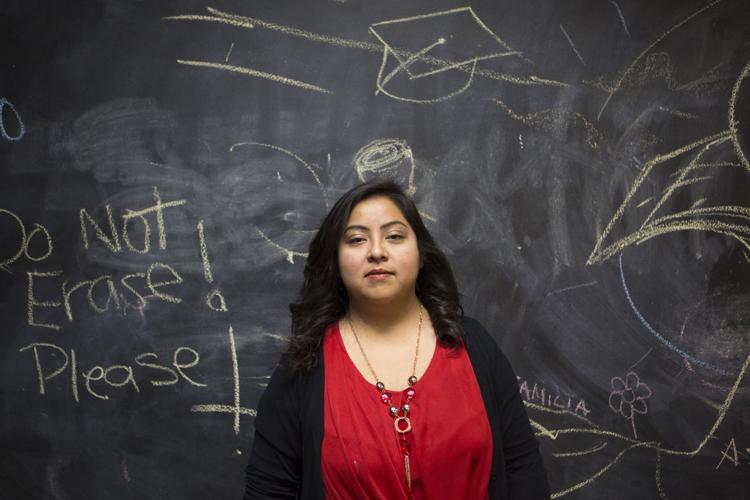 At least two dozen colleges and universities have had a call for "sanctuary," but the meaning of that designation is not defined and the specificity of proposals varies significantly.
María Blanco, the executive director of the University of California Undocumented Legal Services Center, has identified three major points of university sanctuary policies:
1. That ICE cannot come on campus for immigration enforcement without warrants unless there's an exigent circumstance.
2. That university police will not act on behalf of federal agents to enforce immigration laws.
3. To the extent that universities have any records that identify the immigration status of their students, to protect those if there were a request from ICE for those records.
UW-Madison's policies hit all those points, yet administrators say explicitly that it is not a sanctuary campus.
A resolution by the Faculty Senate at UW-Milwaukee, in contrast, explicitly calls for provisions of a "sanctuary campus," noting the term's "tremendous symbolic rather than particular legal guidance." The resolution calls for non-cooperation and privacy policies similar to those adopted by faculty at UW-Madison. In addition, the UWM resolution calls for rights training and counseling for undocumented and DACA students and resources to complete educational programs remotely for those unable to return to campus.
The advisory resolution has met with pushback from UWM administrators, "mostly around the term 'sanctuary,' which they view as incendiary in the current political climate," said history professor Rachel Buff, who introduced the measure.
Attorney Ben Harville, director of the University of Wisconsin Law School's Immigrant Justice Clinic, said the program has received many inquiries regarding the potential impact of the Trump administration policy on DACA students.
"Since the election, we've been fielding a lot of requests for us to predict what might happen or give advice to those who have DACA or are thinking of applying," Harville said. But he's been hesitant to do much. "We don't know what's going to happen, so it's probably best to wait and see."
Harville did echo the counsel of national immigrant rights groups that those who had not applied for DACA – which involves handing over of addresses and other identifying information to DHS – not do so until the Trump administration acts on DACA.
The larger student body at UW-Madison generally has little understanding of the issues facing classmates attending school as DACA recipients, said Nicholas Della Santa, president of the Latino Law Student Association.
The group has invited DACA students as speakers and held other events on immigration law, he said, and people are surprised at what they learn.
"No one knows how immigration law works," Della Santa said. "When people hear how convoluted the process is – if they know someone dealing with it – there can be anger."
UW-Madison does not inquire about or track immigration status, according to a campus spokeswoman. But students' immigration status affects their college experience from how they pay for it to feeling like they're part of campus life.
Students who are undocumented, even if they have DACA, are not eligible for federal financial aid. They also are ineligible for financial aid from the state or university, according to UW-Madison spokeswoman Meredith McGlone.
The lack of eligibility for aid is a major stumbling block to attending college, even with DACA in hand, said Alondra Quechol.
Quechol does not recall coming to the U.S. from Mexico as a 3-year-old, but she said her mother compares the process of arranging for passage to "buying a bus ticket." The 20-year old DACA recipient attends Madison Area Technical College and works part-time at Centro Hispano in Madison as a co-facilitator of a youth group.
Quechol has been told "nothing bad happened" when she, her parents and a sibling traveled to the Madison area to join other family members.
But the family was aware that attitudes toward immigrants changed after the terrorist attacks of 2001 prompted renewed scrutiny of the growing number of unauthorized workers in the country.
Quechol applied for DACA as soon as she could at age 15, and has been frustrated by some of the limits on the protections it provides. Complications in financial aid eligibility forced Quechol to drop out from Edgewood College at the start of her freshman year.
Now in a college transfer program, Quechol hopes to go on to a four-year institution, but is learning that Wisconsin offers DACA students few aid options. She is not eager to move out of state to attend school.
"I don't know why there should be a reason for me to go out of state," she said. "Home is right here."
Like UW-Madison, MATC does not track students who were granted DACA, "and because we do not know who these individuals are, the college does not have dedicated services geared toward this specific population and issue," said spokesman Cary Heyer.
Minero calls herself privileged, because as a California resident she attended community college for free. After completing a bachelor's degree with assistance from her low-income parents, she was able to get state grants, under the California DREAM Act, for graduate school.
In Wisconsin, not only are DACA students ineligible for much of the available financial aid, they are required to pay out-of-state tuition. Gov. Scott Walker ended a short-lived program allowing undocumented students who graduated from a Wisconsin high school to pay resident tuition at UW System and state technical college campuses in his first budget after his 2010 election.
Cost is "probably the number one barrier for undocumented and DACAmented students alike to go to college in the state of Wisconsin," Minero said.
Having DACA, with its provisional protection from deportation, has made some students more willing to speak publicly to the issue, Minero said. Others worry, especially since Trump's election, that handing over information about everywhere one has lived since arriving in the United States will put undocumented family members in jeopardy.
So, Minero was not surprised to hear that a national survey found that DACA students reported a higher level of anxiety over the possible deportation of family members than did undocumented students who were not part of the program.
Just under 90 percent of DACA recipients surveyed reported ongoing worries over the deportation of those close to them, compared to just over 70 percent of non-DACA immigrants, according to a study by the Institute for Immigration, Globalization, & Education at the University of California, Los Angeles.
Despite the continuing anxiety, some 85.5 percent of DACA recipients said it had improved their educational experience.
The benefits revolved around financial well-being, greater access to internships, increased stability in housing and transportation and fuller participation in college and society.
For example, the work permit afforded by DACA allowed 72.3 percent of students with DACA to have paid work experience. The ability to get a driver's license shortened commuting to school for students with DACA and the social security number provided opened up additional housing to them, according to the report.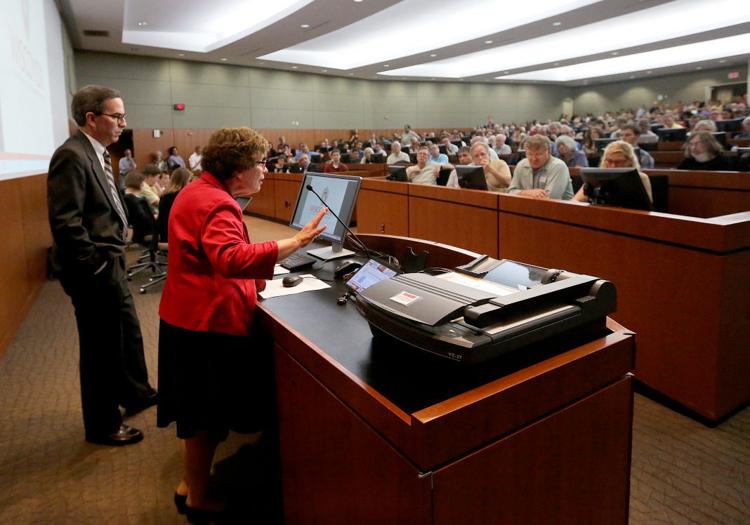 Many students also said DACA allowed them to get internships, a key to professional development in many fields.
Among less tangible benefits, many students talked about feeling less stigma after acquiring DACA, the UCLA report said. DACA students also were more likely to report aspirations to obtain an advanced degree.
Minero is working toward a Ph.D. in psychology, focusing on an area of study involving aspects of her own identity.
"I identify as queer, and something that I always noticed were some parallels that exist between DACA and the LGBT community," she said, pointing to issues of hiding one's identity. "Being at the intersection of these identities, it was often difficult to find my place fully in either community."
Minero's research focus is the psychological effects of immigration detention in the undocumented transgender community. Typically sent to facilities for their sex assigned at birth where they often are victimized, transgender detainees are sometimes held in solitary confinement. That raises concerns about another set of psychological effects.
"We only know that information anecdotally; we don't know the actual mental health impact of what happens in these places," Minero said.
Chancellor Blank, in remarks to UW-Madison faculty in December, wondered aloud if religious organizations could assume the role of providing sanctuary to undocumented immigrants that she said the university could not.
The idea persists that the UW-Madison campus played a role in the local sanctuary movement during the 1980s, part of a national effort to provide refuge to undocumented immigrants seeking asylum from political oppression and violence in El Salvador and Guatemala.
UW-Madison archivist David Null tried to corroborate that claim, but has not been able to find anything confirming that the campus was declared a sanctuary.
The City Council declared Madison a "city of refuge" for people fleeing El Salvador and Guatemala in March 1985, but that applied only to city offices and employees, Null reported in an email.
Gov. Tony Earl issued what seems to have been a symbolic proclamation in September, 1986, saying Wisconsin was a sanctuary.
"I suppose as a state agency, you could say that applied to the university," Null said.
A campus church, however, was a focal point of the local sanctuary movement of the 1980s. St. Francis House Episcopal Student Center, 1011 University Ave., was declared a sanctuary and housed refugees, according to newspaper accounts from the time. More than a dozen other local communities of faith provided support services for the housing of refugees there, news reports said.
Rev. Jonathan Melton, the current chaplain at St. Francis House, said it is not clear what, if any, role in a sanctuary movement the organization would play today. The physical space to house people no longer exists, he said.
But Melton signed on to a recent statement from Dane County clergy calling on city and county officials to affirm their commitment to treating all people with respect in the wake of Trump's election.
The congregation also was represented at a recent meeting of local faith communities exploring the possibility of a new sanctuary movement.
Becky Schigiel, social justice coordinator at First Unitarian Society of Madison, said that up to 50 people attended each of two meetings on sanctuary held last month at local churches.
A resulting work group has begun networking to prepare to protect people from deportation or government registries, Schigiel said. "We are ready to stand together with people we think are at risk."
The majority of people organizing to provide sanctuary are not from the Latino community, said Karen Menendez Coller, executive director of Centro Hispano in Madison.
"It's an outlet for those who want to do something and feel this is something they can do," said Menendez Coller, whose agency hosts a monthly meeting of the immigration rights advocacy group Voces de la Frontera.
A reprieve for DACA students could come from Congress.
U.S. Sens. Lindsey Graham, R-South Carolina, and Richard Durbin, D-Illinois, last month introduced the BRIDGE Act, which would provide a temporary new "provisional protected presence" to those who qualify for the program.
The bill also would bar the government from using information collected for DACA for deportation or other purposes, with exceptions for national security or criminal investigations.
The law would "ensure that Dreamers are protected from deportation until Congress is able to pass comprehensive immigration reform," Durbin said in a statement.
"I would hope that President Trump comes in and says, 'Before I void (DACA), we need to have an alternative,'" he said.
The bill has gained bipartisan support in both chambers.
The American Council on Education, a national higher education lobbying group of which UW-Madison is a member, has joined 20 other educational groups — including the Association of American Universities and American Association of State Colleges and Universities — in backing the BRIDGE Act with a letter of support.
A Jan. 12 letter from ACE president Molly Corbett Broad, said the BRIDGE Act "would extend fundamental fairness to (students with DACA), permitting them to continue studying or working and establish a firm statutory basis for the program while Congress debates legislation addressing a permanent solution. As we know that these young people have much to offer our society, we strongly support the BRIDGE Act."
Meanwhile, the Immigrant Legal Resource Center in San Francisco calculated the cost of ending DACA and putting its recipients out of work at some $3.4 billion in turnover costs to employers and $24.6 billion in lost Social Security and Medicare tax contributions over a decade.
Minero said she has thought about what she would do if DACA were rescinded and she received a deportation order.
"Would I leave on my own? I don't think I would want to end up in a detention center," she said. "Would I have to drop out of my Ph.D. program?"
She might return to Mexico, where many family members live. "Although it's my home country, I no longer know it. I don't even know what I would do there."
And as anxious and sad as she may get at the idea of being forced to leave the life she has built here, Minero said she also knows about the resilience of immigrant people. "We've gone through so much to get where we are, we would be able to make it."
"But it would be incredibly tragic to the broader community because we do so much for this country," she said.