A donation from the Wisconsin Alumni Research Foundation has put the University of Wisconsin-Madison's veterinary school past its private funding finish line for its latest building expansion project.
WARF, a nonprofit that provides financial support for research and science at UW-Madison, gifted $15 million toward a new School of Veterinary Medicine building in what is now Lot 62, according to a university press release Thursday. The 2019-2021 state budget, passed in July, invested $90 million in state dollars toward the project, but it still required an additional $38 million in private support. With WARF's donation, the school has raised about $40 million.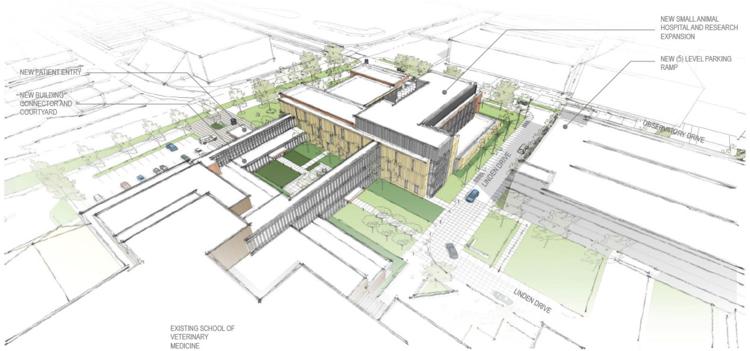 School of Veterinary Medicine Dean Mark Markel thanked the state, WARF and other building donors in the press release.
The expansion will "ensure that the school remains a global leader in training the next generation of veterinarians, serving animal patients and making critical research discoveries," Markel said. "With these enhanced facilities, the impact that the School of Veterinary Medicine has on the state, its citizens and their animals — as well as the world — will only continue to grow."
Design for the building has already begun and construction will likely begin in 2021, after the school bids the project, according to the release. The building will be connected to a current building on three floors, which will also undergo remodeling and still comprise about half the school. A new parking lot in Lot 62 is already in the works to make way for expansion, university spokesman Greg Bump said.
The current building on Linden Drive, which was designed more than 30 years ago, no longer suits the needs of a continually expanding veterinary school.
The school's animal hospital sees about 28,000 patients a year — more than double the 12,000 it was built for, according to the press release. Class sizes have also increased by about 20%. As the school expanded and acquired equipment such as CT scanners and MRI units, there was no space to put them. Its MRI unit is "literally in a trailer out back," Markel said in an interview.
WARF has long partnered with the School of Veterinary Medicine, especially helping expand its study of viruses and infectious disease. The veterinary school performs about 75% of infectious disease research at UW-Madison.
Markel anticipates the school still needs to raise another $8 million to $9 million to cover the total budget and equipment costs for the expansion.
"We're the only school of veterinary medicine in Wisconsin and thrilled to be a leader in the profession and really focused on serving the citizens of the state, whether it's their health or their animals' health," Markel said.