At a school populated by more than 66,000 humans, 30 robots should be an insignificant minority. But, within days of arriving on campus at the University of Wisconsin-Madison, Starship Robots have created significant distractions and built up an online presence far greater than their small, six-wheeled frames.
Students have stopped the robots for photos, flooded the school's Facebook meme page and showered them with both adoration and ridicule. UW-Madison launched the app-based food delivery service Monday morning, after the robots spent a few weeks roaming and familiarizing themselves with the campus.
With the food delivery industry rapidly growing, the university knew it wanted to begin offering options, said Peter Testory, director of Housing Dining & Culinary Services on campus.
"We know that delivery is a service that students have been requesting from us and that they almost come to campus expecting," Testory said. "This is an exciting day for campus to launch a program like this."
At the same time, the campus faces a problem reflective of the larger food industry: staffing shortages. While UW-Madison could not internally staff a food delivery service, Starship Robots offered an ideal and environmentally sustainable alternative, Testory said.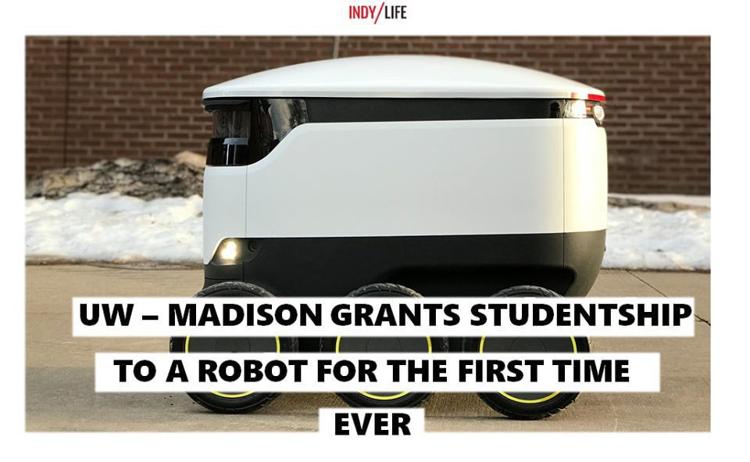 Starship, launched in 2014 by the cofounders of Skype, announced plans in August to deploy robots at campuses across the country. UW-Madison began conversations with the international technology company in May, Testory said.
Currently, users can use a smartphone app to order up to 20 pounds of food from Carson's Market, Four Lakes Market or Liz's Market. Starship adds a fee of $1.99 to each order. 
Graduate student Thomas Huffmaster jumped on the opportunity to place a Starship order soon after the service was announced this week. Though it took about an hour and a half to receive his chicken wings, Huffmaster said "it's worth doing once just for the novelty of it."
"I'm a big nerd for technology, so I just thought it was a really cool concept," Huffmaster said. "They're adorable."
The distance from Carson's near the Lakeshore residence halls to Music Hall on the east side of Bascom Hill was definitely a factor, Huffmaster said. He added that the cost compared to other food delivery services — about $10 total for wings, a soda and the delivery fee — was a huge plus.
The service will expand in coming weeks to cover the entirety of campus and allow students to pay by Wiscard.
All jokes aside, Starship Robots has raised serious safety and accessibility concerns. The University of Pittsburgh temporary halted its operations after a robot did not move to make way for a student, who ended up stuck on the street in her wheelchair.
Testory said the university has engaged in discussions with Starship about safety and accessibility and hopes to continue working closely with both Starship and the university's disability resource center. The company has made adjustments, such as parking robots further back and off to the side from sidewalk ramps, he added.
"We want to make sure that any program we roll out is accessible for all and not pose safety problems to anyone on campus," Testory said.