A handful of UW System Regents circulated through the bright new MakerSpace on the UW-Madison campus, marveling at the high-tech equipment and talking with students about the devices they had designed.
The tour of the MakerSpace Wednesday in the former engineering library was typical of the kinds of events showcasing programs and facilities put on by hosting UW campuses as members of the Board of Regents converge for their monthly meeting.
Regents said these kinds of gatherings help keep them abreast of what is new on UW campuses and connect them with students. "It's great to see something like this," said Regent Tim Higgins as he toured the privately funded facility. "But it's more important to see students, to have the opportunity to hear why they are coming (to UW) and what they are happy about. Our job is to serve our customers."
But as dwindling enrollment has led to a controversial reorganization of the university system, and tight budgets have brought severe programming cuts to some campuses, expenditures to entertain UW Regents are coming under scrutiny.
For their part, regents were poised to adopt a new ethics policy at Friday's meeting that specifically states it is not a conflict of interest for them to accept gifts, expenses reimbursement, or complimentary tickets to sporting events or university entertainment from the UW System.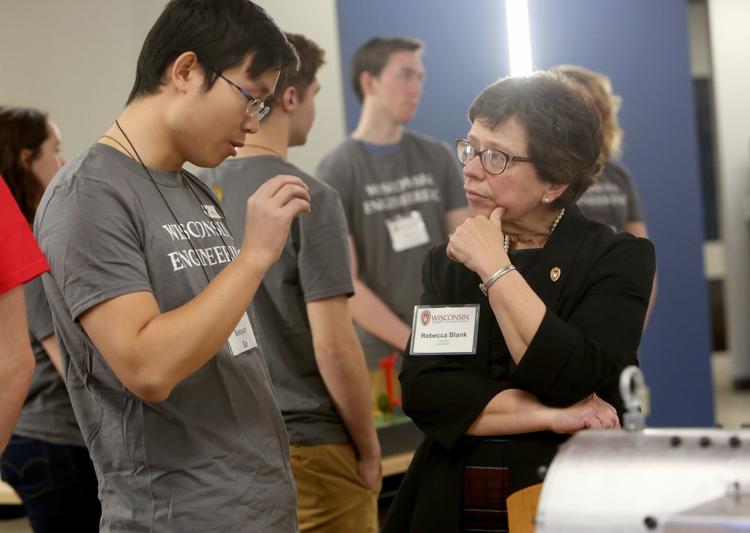 Wining and dining of regents and complimentary tickets to sporting events are not new. But recent events have pushed long-held practices into the public eye.
The October meeting of the regents at UW-Stout made headlines after System President Ray Cross' chief of staff was arrested for drunken driving several hours after a reception that included wine service through Stout's hospitality program. The incident led to her resignation last month.
And the expenses-paid trip of a half-dozen regents to the Orange Bowl in Miami on Dec. 30 made news when it was noted that they and others in the UW entourage stayed at a Trump-owned hotel. The cost of nearly $20,000 was covered by UW-Madison Athletics from revenue paid to it for competing in the bowl game, university officials said.
Critics of resources put into entertaining regents at their meetings and at out-of-town athletic events say the money and time could be better used. The gatherings described as university events are thinly disguised opportunities for campus leaders to lobby the policy-making regents, they say.
Gov. Scott Walker has made 16 direct appointments to the current Board of Regents and also named to the state technical college board the regent serving ex officio as a representative of that body. The remaining regent, Tony Evers, who serves ex officio as the state superintendent of schools, was elected to that office.
The Board of Regents typically meets eight times a year, with up to four meetings a year hosted by — and paid for — individual UW campuses.
A reception for 100 at the UW-Stout Memorial Student Center as UW Regents met on that campus in October featured hors d'oeuvres of scallops, duck, short ribs and falafel, and the wine service.
The tab ran to $4,395 in food and $2,249 in refreshments, according to Doug Mell, executive director of communication and external relations for UW-Stout. Costs were covered by the Stout University Foundation, Inc., whose mission is to "cultivate relationships between UW-Stout and its various constituencies for their mutual benefit," according to Mell.
Attendees at the reception heard a program by the UW-Stout Jazz Embers, an ensemble that performs regularly for campus events. Mell said UW-Stout officials used the occasion hosting the Board of Regents meeting to tell the story of "how we are maturing as a polytechnic university, 10 years after receiving that designation from the Board of Regents, and how our students are benefiting."
Evers, who is one of about a dozen Democrats seeking to challenge Walker in the November election, did not attend the reception at Stout. He said in an interview that he was probably in his hotel room eating an Egg McMuffin.
"The whole care and feeding of regents is an issue for me," Evers said. "I know it takes a long time, and a lot of people's effort to plan these things. I think there is better use of people's time on campuses."
Evers said he finds the most valuable visits are those he makes on his own to campuses for which he has been assigned as liaison. "I spend half a day there, meet the chancellor and some students. I prefer that to the pomp and circumstance that surrounds board meetings."
The costs of entertaining the regents add up. For the meetings it hosted in July, November and December 2017, the UW System paid a total of $5,339 for catering from its tax-supported general revenue fund.
Regents also are reimbursed for their expenses incurred while attending board meetings, including other meals and travel. Those payments by the UW System totaled $5,931.55 for five meetings from August 2016 to July 2017.
Those expenses do not include hotel stays by regents who travel from out-of-town, which the university system also covers.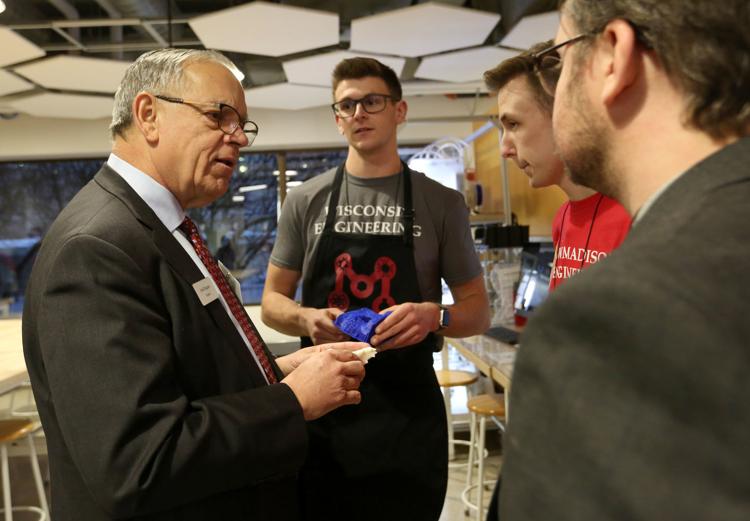 Expenses for six regents — President John Behling, Higgins, Regina Millner, Mike Jones, Jose Delgado and student Ryan Ring — to attend the Orange Bowl totaled $19,950 for airfare, game tickets and three nights in the hotel.
Most of the regents did not respond to messages asking how a free ride to the Orange Bowl furthered the mission of the university, and referred questions to UW System spokeswoman Stephanie Marquis.
Marquis said attending high-profile UW events, like bowl games, are a "responsibility of a regent."
That's how Delgado paints it. "The only reason I'm there is to support our university. I never go to watch the game," said Delgado, a founder of American Transmission Company.
At the Orange Bowl he met with large donors to the university, Delgado said. "One morning there was a breakfast packed with donors. They always like to see the regents."
Delgado characterizes the campus receptions also as part of a regent's duties.
Often alcohol is served, he said. "People serve themselves a glass or wine or beer — it's a very civilized thing to do."
Former Regent Nino Amato says regents should pay their own way to the Orange Bowl. "To be on the taxpayer's dime when the average student walks out of college with $30,000 in debt — that's absurd."
Of the notion that regents must be on hand to entertain donors: "Pure unadulterated cow manure," said Amato. A frequent critic of Board of Regent expenses, Amato served in 2003-2004 by virtue of his former position as president of the board of the Wisconsin Technical College System.
Regents don't need special receptions, Amato said. "They should be eating in the cafeteria with the students."
He said that regents should be under the same law that requires legislators to report receipt of anything valued over $50.
Regents essentially are being lobbied by the chancellors of host campuses for favorable policy, Amato said. They should be subject to the same regulations around lobbying as are legislators, he said. "What we have now is a double standard."