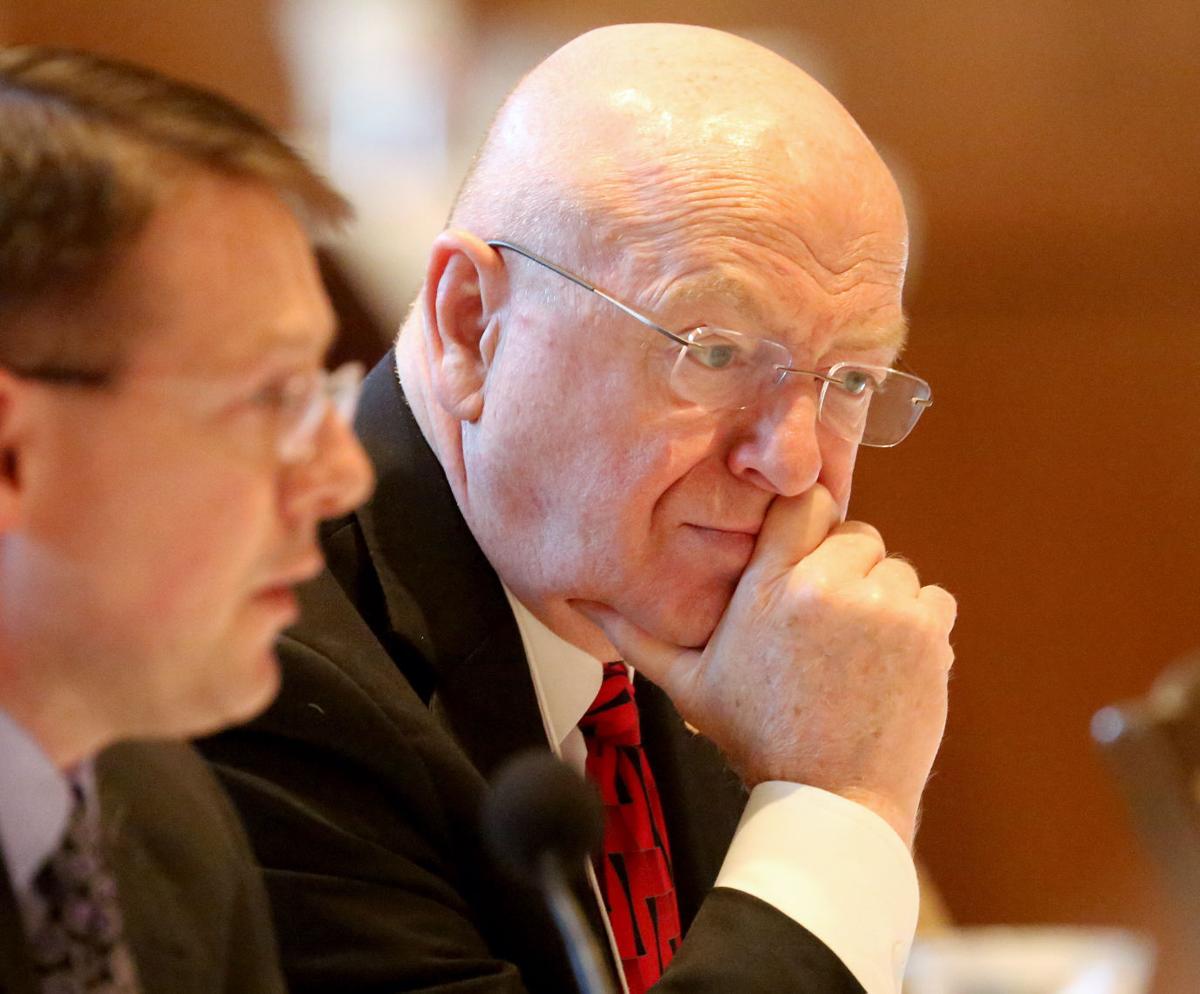 In the days leading up to a University of Wisconsin System Board of Regents vote on a controversial new tenure policy, system President Ray Cross wrote that the debate "has exposed the real value of removing tenure related policies from statutory language."
Faculty undermined their position against policy changes by arguing that tenure should guarantee their jobs when a program is discontinued and they are no longer needed in a discipline, Cross wrote in a March 7 email to Behling obtained by the Cap Times as part of an open records request.
"That is a 'union' argument," Cross wrote.
Cross compared faculty to railroad brakemen, kept on the job for years after they were no longer needed, he said. "It was for the same reason — a job for life even when that job was no longer necessary."
That kind of thinking hurts tenure, Cross said.
"Tenure is designed to protect freedom of speech and the right to pursue truth — no matter how unpopular — and then to publish that information without worrying about being dismissed for doing so. It is not a guarantor of 'a job for life.' The more faculty connect tenure to 'a job for life' they do serious damage to the value and purpose of tenure," Cross said.
Activist UW faculty, who have heard Cross vow to protect academic freedom over the past year, said after reading Cross' email that his remarks just before adoption of a policy that jeopardizes academic freedom reveal a position hostile to tenure and inimical to the mission of the university.
UW-Milwaukee professor Richard Grusin made headlines last year when he pushed Cross to vow to resign if tenure and academic freedom were not preserved by the system as tenure was removed from state law under Gov. Scott Walker's 2016-2017 budget.
Grusin said last week that in his email to Behling, Cross "makes it crystal clear that he sees being able to fire tenured faculty as the 'real value' of removing tenure from statutory language, which he has supported from the very beginning of this process.
"It is good to have it in Cross' own words," said Grusin.
Faculty at UW-Milwaukee are scheduled to meet Tuesday for a vote of no confidence in Cross and the Board of Regents. It will be one in a string of such votes since the UW-Madison Faculty Senate led the way on May 2.
UW-Madison sociology professor Chad Goldberg authored the original version of the no confidence resolution taken up by the Faculty Senate. He said removal of tenure from state law — clearly supported by Cross — was the first step toward weakening it.
"But weakening is not an end in itself; it is a means to accomplish what Governor Walker tried to in his budget proposal: change the university's historic mission from 'searching for truth' and 'improving the human condition' to short-term workforce training. The reason Ray Cross wants more flexibility to fire faculty is that faculty are an obstacle to this goal," Goldberg said.
Dave Vanness, an associate professor at UW-Madison and president of the campus chapter of the American Association of University Professors, said he was a bit shocked to read Ray's candid views of faculty.
"After a year of denial and soft-pedaling, it's a bit shocking to finally hear what Ray Cross thinks of UW faculty, but frankly it's not surprising," he said.
Vanness said there was never any question about whether faculty may sometimes need to be laid off.
"When there is a bona fide financial emergency or when a program is failing to meet educational quality standards and faculty cannot be retrained or reassigned, then even the AAUP agrees that layoffs can legitimately happen," he said.
"Under the new UW tenure policy, a high quality academic program (say, climate science) can be shut down and its faculty laid off so that other programs (say, petroleum engineering) deemed to be of higher priority can expand," Vanness said. "Should we shut down African studies to fund accounting? Or how about shutting down philosophy to fund marketing?"
"Even if such decisions aren't nakedly political, they may sacrifice decades of faculty and institutional investment in programs that are unlocking deep issues in basic science or solving fundamental social issues — all to meet short-term needs of workforce training," he said.
Vanness said he expects Cross and the Board of Regents will use their new power to discontinue programs, lay off faculty and reshape the university to fit Walker's "limited vision of the Wisconsin Idea."
"The faculty stood in their way, so they changed the law to take the university system out of the stewardship of scholars and scientists and put it in the hands of politically appointed bureaucrats," Vanness said.
Cross, asked by the Cap Times if he wanted to elaborate on his email message, said in a statement: "When tenure was removed from statutory language, it prompted a review of all existing institutional and UW System program discontinuance policies. Analysis revealed some differences, inconsistencies, and gaps in these policies. The development of an overall program discontinuance policy that might result in layoffs provided the university with an opportunity to address these issues, as the email states."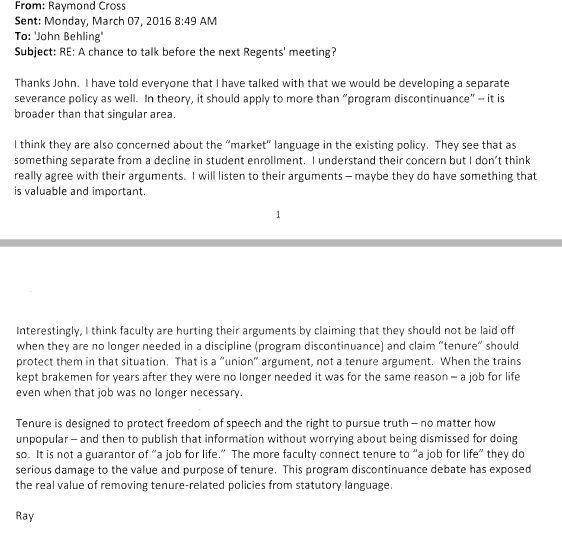 Share your opinion on this topic by sending a letter to the editor to tctvoice@madison.com. Include your full name, hometown and phone number. Your name and town will be published. The phone number is for verification purposes only. Please keep your letter to 250 words or less.
Be the first to know
Get local news delivered to your inbox!