The University of Wisconsin Cooperative Extension is a natural fit with University of Wisconsin-Madison, Chancellor Rebecca Blank said Wednesday about news that the agency would be absorbed by her campus as part of a sweeping reorganization of the UW System.
"Extension embodies the outreach mission of the university, spanning all 72 counties of the state. Indeed, many UW-Madison faculty are partially funded by Cooperative Extension," Blank said in a statement.
"We share a similar mission, inspired by the Wisconsin Idea," Blank said.
UW System President Ray Cross on Wednesday announced his reorganization plan that also would merge the state's 13 two-year campuses with seven of the state's four-year institutions.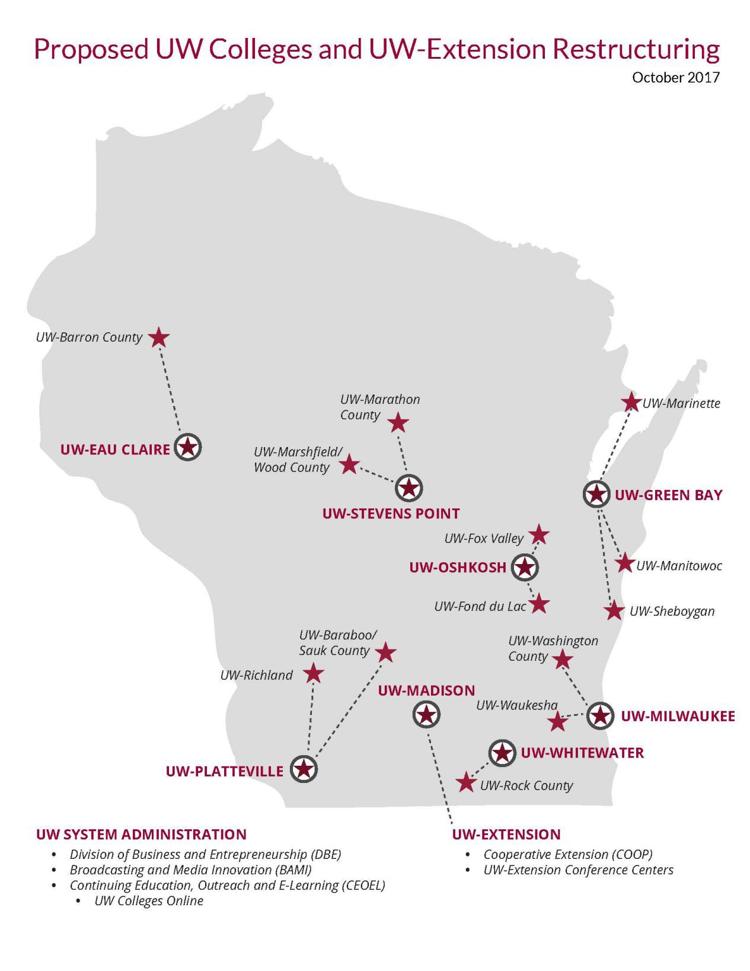 The plan will go to the UW System Board of Regents for approval in November.
Cross noted the uncertainty that comes with change, and cited the need for reform in response to a drop in college-age students in the state and the "need for closer alignment between research and practice."
"We want to leverage the strength of our four-year institutions at a time when overall enrollments at UW Colleges are declining," Cross said.
Four-year UW campuses would be merged with nearby two-year schools under Cross' plan. For example, UW-Milwaukee would absorb UW-Washington County and UW-Waukesha.
Cathy Sandeen, chancellor for UW Colleges and Extension, said she was optimistic about the potential of the new structure "to keep student access and student success at the forefront."
"The dramatic demographic declines in this state are undeniable and we have been working hard to ensure the future viability and sustainability of our small campuses," Sandeen said.
Under the proposed plan, UW-Extension Cooperative Extension (including Wisconsin 4-H) and the UW-Extension Conference Centers would be moved to UW-Madison.
Other divisions of UW-Extension would be integrated within UW System Administration to continue their statewide role.
Blank in her statement Wednesday said that the roots of Cooperative Extension are intertwined with those of the UW–Madison and the state of Wisconsin itself.
Extension has traditionally kept an office in each county, and with faculty on UW campuses, worked to develop practical educational programs tailored to local needs.
The most familiar example, perhaps, are the extension agricultural agents, who have long assisted state farmers.
"Cooperative Extension is personally important to me because both of my parents served as extension agents," Blank remarked.
Blank added that many details of the proposal won't be resolved for months.