UW-Madison's Keisha Lindsay works to help students see how identity plays in politics
"Intersectionality" may sound like an arcane academic theory, but Keisha Lindsay says the term might be closer to home than many believe.
It refers to the way people's identities — gender, race, class — intersect to shape their experiences, particularly the experience of oppression.
The theory suggests that black women, for example, experience racism differently than black men. And working class women experience gender-based oppression differently than upper class women do.
Lindsay, an assistant professor in political science and gender and women's studies at UW-Madison, says her students sometimes are surprised to realize the ways in which it applies to them.
"I often have students who come in and think 'This has nothing to do with me.' And then we start to talk about Wisconsin politics and the ways in which many people argue that rural working class folks in this state are marginalized, because their rural identity and working class identity come together in ways that perpetuate their lack of power," Lindsay said.
And so intersectionality, a theory that emerged from black feminism, can be used to analyze a variety of experiences, she said.
"This makes it not marginal, but in fact central, to understanding the lack of political power of a range of people," said Lindsay.
A native of Jamaica, Lindsay, 43, received master's and doctorate degrees in political science at the University of Chicago. She was hired by UW in 2010.
Lindsay's broad interpretation of "intersectionality" is controversial, Judith Houck, chair of gender and women's studies, wrote in a letter of nomination to the Distinguished Teaching Award selection committee.
Lindsay's research looking at conservatives and religious groups through the lens of intersectionality is "pathbreaking," Houck said. Her work "shows convincingly that intersectionality is indeed a generalizable method for understanding how identities, social categories and processes of identification and categorization gain meaning from each other."
But teaching that is her most important role as a faculty member, Lindsay said. And the pillars of her approach to teaching serve students not only in the classrooms, but in their lives beyond.
She laid out the basics in a recent interview: Content, analytical skills, research and writing.
The ability to master content, analyze it, develop a position, synthesize its pros and cons and write about it is a valuable skill in many workplace and life settings, Lindsay said.
She said she manages her courses and classroom to give students from all backgrounds the opportunity to develop those skills. "I do many 'mini' lectures, and also create a lot of time for students to share their own ideas and encourage them to relate their personal experiences to the text," she said.
Students who wrote letters nominating Lindsay spoke of the respect and patience she displayed in guiding her classes to "a balanced discussion, shifting between disagreement and consensus," wrote Di Wang, a PhD student in sociology. "It was at these moments that I realized I am embedded in a social reality that is spoken out by these theories."
Undergraduate student Sara Waters said that the readings and discussions in Lindsay's Black Feminisms class helped her create "a new lens of the world."
"The emphasis on peer learning in Professor Lindsay's classes illustrates how her teaching methodology aligns with the core principles of the Wisconsin Idea at UW-Madison, '' Waters wrote.
Colleague Finn Enke, in a letter of recommendation, quoted a student saying of Lindsay's ability to lead classroom discussions: "Her facilitation skills are mind-blowing."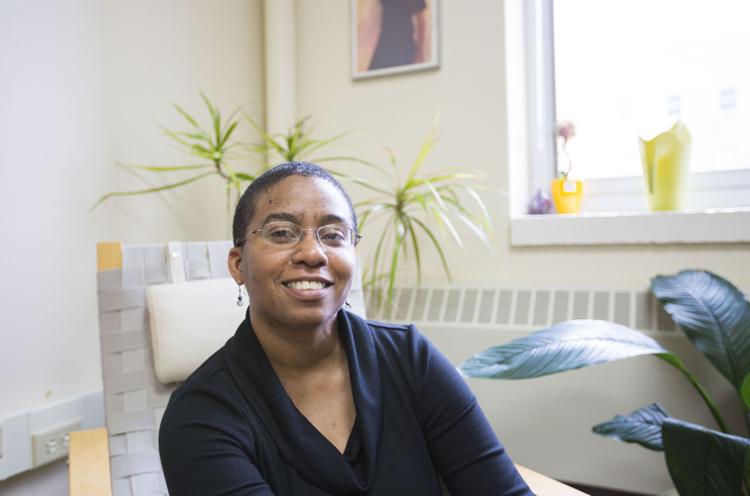 Lindsay prizes, also, her role as a mentor to students, particularly students of color and women, she said. "They often do independent research with me around topics they feel won't be so warmly received in a traditional classroom."
On a campus with 58 black faculty members in 2014, out of a total 2,220 faculty, many students tell her she is the first professor of color they have encountered. Yet students of color more often comment on the content of her courses than claim her as a role model, Lindsay said.
Nevertheless, her role in nurturing the development of scholarship among women students of color is important, Lindsay said in a 2015 Teaching Statement that was part of a packet of materials considered by the awards committee.
"How should I teach feminist theory and critical race theory in an educational climate that increasingly regards such subjects as dangerous distractions from job training or the "real" purpose of tertiary education? The answer, I now understand, is that helping women students of color navigate intersecting racial, gendered and other oppressions is a valuable form of job training in and of itself. The need for this kind of collaborative thinking and learning is particularly important to UW-Madison," she wrote.
Lindsay sees intersectionality at work in contemporary political movements. For example, Black Lives Matter, the racial justice movement that has sparked activism on the UW-Madison campus and others across the country, has been attentive to the influence of intersectionality since its founding in 2013, she said. It was pioneered, she notes, by three women who identify as black feminists.
"Black Lives Matter is going in new and interesting ways that parallel traditional civil rights activism and ways that diverge from it," she said. The use of social media by Black Lives Matter, for example, is new. "What that means in the long term we will see."
What the movement means for UW-Madison and its racial climate, Lindsay did not speculate. "Like everyone else, I am hopeful. Obviously productive conversations are going on. Whether that translates into real institutional change is a question – it's always a question."
Share your opinion on this topic by sending a letter to the editor to tctvoice@madison.com. Include your full name, hometown and phone number. Your name and town will be published. The phone number is for verification purposes only. Please keep your letter to 250 words or less.