About 200 people rallied for improved workplace conditions for graduate students Thursday at the University of Wisconsin-Madison's Engineering Mall before marching to Bascom Hall to deliver a list of demands.
While students addressed issues ranging from shared governance to department grievance policies, the afternoon's events were primarily tied to the abusive behavior of former electrical and computer engineering professor Akbar Sayeed and the death of one of his students in 2016. Sayeed, who the university found to be in violation of hostile and intimidating behavior policy, will be returning to campus in an administrative capacity this spring.
In the wake of Sayeed's investigation, graduate students across campus have come together to fight for codified workplace protections and honor John Brady, who died by suicide during his seventh year as an ECE doctoral candidate.
"Through this whole experience, I've been exposed to a lot of graduate students from other departments," said Jad Salman, a member of the ECE Graduate Student Association. "So it's been really heartening, but … it's kind of sad that it's not an isolated incident. It impacts a lot of students."
After the Wisconsin State Journal published an investigation in October, Provost Karl Scholz published a message about university efforts to improve graduate student resources and address hostile and intimidating behavior. Administrators also met with ECE students, who decided to draft a letter to department officials and plan further efforts to prevent Sayeed's return, said graduate student and ECEGSA member Kyle Daruwalla.
Speakers at the rally called for mandatory workplace protections, which ECEGSA and Teaching Assistants' Association said in a press release are not sufficiently outlined in the Graduate Assistant Policies and Procedures. The TAA has repeatedly called for revisions to GAPP that include more student input, required supervisor training and protections for research assistants and lecturers.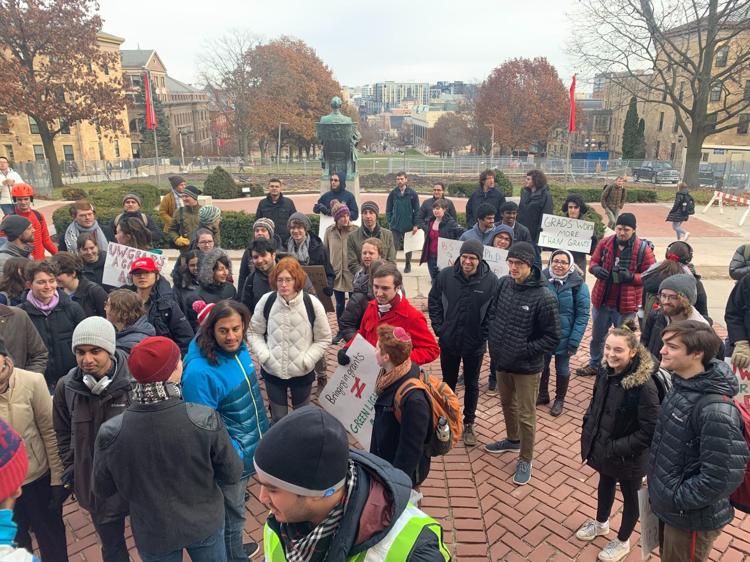 "GAPP provides clear, transparent policies on employment-related matters for graduate students and their supervisors on job orientation and training, performance evaluations, leave benefits and many other important topics," university spokeswoman Meredith McGlone said in an email. "We believe this is a significant step forward."
The university also outlines graduate student protections in its hostile and intimidating behavior policy, which Sayeed violated. At the rally, planning and landscape architecture professor Kurt Paulsen said university policies, such as required grievance policies across departments, have improved in recent years. But he wants his colleagues to clearly stand in support of graduate students.
"Students want to hear a clear message from us," Paulsen said. "If we are unable to hold ourselves accountable for our most basic values and if we fail at our most fundamental duty to create a university where students feel safe, then shame on us."
Attendees chanted "BS, MS, Ph.D.! No abuse from faculty!" as they marched to Bascom Hall. "We won't take it, we refuse! We stand up to this abuse!"
Daruwalla delivered the petition, which included over 2,000 signatures, to the provost's office. Its primary demands are that the university begin a new investigation into Sayeed and prevent him from returning to campus. Students also delivered a report condemning university policy for excluding research assistants and calling for a new investigation that considers more student, faculty and alumni input.
College of Engineering Dean Ian Robertson expressed his condolences to Brady's family and friends in a press release Thursday. 
"This was a deeply disturbing situation that goes against the core values of our institution and leaves us with a profound sense of loss," Robertson said. "We are fully committed to maintaining a supportive climate in which all members of our community treat each other with respect."