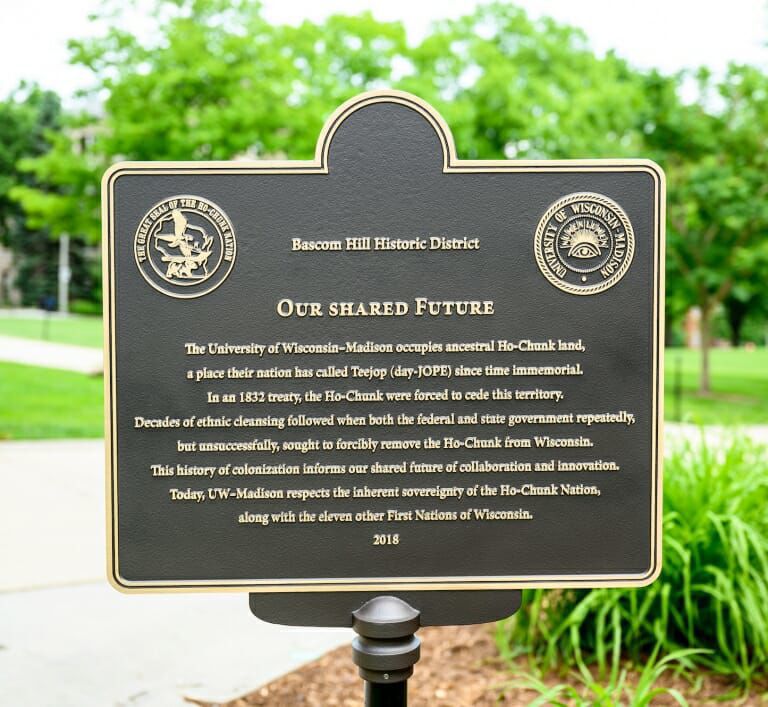 Before settling into its permanent home on Bascom Hill, the Our Shared Future heritage marker will continue its way around the University of Wisconsin-Madison campus this year in hopes of integrating its message into the school's teaching and learning. 
The marker, which was first dedicated in June 2019, recognizes the university's location on ancestral Ho-Chunk land, its history of ethnic cleansing and the inherent sovereignty of the First Nations of Wisconsin. Though "no plaque or monument can ever adequately convey a difficult and complicated history," Chancellor Rebecca Blank said, it became a conversation starter by moving around to various venues and becoming a part of campus tours.
This spring, seven schools, colleges and departments will temporarily host the marker, organizing events, hosting speakers and incorporating Native topics into their curricula. Steven Cramer, vice provost for teaching and learning, said he has been amazed to see the program's "snowball effect" and the diversity of grant applications for this spring.
"Engineers and students in gender and women's studies — that whole gamut has found a common thread to work from," Cramer said. "My goal would be to sustain that as the marker comes back and think about what would be the catalyst for next year, and the year after."
School of Human Ecology professor Brian McInnes said one of his priorities was to acknowledge not only a shared future, but also a shared past.
"We wanted to have activities that span the range of that," said McInnes, who is half-Potawatomi and an enrolled member of the Ojibwe Nation. "That we're firmly rooted in the cultural and linguistic roots of Native American tribal nations, but that would give ourselves in the present a powerful reason and means of creating discourse and building that relationship for the future. Because we really aren't there yet."
The School of Human Ecology will launch its programming April 9 at a community and nonprofit studies event. The overlap in timing provided an opportunity to bring Native issues to an already-annual event, McInnes said, with speaker Mark Denning, a member of the Oneida Nation, and a traditional Ojibwe water ceremony hosted by two ceremonialist women.
Then, when the marker is unveiled, Native faculty members will speak about and unpack many of the concepts on the marker, such as genocide and sovereignty.
"(For) every third word there, there could be a very long story told about that word," McInnes said. "On its own, it's very easy to completely gloss over all of the more deep meanings that are really contained there … Without giving a voice to it, it's just lifeless. It just stands silent."
The Law School, which will host the marker from Feb. 24 to March 9 in its student atrium, already has a "really rich history" of Native teaching, said associate dean for alumni relations and external affairs Jini Jasti.
She said part of the grant will help expand programming that already exists — such as a pro bono caravan trip to provide advising to people around Wisconsin, or the annual Coming Together of Peoples Conference, run by the Indian Law Students Association. But the school will also take new steps to bring indigenous law into a required property class for all first-year students and host speakers for a tribal feast and discussion about treaty rights.
"We thought this would be really unique and special, especially because when the marker was first announced and unveiled, it lived right outside the Law School," Jasti said. "It seemed natural to apply for the grant and figure out ways we could expand the program and have these things fall into the academic setting."
The School of Pharmacy also hopes to bring and keep a greater focus on Native populations into its coursework, said its assistant dean for diversity and inclusion Lisa Imhoff.
Imhoff's experience serving as a University Health Services counselor helped her move beyond simply learning about history to seeing firsthand the impacts of historical and generational trauma on healthcare disparities. Between April 21 and May 7, a guest speaker will highlight Native health disparities, students will create a poster presentation about Indian Health Services and an exhibit in the school's halls will raise awareness about the misuse of indigenous imagery in pharmaceutical sales.
"It's useful that pharmacy students have at least a rudimentary understanding of indigenous medicines and traditions, that there was a type of healing practice before what we know as pharmacy," said professor Lucas Richert, who is curating the exhibit. "Then, at the same time, showcase … how western medicine can learn from indigenous medicine."
Other locations hosting the marker this spring are the College of Engineering, the iSchool, the Nelson Institute for Environmental Studies and the College of Agricultural and Life Sciences. The marker will return to Bascom Hill in 2021.