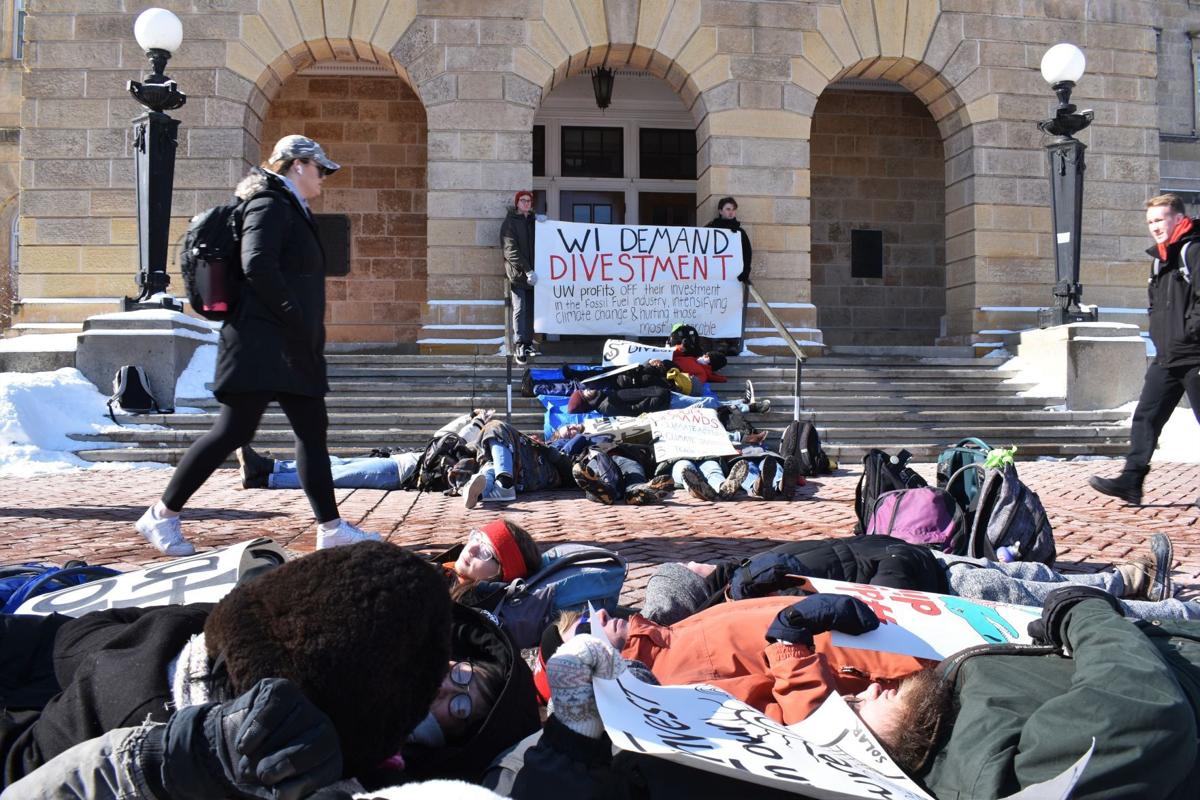 Lying outside Bascom Hall on the coldest day of the year to date, students at the University of Wisconsin-Madison demonstrated Thursday that they were "dying to divest" from the fossil fuel industry.
The Wisconsin Student Climate Action Coalition staged a "die-in" as part of Fossil Fuel Divestment Day. About 30 students gathered outdoors and in the hallways outside Chancellor Rebecca Blank's office to demand that the university divest from the fossil fuel industry, according to a WSCAC press release.
"WI Demand Divestment," a large banner read. "UW profits off their investment in the fossil fuel industry, intensifying climate change and hurting those most vulnerable."
Not only was there some more sunlight than he'd expected, public liaison chair Michael Makowski said the event turned out "really well" for WSCAC's first official planned event. 
"You go and literally role play a die-in to illustrate the severity of the issue that we're facing in climate change," said Makowski, a senior. "That is a life-and-death issue."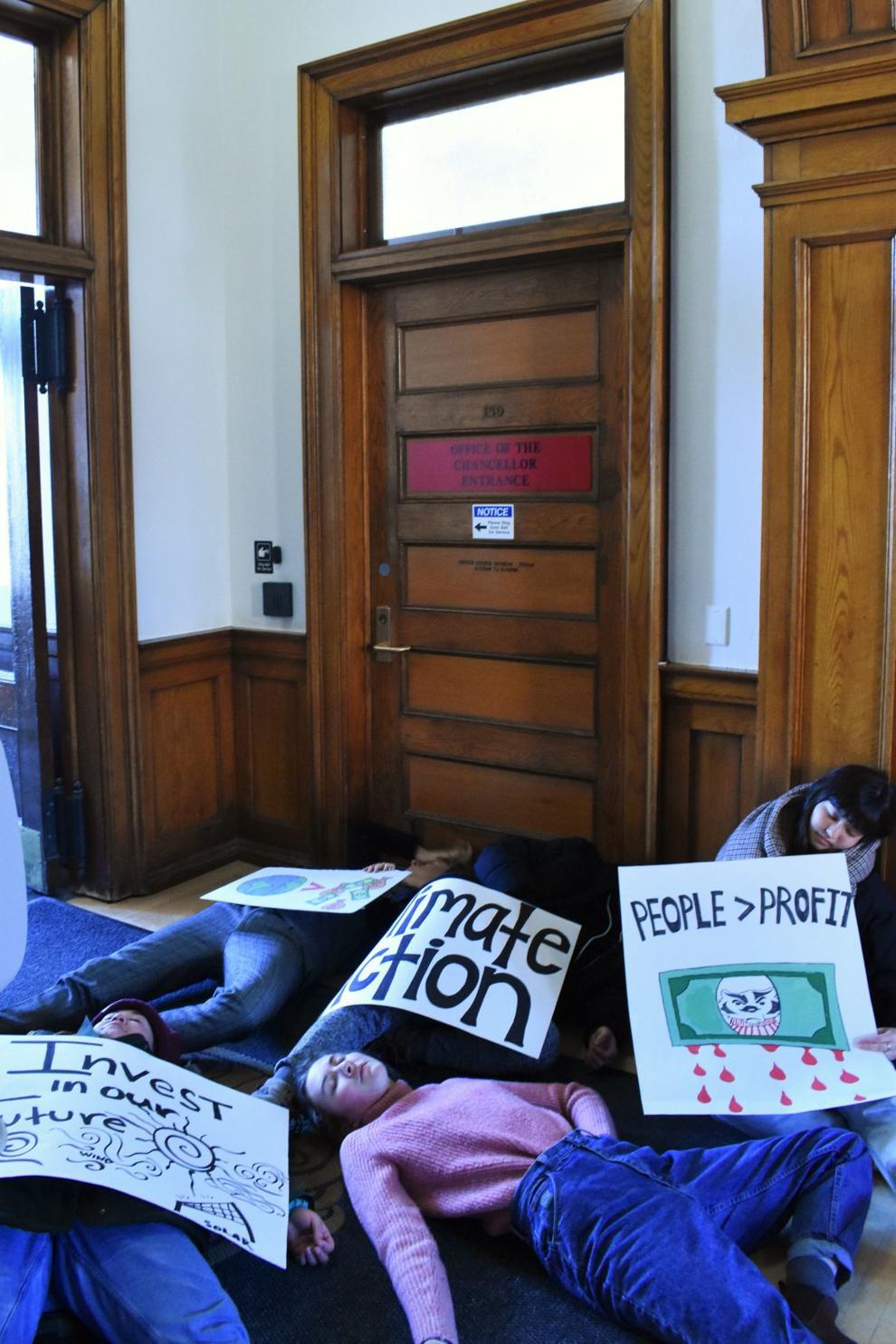 WSCAC formed last year with the goal of creating an alliance of environmental groups across campus. So far, it has primarily focused on building a strong infrastructure, "tapping into the knowledge and work" that's already been done by various organizations, Makowski said.
Advisory board member Emiliana Almanza Lopez said the goal was to engage the public and grab attention. Especially as "a state figurehead," the university can promote broader structural change, she said.
"By removing our money from the fossil fuel industry's hands, the university will be making a public statement," Lopez said. "This would show that the university does not condone the continued degradation of land and communities that these companies profit from."
In recent months, WSCAC has declared climate action — including reducing greenhouse gas emissions and protecting Wisconsin's natural resources — one of its three major demands. But students also hope to examine climate change through its other goals of greater transparency and climate justice, or acknowledging climate change as a social justice issue.
UW-Madison senior Mira Grinsfelder emphasized in the press release that the university must go beyond divestment to actively shift how it distributes capital, research and support.
"Divestment is one step towards a fossil-free future. And I am really interested in the next one – investment," Grinsfelder said. "It is imperative that we demand our colleges and universities invest in anti-fossil fuel campaigns and Indigenous communities that have been and continue fighting the expansion of fossil fuels on the frontlines."
Many Jewish students opposed the resolution, saying it mirrored anti-Israeli sentiments in the Boycott, Divestment, Sanctions movement. The university responded in a statement that ASM is "independent of the university administration."
"It does not control UW–Madison policies or practices and its actions tonight will not result in a change in our approach, or that of the WFAA, which is driven by its obligation to maximize the impact of a donor's gift on the intended program in the university," the statement said.