With less than a month to go before the Feb. 18 Wisconsin Supreme Court primary and three months before the April 7 presidential primary, students at the University of Wisconsin-Madison are preparing to cast their ballots, a process that has become more confusing in recent years.
The Associated Students of Madison, partnered with the League of Women Voters of Dane County, began registering voters at the Student Activity Center and Union South last Monday. Located right behind bus pass pickups, booths are staffed by volunteers who make a tricky process sound simple.
Between the 2014 and 2018 midterm elections, student voter turnout at UW-Madison rose from 35.6% to 52.9%, reflecting a similar trend of nearly 20% turnout increases at colleges and universities nationwide. ASM legislative affairs chair Katie Malloy, a sophomore, said that she's "unbelievably excited to continue the momentum" of past campus efforts like the Big 10 Voter Challenge.
"I think that excitement is still on campus," Malloy said. "That momentum is still very strong and we're making great strides for voter registration and turnout in 2020." 
In 2018, the median change in institutional voting rate across colleges and universities was about 19%, according to data from Tufts University's Institute for Democracy & Higher Education. Its latest National Study of Learning, Voting and Engagement report found that the average rate in 2018 was about 39.1% — up from 19.7% in 2014.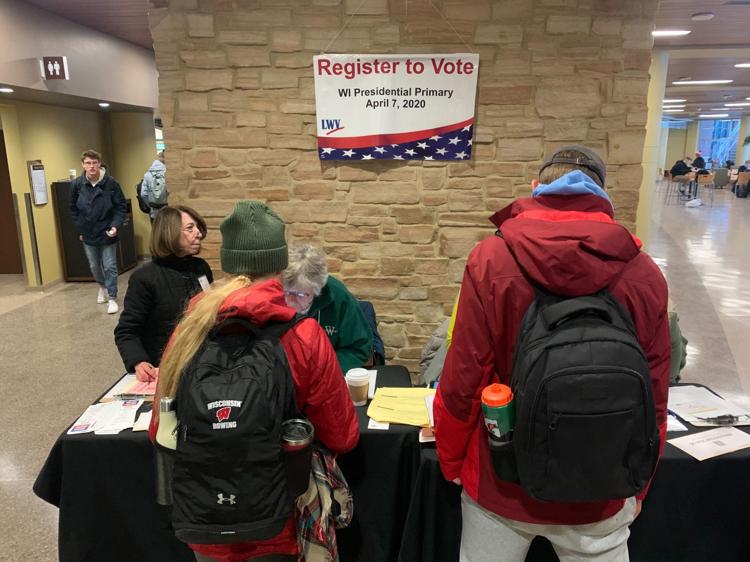 Despite these numbers, ASM chair Laura Downer, a senior, said it is important not to become too complacent and take young people's vote for granted.
"We can't make the assumption that, just because it's 2020, more students are gonna turn out to vote," Downer said. "They have to be proactive about making sure they're registered to vote and where to vote and what ID cards work and don't work. So that educational aspect of it is hugely important."
IDHE director Nancy Thomas said state laws are among the major national challenges to voter turnout — and Wisconsin is "ground zero" with its strict ID requirements that prevent UW-Madison voters from using their student Wisc cards on election day. Out-of-state students, for instance, must pick up separate voter ID cards, which the university made available both in advance and at on-campus polling locations on election day in 2018.
University spokeswoman Meredith McGlone said in an email that feedback shows the system "is working well and students are not encountering difficulty voting due to voter I.D. We plan to continue this practice in upcoming major elections so a student in need of a voter compliant I.D."
ASM has advocated, on the state level, for removing the law's two-year expiration and, on the university level, putting signatures on Wisc cards to qualify them as valid voter IDs.
Streamlining voter registration to be as accessible as possible is the legislative affairs committee's top priority for the coming semester, Malloy said, to make sure students "don't have to jump through hoops in order to vote."
"(These challenges) have this chilling effect. They add inconvenience," Thomas said. "And inconvenience is bad for all voters, but it's particularly bad for college students."
In 2018, UW-Madison participated in the Big 10 Voting Challenge, a friendly competition with other universities to increase voter turnout. Political science professor Barry Burden, who led the project's committee, said the challenge helped build coalitions across the university — from playing videos at Camp Randall during football games to putting up informative table tents in dining halls.
"It was really wonderful as a way for all of us at our various institutions to find out what was working and what was not working," Burden said. "It's not just a one-shot educational effort. It has to be a continual campaign to make sure all incoming students know what the opportunities are and what's required of them (to vote)."
With nearly double the 2014 voter turnout, 2018 was "the perfect storm," Thomas said. Students were charged up about political issues. Higher education institutions, dismayed by abysmal voter turnout in 2012 and 2014, put money and support into voting efforts. And the Trump administration fired up all electorates, including students, to show up to the polls.
So, while every university may have bragging rights, the bigger challenge is to look further into the future. If campuses think smart, she said, they should be educating not for 2020, but for 2022.
Burden said that seeing students engaged in movements bigger than party politics is a hopeful sign that high voter turnout may continue past the Trump era.
"Even when Trump is gone I think the fact that his actions have been so visible and students have reacted to them so markedly — that will hang around," Burden said. "Students have come to realize, for example, that appointments to the courts are a really important power of the president, because courts are making decisions about all sorts of things that matter to them."
Malloy said she is excited to use the increased focus on national issues to get students excited about local politics as well.
"2020 and the national focus that it gets presents us with a unique opportunity to get more students interested and engaged in local and state politics as long as we can frame them together," Malloy said. "Pairing it with the excitement about national elections we can increase the excitement for local politics, too."