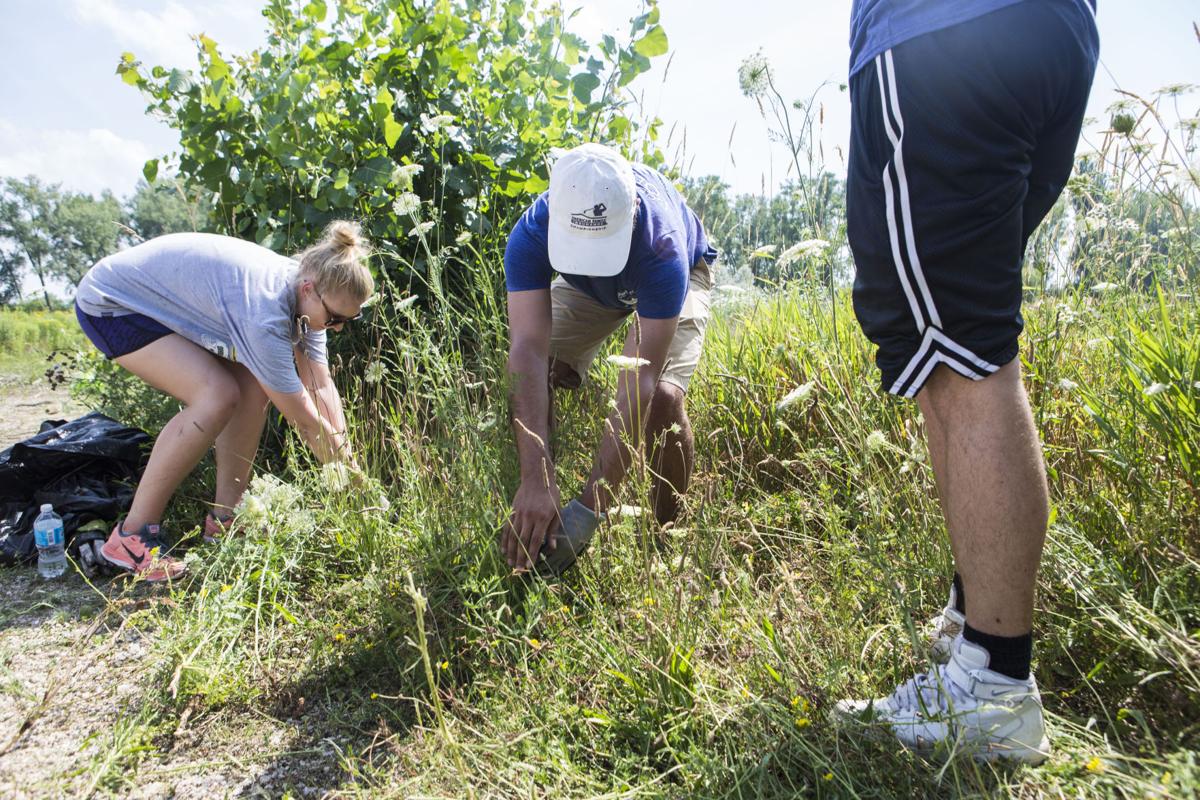 It was hot, really hot, Thursday. But that didn't stop a group of volunteers from Wild Warner from making their regular trip to "fireworks island" in Madison's Warner Park to clear invasive plant species.
The area, really a peninsula next to the park lagoon off Forster Avenue, has been gradually seeded with prairie plants since the city of Madison ended its use as a launching pad for Independence Day fireworks in 2012.
Volunteers this week pulled unwanted plants like Queen Anne's lace and thistle to make room for prairie species like coneflowers that have been seeded in the area over the past years.
The volunteers included several summer interns from American Family Insurance, whose headquarters are located in Madison.
Intern Daniel Wear, in his second summer as sustainability intern at the company, said that the involvement of him and his cohorts was especially appropriate, since American Family was a major sponsor of the annual fireworks shows presented for 20 years at Warner Park by the nonprofit Madison Fireworks, Inc.
"It has turned into a story come full circle with American Family working to restore the island," said Wear, a student at Lawrence University in Appleton.
Wear has helped develop a plan to transform the area even more. A proposal to further seed the area, and develop walking paths and educational signage among the prairie plants, will be presented as part of American Family's "Share Tank" later this month.
The "Share Tank" project required teams of interns to select a local nonprofit organization, interview its managers, identify a business need and develop a solution to the need, said Amy Wilcox, talent acquisition program coordinator for American Family.
Teams will then develop a proposal and pitch it to a panel of judges, similar to the way that entrepreneurs pitch business ideas to a panel of potential funders in the popular "Shark Tank" television program, Wilcox said.
Ten teams of interns from American Family's Madison headquarters and other offices are slated to make presentations at a July 28 event. There will be prizes, Wilcox said, but she declined to give specifics.
The program helps interns sharpen their skills around networking, teamwork and creative problem solving, Wilcox said. It also fits nicely within the company's philanthropic culture, she added.
Marie Jacobson of Wild Warner said the proposal for the "island" was exciting. "We've been talking about something like this for years," she said.
Wild Warner member Jack Hurst said neighbors of the park have been working on restoring the lagoon for 12 years.
Its transformation from its use as a staging area by fireworks happened gradually, he said. "They illegally filled a wetland 20 years," Hurst said. "Each year they brought in a couple of dump trucks of sand for their mortars and each year it went into the water and gradually filled the lagoon up," Hurst said.
Concern over the fireworks' impact on the lagoon raised by Wild Warner, as well as neighborhood complaints over noise and congestion led to the long-time operator to pull out in 2013. An official at the Department of Natural Resources said that the city had apparently been violating state wetland laws for years by allowing the staging of fireworks at the lagoon.
A smaller event was staged in downtown Madison in 2014, but organizers failed to get funding for 2015. Producer Big Top Baseball began producing Shake the Lake, a festival sponsored by Festival Foods with fireworks mounted from Lake Monona at John Nolen Drive, that year. The event has been successful the past two years.
But it has raised environmental concerns from at least one citizen. "I love fireworks, but not when it comes to polluting plants and trees and the species of invertebrates in the water that fish and birds eat," Hurst said. "I don't like it in Lake Monona either."
Share your opinion on this topic by sending a letter to the editor to tctvoice@madison.com. Include your full name, hometown and phone number. Your name and town will be published. The phone number is for verification purposes only. Please keep your letter to 250 words or less.