Say what you will about "Hillbilly Elegy," J.D. Vance's controversial memoir of his hardscrabble life in rural Ohio. It gets people talking.
But other readers say Vance's story examines some of the most compelling and controversial issues of the day.
"This book gives us a very personal view of the cultural context in which Vance grew up," said Kathy Cramer, director of the Morgridge Institute for Public Service. "I'm looking forward to talking about how his observations fit with broader cultural and political trends in the United States, and will offer some alternative ways of looking at the white working class."
Cramer is one expert on a panel that will discuss "Elegy," UW-Madison's Go Big Read at a keynote event at 7 p.m. Monday at Memorial Union's Shannon Hall. The event is free and no ticket is required.
UW-Madison's "common read" selection is also adopted by the Madison Public Library, where there has been a lot of interest in it.
Between 300 and 400 copies were checked out in the first couple of weeks the 2016 book was available, said Kylee Stoor, community engagement librarian. And all 150 discussion kits for book clubs or other groups were snapped up, she said. The library also has a page chock-full of resources to analyze the book, and listings of future discussions at branch libraries.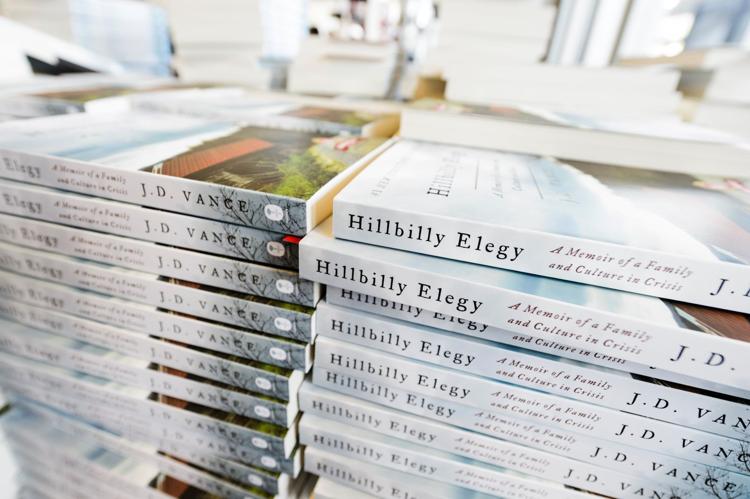 There's no doubt that "Elegy" is popular, Stoor said. "It's a book people seem to love or hate."
There was a bit of both expressed Thursday when "Elegy," was discussed by a book club group at the Lakeview Library on North Sherman Avenue in Madison.
"I give it a C+ as a memoir, even though he had material for an A," Lesleigh Luttrell declared of Vance's story of how he overcame family struggles with poverty, ignorance, violence, addiction and class in American society.
"It wouldn't sell as many copies as it had in any other time in history," Luttrell said. "He could have done much better if he had left out the politics."
The politics are an important part of the book's popularity, agreed Anita Weier, a former Cap Times reporter. "People thought it would help them understand how Trump got elected. And it does help people understand it a little bit." Weier thought the book was a good choice for Go Big Read because of its relevance to current events.
One book club member with family ties to Appalachia said Vance's depiction of the culture rang true. But the group also discussed whether the traumatic circumstances of his childhood are necessarily limited to "hillbillies."
Chaotic home lives are so common that scientists have developed a scale to measure their impact, said Martha Jalbert. "Many children from totally different backgrounds deal with the same kind of adversity. It comes from both ends."
The UW expert panel on Monday will discuss themes of the book that resonate far beyond Appalachia.
Members include Cramer, who will talk about politics and cultural anger; Professor Katherine Magnuson, who will discuss poverty and stress in childhood; and Assistant Professor Aleksandra Zgierska, who will talk about addiction, chronic pain and opioids.
Due to what event organizers are calling "unforeseen scheduling difficulties" Vance won't be there.
He told an interviewer he never intended for "Hillbilly Elegy" to be a political book, but during the 2016 campaign people were asking questions about the region where he grew up. That they looked to his book for answers was "mostly by luck," Vance said. He said he rebuffed an overture from Ohio Republicans to run for the U.S. Senate.
Vance has founded a nonprofit to fight opioid abuse.
Ron Howard is making a film from "Elegy." Vance is working on another book. His wife, Usha Vance, clerked for Supreme Court Chief Justice John Roberts. The couple had their first child this summer.
The Lakeview Library book club also talked, as does Vance in his book, about the many of sources of support he encountered along the way among family, teachers and friends.
"I think he was lucky in a lot of ways," Luttrell said.