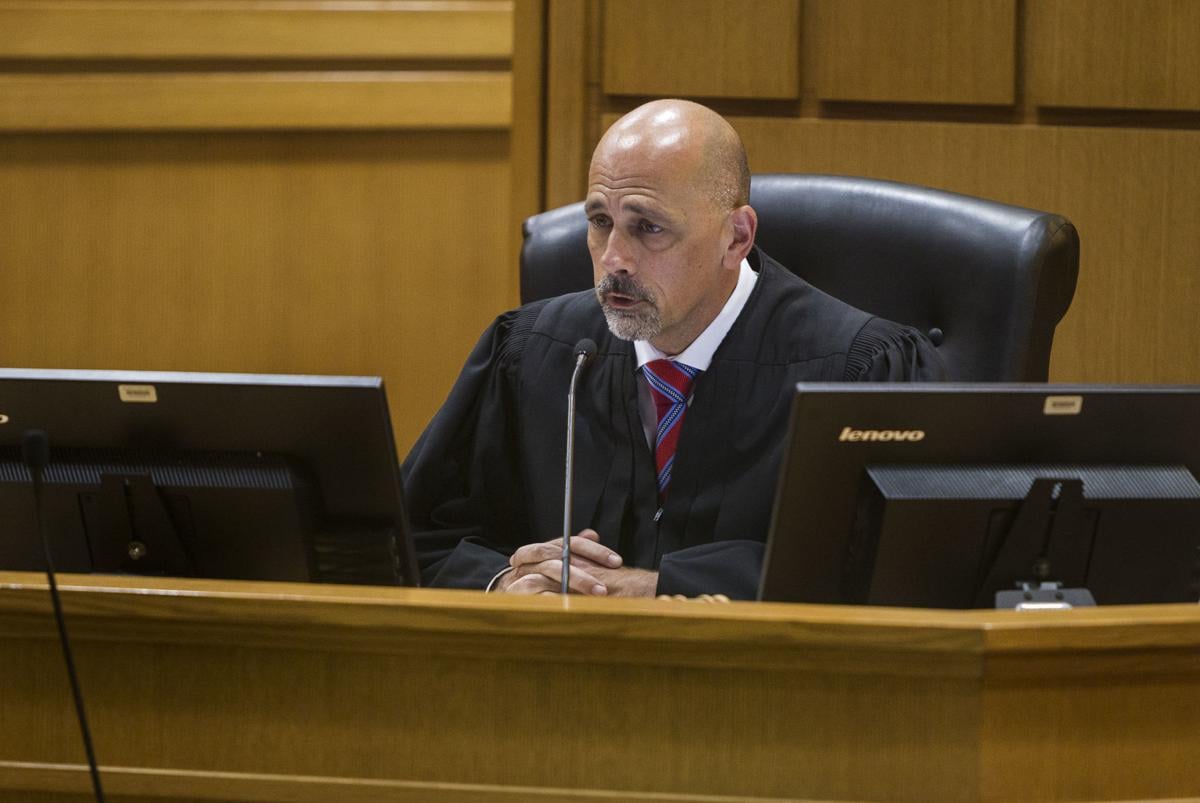 A group of state and local elected officials on Tuesday joined a chorus of criticism of Dane County Circuit Judge Stephen Ehlke's three-year prison sentence for expelled University of Wisconsin-Madison student Alec Cook, a punishment they say was too light for a "serial sexual assault perpetrator."
"We are dismayed and outraged by Judge Ehlke's lenient sentencing of Alec Cook. In just three or fewer years, this predator will be back on the streets, sending a clear message that men like Alec Cook — men with privilege — are above the law," Rep. Lisa Subeck, D-Madison, said in a news release accompanying the letter.
The letter argues that the sentence handed down Thursday by Ehlke "amounts to a slap on the wrist for a serial rapist whose violent and sadistic sex crimes will haunt his victims for years to come."
The lack of justice for Cook's victims discourages women who experience sexual assault, violence or harassment from reporting these crimes, wrote six female elected officials. The lenient sentence sends a message to the UW-Madison campus community and the community at large that "men like Alec Cook, men with privilege, are above the law," they declared.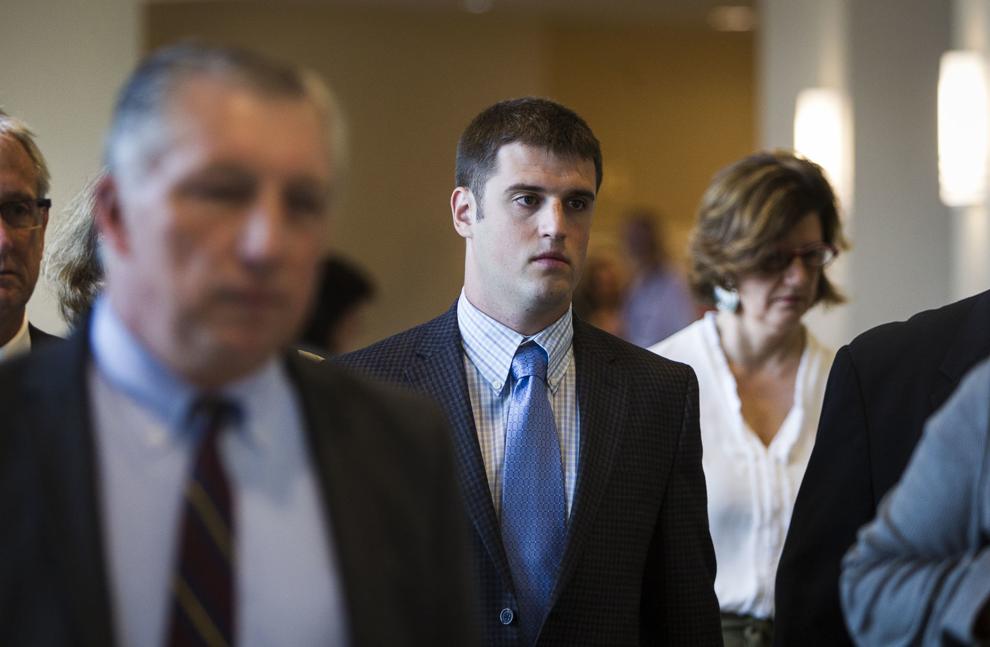 In sounding the theme of privilege, the letter, which requests a meeting with Ehlke, echoes criticism from prosecutors, social media posters and a campus newspaper's editorial board.
The uproar provoked by the sentence sets the stage for action holding the judge accountable to voters. That happened earlier this month in California, with the recall of the sentencing judge in a sex assault case involving a Stanford University swimmer. And it has happened in Dane County too, with the recall of a judge for his actions in a sex assault case. 
The letter to Ehlke is signed by State Reps. Subeck, Terese Berceau, D-Madison, Diane Hesselbein, D-Middleton, and Sondy Pope, D-Mt. Horeb, as well as Dane County Supervisors Carousel Bayrd of Madison and Analiese Eicher of Sun Prairie.
Ehlke's office did not respond to a message Tuesday asking if the judge would meet with the group.
Cook, 22, is a former business student from the affluent Minneapolis suburb of Edina whose family hired a pair of well-known local defense attorneys. Christopher Van Wagner and Jessa Nicholson managed to get key evidence against their client thrown out before brokering a plea agreement.
In a climate of simmering rage over rape culture and sexual assault on college campuses, Cook's case attracted national attention. He was charged with what eventually became 21 counts arising from incidents between March 2015 and October 2016 involving crimes reported by 11 female UW-Madison students. Cook pled guilty in February to three counts of 3rd-degree sexual assault, one count of strangulation and one count of stalking — felonies all.
The charges Cook was convicted for carried a total maximum prison term of 39 years, 6 months, a term endorsed by victims and family members in victim impact statements submitted to the court.
Prosecutors, who changed numerous times during the case, by sentencing were assistant state attorney general Christopher Liegel and assistant Dane County District Attorney Allison Cogbill. They urged the court to impose roughly half the maximum prison sentence: 19 years and 6 months. Defense attorneys argued for probation to allow Cook to receive counseling for sexual sadism proclivities and treatment for narcissistic personality disorder.
Ehlke spoke carefully in his lengthy, and at one point emotional, remarks at the June 21 hearing, clearly aware that the proceeding was under scrutiny.
Ehlke choked up as he assured a victim, who wrote in her statement to the court of feeling shame for allowing Cook to prey on her kindness, that she had done nothing wrong.
"Please continue to be kind," he said, rasping out "I'm sorry," as he struggled to hold on to his composure, "and positive and don't let him take that from you."
Ehlke also spoke about Cook's offenses.
"What Mr. Cook did here is wrong, it is criminal, it should not have occurred and these women should not have had to bear what happened here. On that, my judgment is crystal clear and undisputed," he said.
Ehlke said repeatedly that he was required under state case law to consider such things as Cook's lack of a prior criminal record and his pleading guilty and sparing victims the ordeal of a trial.
"I give him credit for those things," Ehlke said, stressing that that credit did not equal the weight of his offenses.
Ehlke said he was applying the law as best he could in the case.
"Rather than worrying about sentences from other jurisdictions and how it might impact me personally, I am far more worried about the effect on the victims," he said.
In sentencing Cook to three years in prison, Ehlke said that it was rare for an offender without a criminal record who pled guilty to be given any prison time. "The fact that I'm about to do that — this is an uncommon case," Ehlke said.
Schimel disappointed, others outraged
Prosecutors in the Cook case raised the prospect of public outrage over the sentence in a memo outlining their recommendation. In the Stanford University case, the judge who sentenced athlete Brock Turner to six months in jail for three felonies arising from the sexual assault of an unconscious woman was criticized for "concluding that the defendant's loss of his privileged status was a substantial consequence," they wrote.
"Loss of privilege or affluent status is not a meaningful sentencing consideration," they argued. "Weighing it as a factor results in perverse disparities in sentences." Cook's failure to use family resources to get treatment for his psychological problems before he committed crimes should, in fact, be weighed against him, they said.
State Attorney General Brad Schimel was quick to express his "disappointment" that the court did not impose the sentence his office had recommended. "We still think that is what he deserves," Schimel said Thursday in a news release.
State Sen. Lena Taylor (D-Milwaukee) registered her contempt for the Cook sentence hours after it was handed down. "Judge Ehlke let a serial rapist off the hook, plain and simple," Taylor said in a news release. "The question we have to ask is: Why?" she continued, and suggested Ehlke read a report on how the race of defendants effects sentencing decisions.
On social media, posters quickly complained of the Cook sentence, many of them arguing that Cook's privilege and race played a role. "White male with family money ... is anyone surprised?" read one tweet.
The Badger Herald's editorial board said the Cook case demonstrated the need to hold judges accountable to voters, and noted the recall by voters earlier this month of Aaron Persky, the judge in the Turner case.
Legal decisions depend on "judicial precedent (that) has been set by men who have enjoyed public office and taxpayer-funded salaries with no clear mechanisms for public accountability beyond disparately scheduled and poorly advertised elections — if there are any elections at all," the editorial declared. "Let's never forget that the power to choose the judges who will set the precedent of tomorrow lies with all of us."
Ehlke was appointed to the bench in 2009 by Gov. Jim Doyle, six months after he was defeated in a judicial election. He ran unopposed for reelection to a six-year term in 2016, which is common for sitting judges in Dane County.
Judicial recalls are rare — the Turner judge reportedly was the first to be turned out of office in California since 1935. The Wisconsin Constitution allows for the recall of elected officials, including judges, and Dane County saw such a recall in 1977.
Dane County Circuit Judge Archie Simonson was recalled from the bench by voters outraged by his remarks during a disposition hearing for a 15-year-old boy who had pleaded guilty to sexually assaulting a 16-year-old girl.
In that hearing, he called rape a normal male reaction to provocative female clothing and a "sexually permissive" culture in Madison.
Local attorney Moria Krueger was elected from a field of five challengers in the recall election, becoming the first female Dane County circuit judge. She served on the bench until 2007.
The Committee to Recall Judge Simonson, led by women who were activists on social issues, collected 15,000 more than the 21,000 signatures needed to trigger a recall election (25 percent of the votes cast for governor in the last election), Krueger wrote in a 2013 essay on the history of recall elections.
The recall effort drew national attention, fueled in part by the changing perception of sexual offenses throughout the country, Krueger wrote. Wisconsin law had recently been revised to categorize sex crimes with other violent crimes, Krueger wrote. "No longer was it permissible to place initial blame on the victim's way of dress or seductive behavior. Not surprisingly, changing the law and molding the public's perception of these offenses were important aspects of the women's movement. It was into this tide of change that Judge Simonson waded."
While she was not involved in campaign to collect the signatures petitioning for the recall election, Krueger said in an interview that she has no qualms that being subject to recall compromises judicial independence.
It makes judges subject to the vagaries of popular opinion, she agreed. "No question about it, but the fact that they are elected does that."
Krueger called recall "key to how democracy works. "But it's cumbersome, she said, "recall is not very popular."
Krueger would not comment on the Cook case, but remarked that sex crimes cases "certainly raise emotions and get people really involved."
Share your opinion on this topic by sending a letter to the editor to tctvoice@madison.com. Include your full name, hometown and phone number. Your name and town will be published. The phone number is for verification purposes only. Please keep your letter to 250 words or less.