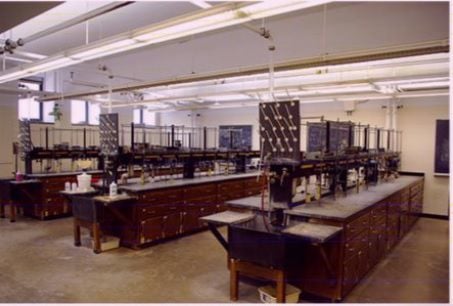 The University of Wisconsin Board of Regents on Friday approved $29.3 million in additional spending for renovation and expansion of the chemistry complex on the UW-Madison campus, bringing the cost to $123 million.
"This project will remove class bottlenecks and strengthen our teaching and research mission," Regent Bryan Steil said.
The chemistry complex was one of three UW-Madison building projects for which regents green-lighted additional expenditures as they met this week in Madison.
The additional chemistry complex spending will allow for the interior buildout of two floors of a new 10-story tower at University Avenue and Mills Street, and to renovate three floors of the existing Daniels Building. The additional funds included $24 million in gifts and $5.3 million in revenue from federal grants to cover indirect research costs, they said.
Instructors and students in the chemistry program have been working in facilities that are a "decade behind," school officials have said. About half of incoming freshman take chemistry classes, leading to scheduling difficulties.
Plans are to break ground for the work in July.
Additional spending of $12.5 million for remodeling of and an addition to the 1950s-era Babcock Hall Dairy Plant and Center for Dairy Research also was approved by regents, for a total project cost of $46.9 million. The additional funds include $6.25 million in borrowing and $6.25 million in revenue from federal grants to cover indirect research costs.
The Babcock project is complex, said Alex Roe, associate vice president for capital planning and budget, told a regent committee. Complications like new heating and air conditioning equipment being too heavy for an existing roof, and changing standards in the dairy industry contributed to the additional costs, she said.
The facility no longer meets current health code standards and regulations for dairy plant construction and operation. This non-compliance puts the plant in danger of being closed by regulators in the near future if deficiencies are not corrected, according to background materials provided to regents.
"We are working closely with the industry to make sure we have the right equipment in there," Roe said.
The budget for the new the Meat Science and Muscle Biology Laboratory was increased by $3.7 million in borrowed funds and cash. The new facility will house a meat laboratory, a lecture/demonstration suite, and teaching and research laboratories as well as office and support spaces.
"This facility will train the next generation of meat industry leaders, support research, provide outreach education to foster the production of wholesome meat products for the consuming public and to further economic development of the meat industry," Roe said, quoting the College of Agricultural and Life Sciences website. The building will provide a state-of-the-art slaughtering, inspection and meat-processing facility, food safety research, improved livestock production and human health state-of-the-art tissue collecting and processing facilities, she said.
Construction began in January, 2017. But during excavation cinders from an old coal-fired plant dating back a century or more were discovered. Some of this type of fill, unsuitable for construction, was expected. But a greater quantity than anticipated, plus the closing of a certified landfill, led to greater transportation and tipping fees than had been budgeted.
The facility is expected to be ready for occupancy next fall.
Share your opinion on this topic by sending a letter to the editor to tctvoice@madison.com. Include your full name, hometown and phone number. Your name and town will be published. The phone number is for verification purposes only. Please keep your letter to 250 words or less.