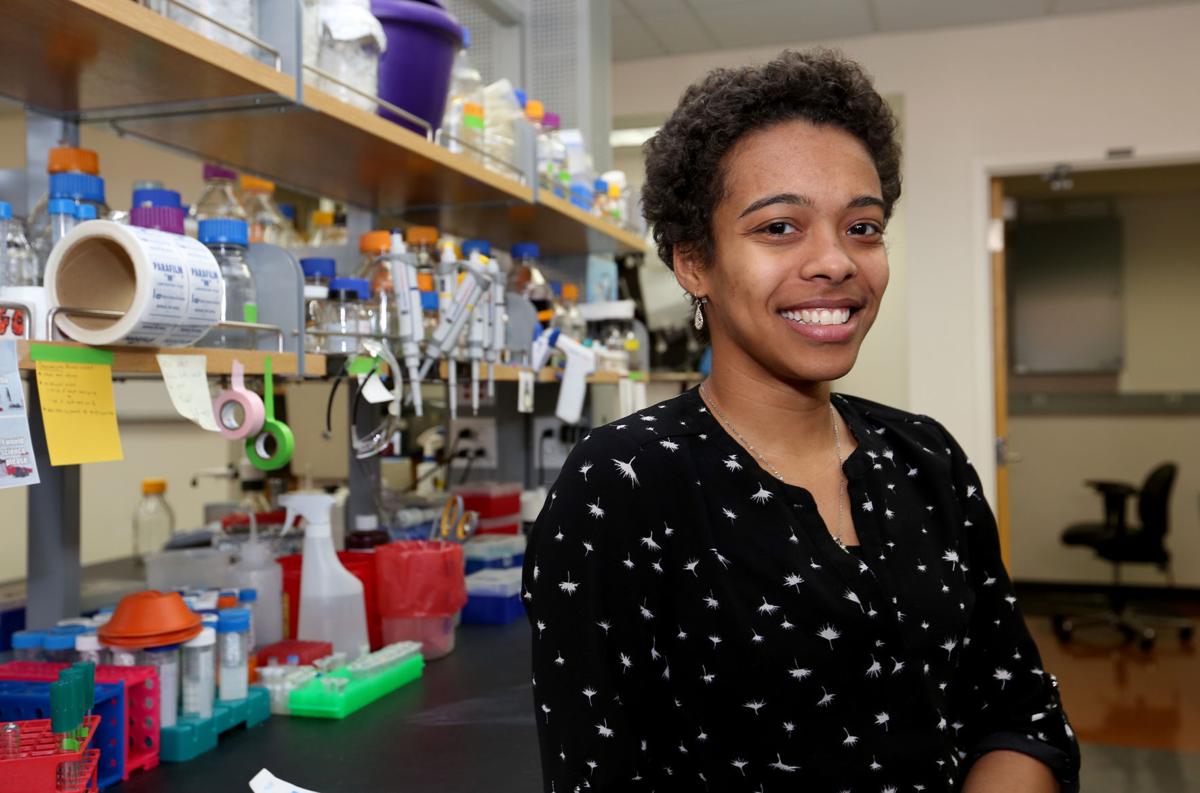 Julia Nepper's favorite thing about science is a little surprising.
"It's OK to be wrong. Until you acknowledge what you don't know, you cannot progress," said the North Carolina native who, at age 23, received her Ph.D. in biophysics from the University of Wisconsin-Madison last month.
That's right; she's a Ph.D. at 23.
A home-schooled child who started community college at age 11, Nepper said she hopes people will take the example from science of being willing to fail and move on to the next strategy and apply it to other areas of their lives.
Nepper's phenomenal academic progress was captured along the way by reporters in Wilmington, North Carolina, but news of the latest milestone quickly spread much more widely on the internet. "I've had hundreds of people following me on Twitter and Instagram," she said.
At UW-Madison, her age kept her out the "microbrewery scene" the first two years she was on campus, but otherwise had little impact, Nepper said.
"It doesn't come up organically, so honestly, most people don't know," she said of her age. It was different at community college, where officials required she be accompanied every day by a parent. Having her father waiting outside the classroom for her made making friends difficult, she said. But as she moved on to university, her relative youth become less of an obstacle in connecting with others.
Nepper said her studies — her thesis was on communities of E.coli bacteria — prepared her for employment in biotech or biopharmaceuticals, or further research in microbiology.
She is looking at something a bit different, however.
"I do love research but I am interested in science outreach and communication," said Nepper, who has done some student outreach on campus and helped develop science activities for K-12 students and science festivals.
"That's something I really enjoyed and I'm hoping I can find a career in that area," she said.
Professor Dominique Brossard, chair of the Department of Life Science Communication, met Nepper when she took several courses in the department for a Ph.D. minor toward in science communication open to graduate students working in fundamental research aimed at improving basic scientific theories.
Brossard said she was unaware of Nepper's age until she noticed recent publicity about her receiving a Ph.D.
"What is great about Julia is that despite her youth, she has a keen understanding of the importance of thinking about the relationship between science and society," said Brossard, an internationally known expert on the role of values in shaping public attitudes on controversial scientific issues. "She is a bright young woman that has a promising future in front of her."
Nepper, who received her bachelor's degree at University of North Carolina at Wilmington, was thinking about UNC Chapel Hill for graduate school when she heard about UW-Madison and visited campus for a pre-graduate school interview.
"I loved the university, I loved the city," Nepper said. "All the students seemed really happy. That stayed with me even after I interviewed at other schools."
How does she describe her experience at UW over 5-1/2 years?
"It's been great," said Nepper. "It's been a struggle — grad school is awful. But the community here is great and I have had a good experience."
Nepper, who identifies as multi-racial, said she has a number of friends who have recounted discrimination at UW-Madison, as a campus-wide survey on climate released last fall indicated is common. She has not encountered that, she said. "I know so many people who have had negative experiences, I feel I'm super lucky."
Being a women student in STEM presents some challenges, she said.
"I would say that sometimes I feel like I can be overridden by male voices and just be ignored. I have become more aware of that in the past few years and I try to make a conscious effort to avoid that," Nepper said.
"What I've tried to do is be more verbal, more forceful about my opinions. That can go a long way," Nepper said. Others need to become aware and leave more room in discussions for others to enter, and listen to them, she said.
She recalled that science felt like a natural goal since she was a kid — not that there weren't other interests, like classical piano, writing and Spanish. "But science was the stuff I was always most interested in."
Nepper advises girls who see science in their future to go for it.
"The biggest thing for any young women is don't be afraid to be confident. Even if you're not confident, fake it. Stand up straight, say what you believe and say it loudly and clearly. I think that made the biggest difference in my life, just being confident."
She got that sense of herself with the help of her dad, whom she says never tried to restrict her to feminine activities. "I'm not afraid of traditionally masculine pursuits, because I was raised with them."
Nepper said she's trying to use her moment of fame to inspire others. "Just because I seem like a genius to accomplish all this, I'm still human and still have failures. So don't feel bad about failing."
Share your opinion on this topic by sending a letter to the editor to tctvoice@madison.com. Include your full name, hometown and phone number. Your name and town will be published. The phone number is for verification purposes only. Please keep your letter to 250 words or less.