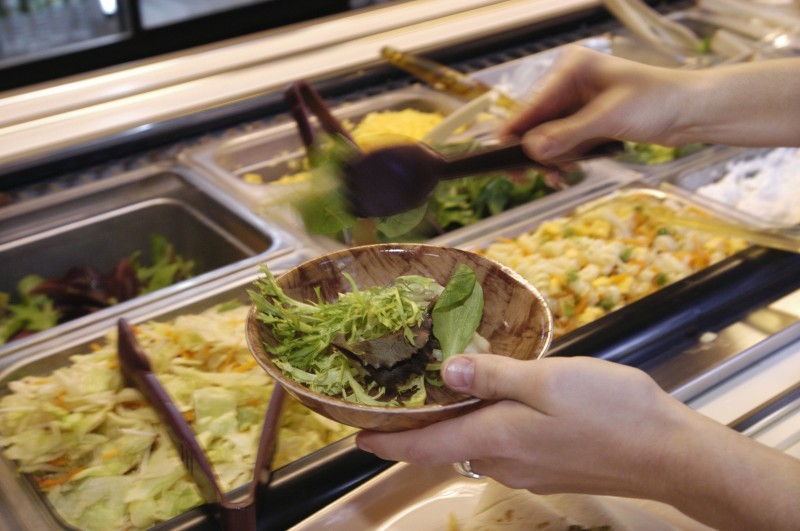 Prior to the start of each school year, Denise Bolduc typically sits down with four or five students who have food allergies.
The assistant food services director for UW-Madison's Division of University Housing not only goes through the six-week menu cycle with the student, pointing out specific items to avoid, but she'll introduce the student to the managers of the four dorm dining rooms, three convenience stores and deli that her division runs on campus.
"And after we do all that, the students can usually handle things by themselves," says Bolduc.
And yet, Bolduc became convinced the university needed to start doing even more due to some surprising trends that have led her to believe an ever-increasing number of young people with food allergies are visiting campus. Over the past two summers, Bolduc estimates she has had 35 to 40 contacts each year with parents of middle school- and high school-age kids with food allergies. These youth come to town for one of the many camps hosted by the university.
In a proactive move, UW Housing pushed forward a plan to catalog all its recipes, and the ingredients used in them, so students will one day be able to use their computer to check out any menu item for potential allergens. (The UW athletic department, which feeds student-athletes on scholarship, and Wisconsin Union each have separate food service units.)
"I think we've always been moving in the direction of making more information available about the foods we serve," says Bolduc. "But just getting that influx in the last two summers of kids with food allergies really made me think that we need to get on this now, because it was very, very time consuming to go through all the menus with a fine-tooth comb for all those kids. If we have that information easily accessible, it would make it much easier for us and those we serve."
Over the past two years, students working in Bolduc's office have helped enter into a data system more than 11,000 ingredients that go into an estimated 9,000 recipes used by University Housing's food services. Beyond the cataloging, however, there needs to be consistency in food preparation, says Monica Theis, a senior lecturer in the Department of Food Sciences who conducts food safety training sessions for individuals and groups across campus.
"I know UW Housing is adamant that you don't do recipe substitutions," says Theis. "From a culinary, artistic perspective, you'd probably rather not have these really structured recipes. But when you're producing 15,000 meals per day and shipping them across a very large campus, standardization is something that kind of comes with the territory. You don't do the 'chef's surprise' thing."
Although she doesn't want to make any promises, Bolduc is hopeful the allergens in each item University Housing serves will be listed on the food services website by next fall. Currently, foods or entrees which contain peanuts or tree nuts are tagged with a symbol that appears on cards that sit next to each item. (Students can also visit the food services website to find out all the ingredients and nutritional information for, say, the chicken cashew stir fry that was being served last week.)
"I really feel for parents who have to deal with kids who have food allergies," says Bolduc. "You have to get good at reading ingredient labels."
Food allergies increasing
According to the Centers for Disease Control and Prevention, the number of Americans 18-and-under with food allergies increased 18 percent between 1997 and 2007. These most recent figures indicate approximately 3 million children and teenagers are affected, which represents 4 percent of that age group.
"It's been a gradual increase, but it's certainly there," says Jim Gern, a professor of pediatrics and medicine at UW-Madison's School of Medicine and Public Health. "And right now, no one really knows why."
According to The Food Allergy & Anaphylaxis Network's website, eight foods -- milk, eggs, peanuts, tree nuts (such as walnuts, almonds, cashews, pistachios, pecans), fish, shellfish, soy and wheat -- account for 90 percent of all food-allergic reactions. And while some people outgrow these allergies, others do not. FAAN also debuted its College Network website at the start of the academic year to show what resources a growing list of institutions across the country offer those with food allergies.
There are no cures for food allergies, so strict avoidance of allergens and early recognition and management of allergic reactions are important to prevent serious health problems. Early administration of an epinephrine injection is key to treating life-threatening reactions successfully. The number of emergency room visits due to food-induced anaphylaxis in the U.S. ranges anywhere from 50,000 to 125,000, according to FAAN.
When training food services workers, managers and administrators about the potential danger of food allergens, Theis says her No. 1 goal is to stress the seriousness of this topic. And while she makes sure everyone is aware of the "big eight" allergens that cause 90 percent of all food allergies, she also wants workers to understand that "people can be allergic to all sorts of other things, too -- like strawberries or corn. And to certain individuals, these can be every bit as serious as other food allergies."
Finally, she notes that while some people have food allergies, others have sensitivities or intolerances. "So someone who is lactose intolerant, that's not a true food allergy," says Theis. "But in practice, when we are working with our customer, it doesn't matter -- it's something that makes them sick."
While it's important that the university and food service workers do what they can to be aware of food allergies and to limit any potential for problems, Gern says that in the end, it's up to those who suffer from these allergies to take matters into their own hands.
"Before going to college, most have really adapted to the lifestyle and they just keep the foods they are allergic to out of the home," says Gern. "I think it's important for college kids to know what they can eat and what they can't eat, and then to just be very assertive when they go away to school at being sure that the food they are getting is clearly labeled and that they're sure what is in their food before eating it."
Although Bolduc -- who has had a student working on this project 30 hours per week over the summer and 10 hours per week during the school year -- says they are getting close to entering all the necessary data, she acknowledges the project will never truly come to an end. Every time the university's cooks want to try a new recipe, it will have to be entered into the system. Likewise, if a manufacturer repackages or reformulates a product, the ingredient label will have to be double-checked to make sure no changes have been made.
"This is going to be an ongoing project."
Be the first to know
Get local news delivered to your inbox!